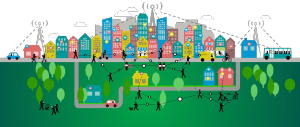 WHY ARE SMART CITY SOLUTIONS CRUCIAL?
Here's a little background.
Every day, more people are migrating to the cities and abandoning rural areas. The number is likely to increase by 2050. About 70% of the world's population is expected to reside in urban areas. The challenge right now is to ensure that cities are efficient, connected and sustainable. According to the new report from BCC Research, the global market for smart cities information and communication technologies (ICT) was valued at $212.3 billion in 2013 and $293.2 billion in 2014. The market is expected to reach $668.5 billion in 2019, with a CAGR of 17.9% from 2014 to 2019.
Information and Communications Technology (ICT) is offering new ways to address socio-economic and environmental challenges, by maximizing resource use, improving connectivity and economic prosperity. These offerings come in the form of various technologies and solutions. Let's explore a few smart city solutions!
SMART CITY SOLUTIONS IN DETAIL
Automated Building Plan Approval
The process is related to issue of permission for construction of buildings based on specific rules and regulations. As per the relevant provisions of the State Municipality Acts, any person desirous of undertaking a construction activity (fresh construction as well as modifications to existing structures), is required to obtain prior sanction from the relevant local body before embarking on the same. According to the Ministry of Urban Development, the building plan approval is contemplated to fast track processing and disposal of building plan permissions, standardization of building fee & other charges, automation of the technical scrutiny, and effective monitoring of file processing.
The Building Plan approval process can be divided into following sub-processes:
Approval of building proposals of various kinds and nature of the structures
Approval of layout proposals
Processing and placement of plans
Calculation and collection of fees
The process requires the following:
Each and every detail of the plan to be mapped on GIS map
Auto generation of Unique ID for every approved building plan
Linking Property Tax and Utility data with Building plan ID
Availability of Automated Checking Mechanism to map the pre-approved plan with the building plan applied for
Generation of Automatic Online Provisional Building approval on self-certification as per Pre-approved plan
Provision for Online Fee calculation/Payment
Automated workflow
SMART CITY TECHNOLOGIES
Open Data Platform for Smart Cities
In layman's terms, open data is data that can be freely used, re-used and redistributed by anyone. It has already been established that smart cities will combine human effort with technology to create better places to live in. This can be achieved with the successful use of open data. It is believed that a lot of the problems in the city can be handled using this data — emergency response, traffic management, transit, managing the air quality. Open data is going to help software developers to transform data collected into useful applications that make city services available anytime, anywhere.
Pay-as-you-go Cloud Computing for Smart Cities
In theory, cloud computing is a kind of Internet-based computing that provides shared processing resources and data to computers and other devices on demand. Pay-as-you-go cloud computing on the other hand is a payment method for cloud computing that charges based on usage. Users can pay for the information that is relevant to them or utilized by them.
So why should smart cities be enabled by cloud? Here's why.
Cloud computing offerings are ideal for basic layer behind home automation. It allows dynamic allocation of resource applications. By using cloud, smart home solution vendors can easily provide their solutions to millions of users around the globe.
Have you had the chance to check out this month Geospatial World magazine featuring 'Smart Cities'? No time like the present. View insightful articles and interviews here.