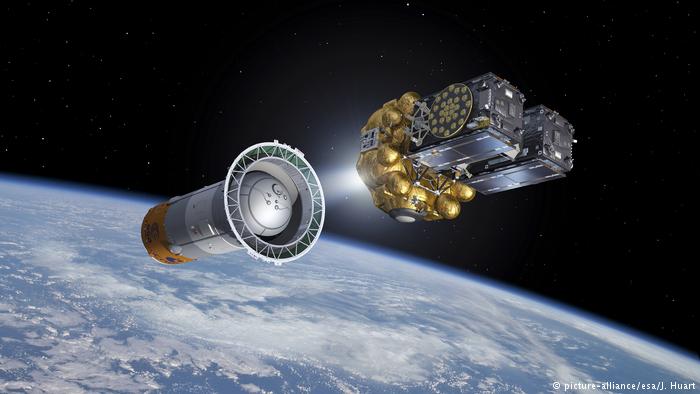 Two years post the Brexit referendum, the implications are slowly unraveling as banking companies mull over shifting their headquarters from London to other European capitals, the status of North Ireland is in a quandary, and the legal status of migrants and British expatriates working in other European countries is still uncertain.
The firmament of satellite navigation systems and space exploration has also finally felt the ripples of Britain's decision to pull out of the European Union.
Adieu to Galileo?
European Union officials in Brussels have told the UK that after its exit from the group of 27 nations, it would no longer be able to access many functions of Galileo, which is supposed to be fully operational by 2020. Earlier this year it was decided that Galileo's satellite monitoring base in Britain would now be moved to Spain for ensuring security.
Britain, however, would be allowed to use Galileo signals, but won't be able to be a part in R&D or access sensitive information which will be reserved only for member states.
Michel Barnier, EU's chief Brexit negotiator, said that "Third countries and their companies cannot participate in the development of security-sensitive matters."
He also added that "These rules will not prevent the UK as a third country from using the encrypted signal of Galileo providing that the relevant agreements between the EU (European Union) and the UK (United Kingdom) are in place." What this means is that all existing arrangements would be null-and-void and the UK would have to start afresh and sign a new agreement to use Galileo services as a third-party partner nation. Even after this, Britain will be allowed access only to Galileo's open signal, but its armed forces and emergency services would be denied access to an encrypted system when it is fully developed in 2026. Public Regulated Service (PRS) of Galileo mainly deals with military purposes and its signals won't be shared with Britain.
This naturally hasn't gone down well with Britain which has contributed a huge amount (£1.2bn) in this flagship European project to build a navigation system on par with American GPS and Russian GLONASS. Many British companies are actively participating in sharing research and development operations of Galileo and they would bear the brunt if this logjam continues.
In a retaliatory response, Britain declared that it would scale down on security cooperation and intelligence sharing with the EU if it is denied access to Galileo. Britain has also mooted the proposal to prevent British companies from sharing any technology for Galileo. Britain's space agency has written to 13 firms, including SSL and Airbus UK, telling them that they would be requiring prior security authorization to engage in any future contracts on the Galileo system.
Also Read: GPS and Galileo working together will make the world more precise
The next step for Britain
Meanwhile, Britain is also exploring the possibility of developing its own satellite navigation system, which is easier said than done. But Britain seems in no position to relent before the EU.
Theresa May, the Prime Minister of UK, has created a task force of engineering and aerospace experts led by the UK Space Agency "to develop options for a British Global Navigation Satellite System that would guide missiles and power satnavs".
The main purpose of the team would be to provide both civilian and encrypted signals to give any British system similar commercial and security capabilities as the dominant US GPS system. Britain is currently among the leading nations in small satellite manufacturing and has a thriving industrial sector. It is hoping to tap this potential to develop its own satellite navigation system, following the fallout with EU.
Art of the Deal
Britain has also indicated that its desire to forge stronger security relations with the EU after the exit would be severely undermined by EU's refusal on sharing Galileo data.
Theresa May plans to sign a deal with EU in October and access to Galileo would be a defining issue of the deal.
It would be interesting to watch how this unfolds and whether UK manages to convince the EU over sharing Galileo data for military purposes, by signing new security treaties or it proceeds with the plan to develop its own satellite system that will take years and an investment worth billions.
Meanwhile, what is clear amidst this unpredictability is that Britain can't have its cake and eat it too.