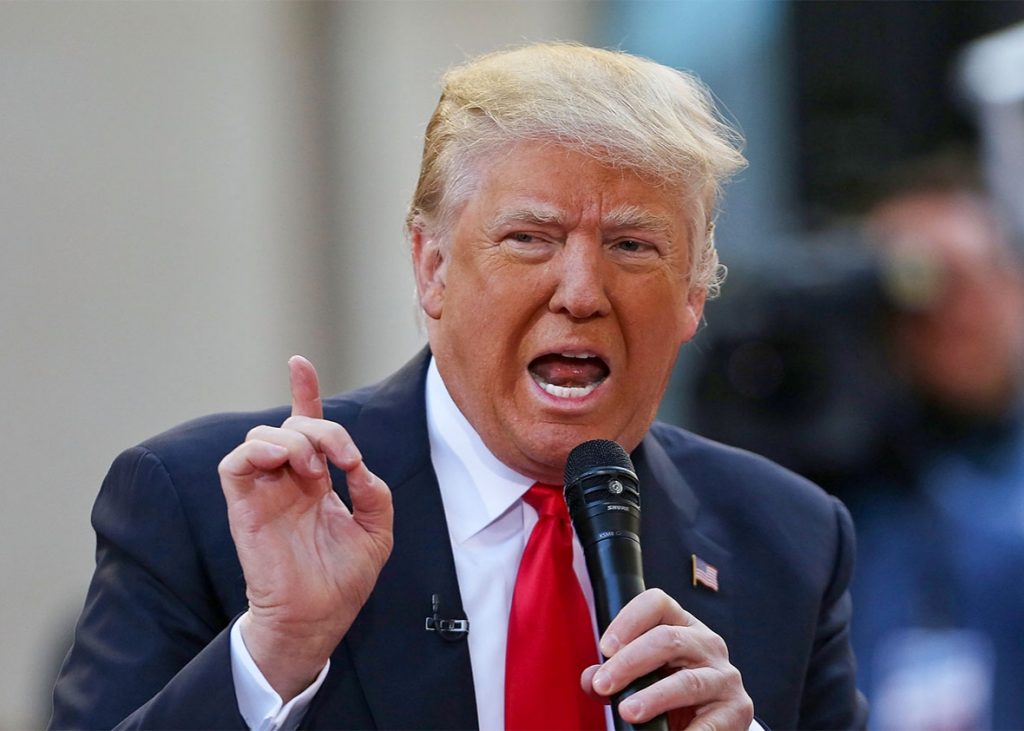 Even as US President-elect Donald Trump appeared to have somewhat mellowed down over his climate change denial, there are already apprehensions that NASA's $2-billion annual budget for earth science could be his target.
According to Casey Dreier, Director of Space Policy, at Planetary Society it is almost certain that "the [earth science] division will lose its privileged funding position under a Trump administration (of all the sciences, it alone has enjoyed consistent growth of its budget under Obama)."
In an article published on November 14, National Geographic wrote: "Another casualty—this one seemingly more assured than the demise of SLS—is NASA's earth sciences program, which employs a fleet of satellites to study and understand our home planet. In addition, Trump may try to reduce NASA's role in ferrying goods to and from the Earth-orbiting International Space Station."
Trump's election speech in Florida just before the election had already signalled of things to come. While slamming the Obama administration for "undermining our space program", Trump had vowed to refocus on NASA mission of space exploration. "I will free NASA from the restriction of serving primarily as a logistics agency for low-Earth orbit activity," Trump had thundered.
During the same time in an op–ed published in the journal SpaceNews, his two space policy advisors — Robert Walker, former chairman of the House Science Committee, and Peter Navarro, an economist and public policy expert — had minced no words. While calling for a focus on deep space activities, the op-ed noted that while "NASA was formed in the crucible of Sputnik and took this nation to the moon and stars. Today, it has been largely reduced to a logistics agency concentrating on space station resupply and politically correct environmental monitoring."
Today, in an interview with Scientific American, Walker, who wrote Trump's proposed space policy, reiterated his stand saying budgets would have to be realigned to handle that transfer. "We would also anticipate that any new [earth science] programs would be funded by those agencies."
It comes as a relief — however small — that Walker will not have any role in the transition team and is most probably ineligible to serve in the Trump administration at all since he is a registered lobbyist.
Walker is of the view that the National Oceanic and Atmospheric Administration (NOAA) should take over all of NASA's satellite missions that are used for earth and climate-related works. The goal is to free up funds for more NASA human exploration missions into deep space.
This should come as a rude shock given that NOAA has a budget that barely a quarter of NASA's and the bulk of its funds go into weather forecasting and environmental monitoring. NOAA also uses NASA's earth observation satellites and even for its own satellites relies on the space agency for building and launching.
Much of the piece by Walker and Navarro was in tune with Trump's oft-repeated line of 'Make America great again': "NASA's core missions must be exploration and science – and inspirational! These are the fundamental underpinnings of a Trump civilian space program." It calls the current operational structures and procedures "outdated", invokes the glorious Apollo mission and NASA's traditional rivalry with the Russian space set-up ("NASA was formed in the crucible of Sputnik and took this nation to the moon and stars").
But the underlining message was clear if one paid close attention — "NASA should be focused primarily on deep space activities rather than earth-centric work that is better handled by other agencies" such as such as NOAA.
However, Walker dismissed this being an ideological battle on climate change. "When we talk about 'deep-space activities,' we are talking about planetary science and space-based telescopes and all those kinds of things. There have been concerns among some of us that those sorts of NASA programs were robbed in order to concentrate on Earth science, and we want to re-establish the emphasis of NASA itself on the things that go beyond Earth orbit and Earth-observation activities," he told Scientific American.
Boost for earth science under Obama
Under the Obama administration, NASA had a renewed focus on earth observation as a major mission. In fact, in NASA's 2017 budget demands, remote sensing had figured at the top. In an exclusive interview with Geospatial World earlier in the year, NASA chief Charles Bolden had admitted that the space agency had really gone down in funding for earth science over the last decade or so. "Now we are trying to get the level of funding for earth science back to its historic level."
Maintaining that the Obama administration had helped it to propose more funding for earth science "so that we restore the balance that we once had in that particular area", Bolden said, "Earth is the most important planet. We can't do anything in terms of exploration if we don't have Earth as our dominant platform from which to leave."
However, Obama had been under fire from the Republican lawmakers in recent years who had sought budget cuts to climate change-related Earth science programs at all three agencies.
Trump call echoes Republican stand
In fact, the stand of the Trump camp is not different from that of the Republican Party. In recent years, Republican congressmen had been after NASA's earth science budget. The House Science Committee last year passed an authorization bill that aims to cut up to $300 million from the nearly $2 billion NASA funds allocated for earth science, saying it "balances" funding between earth and space studies.
The House Appropriations Committee this year advanced a spending bill that raised NASA investments to a record $19.5 billion, which was actually $500 million more than Obama requested. But what is noteworthy is there was a $231-million cut for the budget of earth science.
Things had come to such a pass that the former GOP presidential candidate Ted Cruz sparred with NASA chief Charles Bolden over funding issues during a committee hearing last year. Cruz, who chairs the Commerce Committee's NASA oversight panel, had also questioned some of NASA's missions as "political directives."
NASA at the forefront of battling climate change
The very idea that NASA is only all about deep space is a flawed one. The agency was always supposed to look close to our planet as well in deep space. In fact, the National Aeronautics and Space Act of 1958 specifies the NASA agenda as focus on "phenomena in the atmosphere and space."
Over the years, NASA, with its long range of earth observation and weather satellites, has vastly improved weather forecasting and natural disaster prediction and relief. A mission that started way back in 1959 with the launch of first weather satellite – Vanguard 2 – continues unabated as the agency launched the multi-billion-dollar weather satellite GOES-R into space as recently as November 19.  The joint program with NOAA is set to gradually replace the very successful GOES or Geostationary Operational Environmental Satellite' mission.
NASA is the only federal agency in the world that is capable of studying the impacts of global warming from orbit. It has 17 space missions collecting climate data, contributing to reports on everything from the state of the atmosphere to rising sea levels. Its scientists offer some of the government's most cited analyses of the extent of climate change.