Millions of people are looking forward to the first bilateral meeting between Indian PM Modi and US President Donald Trump. Generally, such meetings are dominated by business, trade, security, terrorism, and co-operation. One issue which is getting plenty of coverage and attention is the most expensive Earth-imaging satellite, NISAR, that is being jointly developed by ISRO and NASA.
Many believe that since the satellite is about earth imaging, the NASA–ISRO satellite hangs in balance since the US administration led by Trump had recently pulled out of the Paris Agreement on Climate Change. Climate change is one issue where India and America differ extensively and would make for an important point of discussion between Trump and Modi. The Indian PM has been vocal about Climate Change, and recently in Russia reaffirmed India's commitment to stand by the Paris treaty. On the other hand, Trump is not only an avid Climate Change denier but had come down harshly on India, China, Russia and others, calling them freeloaders even as the US pays billions.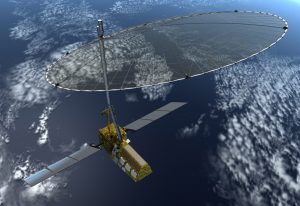 However, NASA–ISRO satellite, or NISAR, is not just limited to Climate Change. A remote sensing industry expert told Geospatial World that monitoring Climate Change would be a very, very small part of the activities that NISAR would do. Data collected by NISAR will be a reliable source for proactive planning for disasters and will have a store of pre-disaster images available to rapidly and unambiguously understand what transpired in the disaster. It will lead to the development of actionable applications that could inform the government for consideration of future operational missions. Water resource monitoring, infrastructure monitoring, agricultural monitoring and other value-added applications will also be revolutionized by access to these data.
What is NISAR?
NISAR stands for NASA–ISRO Synthetic Aperture Radar [SAR]. It's a dedicated mission of NASA AND ISRO optimized for studying hazards and global environmental change. According to Dr. Paul Rosen of Jet Propulsion Laboratory, USA, NISAR is a dual frequency L and S-band SAR mission which will Map the earth every 12 days from two directions.
WATCH: NASA-ISRO joint project to study earthquakes

According to Dr. Paul Rosen of JPL, "The primary objectives of this satellite are cryosphere studying,  ice sheets,  climate and its variability, deforestation, volcanic eruptions and earthquake detection.  It's very broad, from agriculture to disaster response to coastal processes to ocean wind and almost anything that you can use with fast, time series radar."
The satellite uses an advanced radar to provide an unprecedented, detailed view of Earth. It is designed to observe and take measurements of the planet's some of the most complex processes, including ecosystem disturbances, ice-sheet collapse, and natural hazards such as earthquakes, tsunamis, volcanoes, and landslides.
In fact, Speaking to Geospatial World last year,  Charles F. Bolden, then NASA Chief,  had categorically stated, "The primary focus of the satellite would be to detect changes in earth's crust. We are looking for hints at earthquake detection that will help us save lots of lives and money."
WATCH: NISAR will set standards for future collaborations between NASA and ISRO
ISRO Chief AS Kiran Kumar had concurred that NISAR will also help us provide input on biomass estimation, soil moisture, and glaciers. It will also provide information about surface deformation on the earth surface and that can go to the very high accuracy of up to few centimeters. It means changes in the surface of the earth can be monitored and since this can be done at a very regular interval, this will be able to provide an extremely good database for R&D in earthquake and earthquake precursor generation and monitoring related activities.
NISAR will add a tremendous new data set to create new and greatly improve upon existing applications. By frequently and regularly sampling some of the world's most hazard-prone areas, these data will be more than a rich source of information to guide the development of applications and their associated scientific studies.
ISRO has already roped in many academic institutions to study the data collected by NISAR  and come up with a utilization plan.