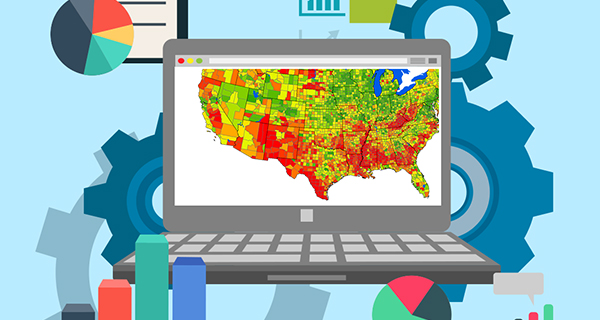 Due to the ever-increasing need for data, companies today seem to know nearly everything about their customers: Who they are, what they buy and how they operate their businesses. However, what is often missing is the data around where they are located, how they are connected and how their locations impact buying behavior. The value of harnessing the 'power of where' from business data is unprecedented. By combining business data with geospatial data within a consolidated enterprise geodatabase, businesses can drive improved outcomes, deeper insights and expedited decision making – at scale – for enterprise-critical business analytics.
Unleash the Power of Spatial Analytics with In-Memory Computing
A geodatabase is the foundational component for organization-wide sharing of spatial data and spatial analytics. By implementing an enterprise geodatabase, businesses today can take advantage of the advances in geospatial data processing to fully derive the business value of location-driven analytics. An in-memory and multi-model database management platform, combined with business data from additional organizational data sources, allows businesses to accelerate spatial data collaboration and analytics across the enterprise. Geodatabase management typically requires regular maintenance to maintain the quality of spatial data sets and optimize system performance. With an in-memory computing platform at the core, however, there is longer a need to create or maintain pre-calculated/pre-aggregated data in order to maintain system performance.
Some organizations are reluctant to directly combine their current business systems with location data, thinking they're unable to harness the processing speeds and manage all that data with the limited capabilities of their current enterprise database. It's an understandable concern, especially when you consider that these organizations are currently maintaining two separate environments for business data and location data, so there is a considerable amount of resources spent on data administration and infrastructure. However, when organizations choose to optimize and combine their spatial data, business data and Internet of Things (IoT) data by creating an enterprise geodatabase, they are able to transform their current landscape into a unified 'Geo-Business Data Platform' and derive deeper insights for their customers, while also cutting down on management costs. Not only is the data consolidated, but business and GIS teams can now work in tandem on a single data store, achieving a faster and more efficient strategy for business outcomes.
A Modern Architecture for Spatial Analytics
There are four components to a modern architecture within your organization's enterprise geodatabase, to maximize on the business benefits of special analytics. Those components include:
A modern web-scale geodatabase architecture – a web-scale geodatabase architecture complements the web GIS model in an overall web-oriented deployment. With the constant creation of business data and the need for real-time fusion with location data, enterprises demand a robust geodatabase architecture.
Accelerated spatial analytics performance – the increased speed of spatial analytics delivered by your in-memory computing platform is through a combination of columnar storage and side-by-side data processing. In-memory storage guarantees ease of access as compared to searching through disk storage. This data processing method yields results up to 100x faster in many cases, ensuring unmatched performance for complex and time-sensitive transactions such as mapping, reporting, real-time planning and various other analytical scenarios including improved prediction and forecasting.
Rapidly developed new use cases and analytical models – running a geodatabase on your in-memory computing platform spatially enables the entire enterprise, laying the foundation for spatial analytics use cases that were previously inconceivable due to performance constraints. Multi-model processing allow you to combine native spatial processing with native advanced analytics such as predictive, graph, document and streaming. These allow organizations to go beyond visualization of business data on a map interface to true advanced analytics and decision making.
Standard integration with in-memory computing and spatial data apps – in-memory computing allows for quick, seamless and secure integration with your database management platform and your location data, as well as an enterprise's web app and development portfolio. Developers can use popular formats such as JavaScript, REST, and HTML 5 to build standalone applications.
Once business data and location data are seamlessly integrated within a modern architecture, organizations can begin designing a truly enterprise-strength GIS data model. The benefits of an enterprise geodatabase allow an organization to make more intelligent associations with spatial objects and non-spatial objects to answer big questions like, "how are things connected?" It also enables the easy exchange and sharing of data within an organization between various roles and departments, on any device-anywhere at any time. For example, GIS developers can use services published from the enterprise geodatabase within their geospatial applications. Portals within your database and online web applications can be shared with business users to give meaningful insights to customers, and C-suite executives can gain business intelligence through intuitive dashboards and spatial apps.
By implementing an enterprise geodatabase based on your existing in-memory database management platform, you are streamlining regular maintenance of data and combining spatial and business data to produce extremely valuable insight about your customers. The 'power of where' is at your fingertips to distribute insights among all levels and roles at your organization, allowing unparalleled knowledge into how your customers operate, where they operate, and how that impacts their purchasing power. As detailed above, from the C-suite to developers, this spatial data built into an enterprise geodatabase is the next step into exceedingly fast analytics, which in turn result in more strategic, data-driven business decisions and deeper customer insights.
ALSO READ: Spatial modeling will become fundamental to business decisions – Javier De La Torre, CARTO