The 2030 Agenda for Sustainable Development is particularly a multifaceted agenda incorporating several dimensions, including time-bound targets as well as geographic location. While the temporal dimension has been given ample attention, comparatively less consideration has been paid to the spatial dimension.  Even so, it is obvious that 'everything that happens, happens somewhere'. The Sustainable Development Goals (SDGs) cannot be achieved without understanding that 'where', especially when 11 out of 17 SDGs have a clear geographic dimension. The fundamental objective of the 2030 Agenda – no one is to be left behind – will require quality, accessible, timely and reliable disaggregated geospatial data to help with the measurement of the progress and to ensure that no one is left behind on the development path.
Today, geospatial data have become bigger, faster, real-time and detailed. And it has more noise than ever before. Advances in technologies are leading to this exponential increase and creating unprecedented possibilities for informing and transforming the society. However, despite significant advances in geospatial technologies, there is a lack of awareness, understanding, and uptake, particular at the policy and decision-making level, of the vital and integrative role of geospatial information and related enabling architectures
From time-to-time geospatial think tanks have articulated and stressed the role, need and value of geospatial information, technology, and services to the governments and decision makers, but, the voices have been feeble.
In a research paper entitled Sustainable Development and Geospatial Information: A Strategic Framework for integrating a Global Policy Agenda into National Geospatial Capabilities, Greg Scott, Inter-Regional Advisor for Global Geospatial Information Management in the United Nations Statistics Division, Department of Economic and Social Affairs and Prof. Abbas Rajabifard, Head of the Department of Infrastructure Engineering and an Associate Dean (International), The School of Engineering at the University of Melbourne, tie the need for new strategic framework for linking a global policy to national geospatial capabilities.
"The overarching objectives of the SDGs are to transform the social, economic and environmental dimensions of people and the planet, particularly in the developing world, to eliminate extreme poverty, to create a future for our children and their children, and to leave no one behind. That's the policy objective and outcome. But do we really understand the scale and dimensions of the problems, where they are, whom they impact, what are the causes, and how they can be remedied? To answer the tough questions and to be able to measure and monitor progress for those most in need, the most vulnerable countries, is going to take not only transformational change in our thinking, but also transformational change in how we leverage existing and new sources of data and emerging technologies – in essence a digital transformation," Scott reiterates.
The paper reasons that the role of geospatial information in contributing to sustainable development has not adequately been described by either the sustainable development policy practice or by the geospatial professional community. This lack of policy and guidance, with commensurate critical gaps and connection points with national geospatial frameworks, is a visible impediment to developing countries and those most affected by the challenges and need to achieve sustainable development.
Scott explains, "Presently, the most developed countries are grappling with an abundance and oversupply of data, technology, and innovation, while in many parts of the world data scarcity prevails. When applied to sustainable development there is a greater concern. Those countries that are experiencing significant data scarcity are also those that tend to be most vulnerable and at greatest risk of being left behind. A vast 'geospatial digital divide' remains."
"While the challenges are immense, the digital technology that is available today allows the necessary transformation and being able to bridge the geospatial digital divide that exists among countries. But realizing this opportunity is complex in many dimensions, not the least being the lack of robust national information systems and associated geospatial frameworks. Achieving sustainable development through digital transformation, and an enabling 'data ecosystem means' we must first bridge the geospatial digital divide," he adds.
Why has geospatial information not been visible as an enabling and coherent capability in the global development agenda? How can geospatial information be implemented and integrated into national information systems, at a policy level, in order to contribute more holistically to measuring and monitoring the targets and indicators of the SDGs at a technical level? How do we transfer all of this geospatial technology and data richness, availability, and connectivity to the technology and data poor?Are some of the questions, whose intriguing answers could be found here.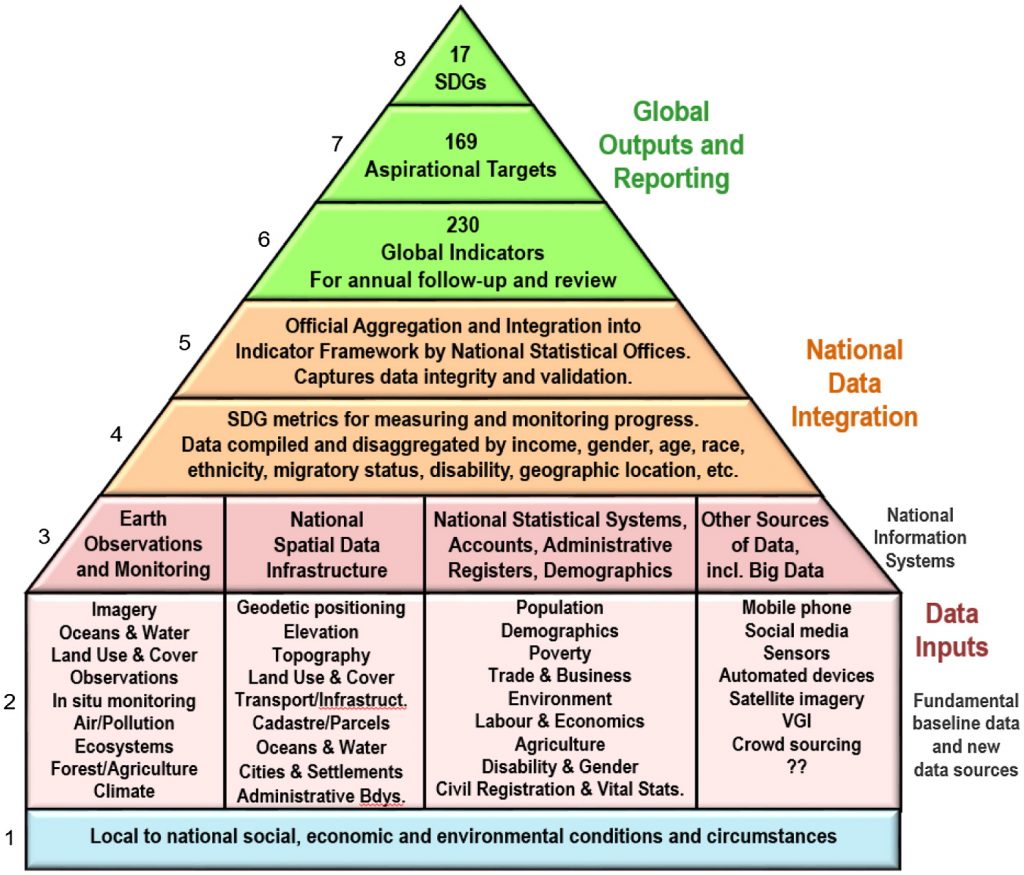 It discusses the geospatial technology evolution and the emergence of Spatial Data Infrastructures (SDIs) before identifying a number of policy and practice signals of change that are of global importance for many countries around the world, particularly the many developing nations. "National geospatial frameworks will substantively improve and strengthen the production and use of timely, reliable and official geospatial data and information which meet the needs of national implementations of the 2030 Agenda, are policy relevant, and provide government users, decision makers and researchers with data, tools, and methods to make appropriate and evidence-based decisions," stresses Scott.
The paper also gives a flashback on how Landsat, Google Earth and Google Maps enabled paradigm shift and 'mainstreamed' the geospatial information.
The paper then explores the challenges that must be overcome and argues that for the first time, the global geospatial community, particularly through national geospatial information agencies, has a unique opportunity to integrate geospatial information into the global development agenda in a more holistic and sustainable manner, specifically in measuring and monitoring the targets and indicators of the SDGs. This will be demonstrated by designing a new national geospatial strategic framework for this integration. Finally, the paper presents and describes a conceptual integrative sustainable development 'data flow' framework that provides the building blocks for countries to develop and implement within the national geospatial strategic framework.
Read & Download: The Full Research Paper