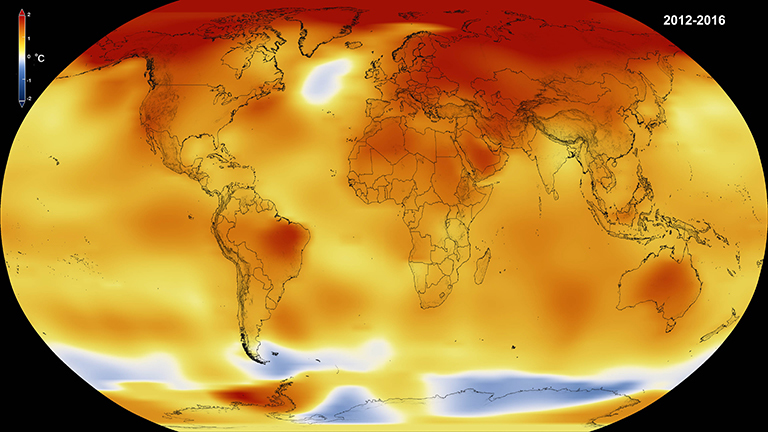 A recent review of record of global temperatures by the National Aeronautics and Space Administration (NASA) has boosted the confidence of scientists working on assessing the rise in Earth's temperature for years. According to the analysis, the space agency's estimate of our home planet's long-term temperature rise in the past decades is accurate to within less than a tenth of a degree Fahrenheit. The finding indicates that NASA's past research has more-or-less correctly captured the rising surface temperatures.
The most thorough assessment of the statistical doubt within the GISS Surface Temperature Analysis (GISTEMP) data product highlights that the values calculated yearly are likely accurate to within 0.09 degrees Fahrenheit (0.05 degrees Celsius), and 0.27 degrees Fahrenheit (0.15 degrees C) at the beginning of the nearly 140-year record. This record is maintained by NASA's New York City-based Goddard Institute for Space Studies (GISS), and it confirms that the Earth's temperature has risen in recent decades.
The Earth is getting warmer
The recent assessment also backs the scientists' claim that Earth's temperature has been on the rise since 1880. The rise is approximately 2°F or a little more than 1°C. GISTEMP is the most common index to measure worldwide surface temperature differences. This tool is used to know how cool or warm our planet's surface is in a particular year, with 'normal' being defined by the average during a baseline period of 1951-1980.
GISTEMP is used by NASA to refresh its worldwide temperature update annually in association with the National Oceanic and Atmospheric Administration (NOAA). According to these two agencies, 2018 was the fourth warmest year on record and 2016 the warmest.
Earlier, GISTEMP delivered an estimation of uncertainty accounting for the spatial gaps between weather stations. Just like other surface temperature tools, GISTEMP uses a process called interpolation that evaluates the temperatures between weather stations using data from the closet station. According to Nathan Lenssen, Lead Author, Doctoral Student, Columbia University, "We've made the uncertainty quantification more rigorous, and the conclusion to come out of the study was that we can have confidence in the accuracy of our global temperature series. We don't have to restate any conclusions based on this analysis."
Gavin Schmidt, Director, GISS, and co-author of the study said, "Uncertainty is important to understand because we know that in the real world we don't know everything perfectly." He added, "All science is based on knowing the limitations of the numbers that you come up with, and those uncertainties can determine whether what you're seeing is a shift or a change that is actually important."
The study also found that single and regular changes in measuring temperatures over time were the most important source of ambiguity. Data interpolation between stations also contributed to some uncertainty. Schmidt said, "After adding these components together, GISTEMP's uncertainty value in recent years was still less than a tenth of a degree Fahrenheit, which is "very small."