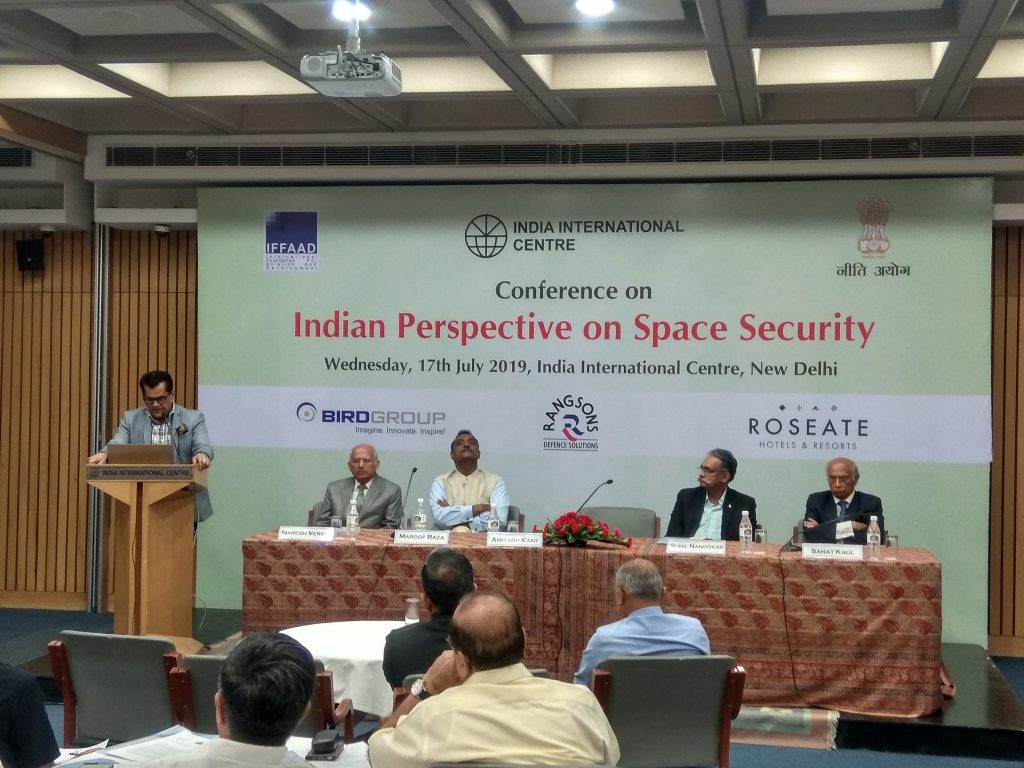 Space security is increasingly emerging as central to a country's security doctrine. With digitalization, advancements in satellite technology and other innovations in sensors, the ubiquity of space-based services is crucial for multiple sectors today and is fast becoming an economic lifeline. This makes it all the more crucial to protect space assets and ensure that space doesn't become an area of disputes, conflicts and warfare.
Prioritizing space security 
At the conference on 'Indian perspectives on space security', held at the India International Centre, Delhi, and organized by International Foundation for Aviation and Development and NITI Aayog, the various facets of India's security approach vis-à-vis space were discussed. It was emphasized that in the 'New Space' age India cannot afford taking space security lightly or to rest on its laurels.
India is among the leading spacefaring nation in the world and so it's important that India develops its own space security strategy to safeguard its space infrastructure, and also develop assertive defense capabilities that would deter any attacks on her sovereignty.
"While New Space economy is a benign pursuit for the benefit of humanity, there are certain regressive and maligning forces at play too. Space security and cybersecurity together becomes a prime focus for national and geopolitical imperatives", says Amitabh Kant, CEO, NITI Aayog.
Countries should be able to expand the size of their space economy and protect their space assets. India's successful ASAT was a testimony of this, Kant further adds.
"Space is fast emerging as the fourth arena of warfare. For any state/non-state actors it would be easy to destroy space-based assets. As this orbital ecosystem effaces the need for dominance, there is a need for a sustainable, holistic, comprehensive policy. India has to take a call and decide what it has to take", says Air Marshall Naresh Verma.
India has established Defense Space Agency and Defense Space Research for the benefit of the people and to stay ahead of the curve in defense capabilities. Space industry is rapidly transforming at an unimaginable pace and it's a now or never situation to reap its benefits and capitalize on the untapped potential fully.
He also points out that India's recently concluded ASAT( anti-satellite technology) not only demonstrated India's military might but also raised several important issues so that there could be a larger discourse. Space debris and its proliferation due to Kessler effect, the weaponization of space, space congestion, space pollution, and the degradation of space environment, are some major issues that need to be on the fore.
Broader participation
"Mission Shakti – India's ASAT mission – was a timely activity. Today a space has been created for making people hear and understand India's voice in terms of utilization of space for peaceful purposes", adds Air Vice Marshall Sunil Nanodkar, defense & strategy analyst
Following India's ASAT, a lot of ripples were created and there has been an ongoing debate on regulatory authorities. In its wake, the  US President announced the creation of a  6th Force and French president called for a space division.
Kant strongly believes that India's space security can be further strengthened if there is adequate participation of the private sector and the establishment of incubation centers and innovation hubs.
"Indian space program needs to become more inclusive and expansive in forging partnerships with foreign space agencies, private players and conceptualizing new innovation. Space cannot remain the monopoly of ISRO. We need a clear, precise policy on opening up of space", he emphasizes.
Traditionally, public-funded space programs were main source of investments for space sector. However, disruption and rigorous spinning of terrestrial industries has led to a paradigm shift enhanced by the entry of Information Technology and internet players in the space sector.