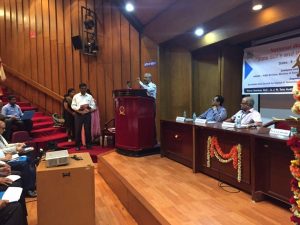 A two-day workshop on State Spatial data infrastructures (SSDI) was organized in Bengaluru, India during 8-9 June, 2017. The aim was to draw a roadmap for the future. The workshop was co-organized by Karnataka State Council for Science and Technology and Natural Resources Data Management System, a division of National Spatial Data Infrastructure.
The objectives of the workshop were to technically review the project results of the SSDI in a more detailed way and demonstrate the advantages of standardization and improved access to map data towards promotion of the SDI concept and prepare a strategy for the coming years.
Both days were full of brainstorming sessions. Karnataka, West Bengal, Odisha, Uttarakhand, Kerala, and Haryana gave an overview on the progress and challenges of their respective State Spatial Data Infrastructures. Let's have a look at how these Indian states spatial data infrastructures are doing:
Kerala SDI
The state established Kerala State Spatial Data Infrastructure (KSDI) and the Geoportal on January 18, 2013 on similar lines as National Spatial Data Infrastructure. KSDI is an Internet-based Geospatial Data Directory for the state of Kerala, that facilitates users of the system to share and explore data related to political and administrative boundaries, natural resources, transportation, demography, agro and socio-economy, etc. The state geoportal is currently being upgraded using Hexagon Geospatial's Erdas Apollo 2016.
It is also integrated with Bhuvan, Open Street Maps and Google Maps, and the geoportal has key features like Map Catalogue search, Geoprocessing on Web, navigation and measurements, spatial and non-spatial query builder, Web Editing etc.  It also allows users to view and download online map services. The state is on a mission to develop public utility mapping mobile app.
Odisha SDI
 The Odisha government is planning to adopt the Odisha State Data Policy (OSDP), in the line of National Data Sharing and Accessibility Policy (NDSAP) soon. The main aim is to facilitate easy access and sharing of government-owned data for supporting sustainable and inclusive governance and effective planning, implementation and monitoring of developmental programs, including managing and mitigating disasters, and scientific research that aids to informed decisions for public good.
The state has signed MoU with NRSC and ISRO so that it can effectively use Remote Sensing, GIS, and IT technologies and create Web-based geospatial applications on Bhuvan platform for supporting governance. ORSAC is to host all its datasets in Bhuvan geoportal for public use. That will provide better geospatial governance support to various departments of the state and decision making for planning and development.
West Bengal SDI
In West Bengal, the State S&T wing and other departments like Forest, P&RD, Fisheries, PHED, I&WD, WRDD, Development & Planning, KMDA, etc. have already generated substantial geospatial data in various fields like natural resources management, spatial environmental planning, natural disasters, etc. The government of West Bengal aims to reach Panchayats and municipalities for local level planning for a better resource management.
Karnataka SDI
Karnataka State Spatial Data Infrastructure (KSSDI) project has developed state's Web-accessible spatial database for use in developmental planning activities and has been in operation for use and demonstration since 2009. The KSSDI portal has been supporting data update and application development for the state-level Line Departments and the Zilla Panchayaths (District Councils of India) at the districts over the past few years.
The NRDMS program is continuously updating its datasets in diverse fields with an increasing set of application requirements emerging from the end users in the Line Departments of the Zilla Panchayaths. Karnataka appears to be the only state to institutionalize usage of spatial data in decision-making at the district level for Panchayati Raj Institutions (PRIs).
Haryana SDI
Haryana has developed geoportal with the involvement of BISAG. The state aims to develop a Web-based infrastructure (geoportal) to acquire, catalogue, process, store, value adds, distribute and enhance the use of geospatial data.
Uttarakhand SDI
Uttarakhand Geoportal Server has been installed at the Uttarakhand State Council for Science and Technology (UCOST), Dehradun (Capital of Uttarakhand). However, testing of the portal is still under way. At present, Uttarakhand Web Geoportal is enabled, where around 192 Layers of different line departments at state and district levels have been uploaded to Central RDBMS. For regular updating of GIS, District GIS Cells have been established in 9 different districts.
Challenges in implementing State SDIs in India
Looking at the present scenario, it is amply clear that states in India are digitally enabled and accept the need of "State SDI". But to achieve their goals they have many hurdles in between. The main challenge that every state is facing is the lack of 'data procurement' and 'standardization'. There is a data gap as states don't have up-to-date data and Base Map on which they can rely upon for various development programs. Procuring Map from Survey of India is tedious and time-consuming so many of the departments depend upon Google Map for quick action. Different file types and the coordinate system becomes another challenge for them.
Lack of awareness about the importance of geospatial data and its applications is another challenge. And this unawareness is subsequently leading to indifference and dearth of support toward the SSDI.
In one of the sessions, a state pointed out that during initial days technical know-how for developing an SSDI was limited. And keeping pace with the rapidly emerging technology is also a great challenge for Indian states.
Tendering process for vendor selection is very slow, especially e-Tendering process. Due to lack of expertise, there is no even procedural protocol.
There is fund constraint as well. States are not getting proper fund due to which they face problem in even setting up basic infrastructure. There is a lack of collaboration as well which is ultimately resulting in data duplicity.
Recommendations for State SDIs in India
Based on the challenges outlined in the workshop NSDI recommended for a strategy for data update. Envisioned as per the State Data sharing policy, the Data Holder Departments will update their own data and will make it available through portal sharing with the other User Departments. It recommended that more inclusive coordination mechanisms need to be created which are understood and accepted by stakeholders from all communities of practice and at all levels of government so that information can be created once, and used many times across both jurisdictions and communities of practice.