Detective novels are nothing without an FBI or CBI agent in them; but what may seem coming straight out of a mystery novel is the World Bank's Android and iOS app, the Spatial Agent. Yes! The Spatial Agent is not a living person out in the world fighting crimes but is an application that represents a new paradigm for visualizing open spatial and temporal data for development on an interactive mobile platform.
What is the Spatial Agent app?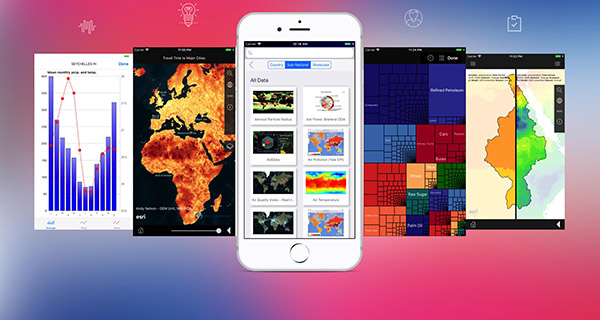 Data. Data. Data. That's all we hear about today. More so, data, spatial and non-spatial, is a primary solution to many of the existing developmental challenges in the world. However, addressing these challenges at present is being hampered by the poor availability of spatial and temporal data. More often than not, it is not that the data is not available, but the whereabouts of high-quality datasets is unknown to the user.
Keeping this in perspective and in a quest to improve awareness about the magnanimous collection of spatial datasets in public domain, to improve data transparency and awareness of open data platforms, Mr. Nagaraja Harshadeep, the lead environmental specialist and global lead for watersheds at the World Bank, created the 'Spatial Agent' app.
With the goal to provide robust and comprehensive spatially sound solution to address the many developmental challenges faced across the globe, the app brings together thousands of freely available spatial datasets and analytical services from more than 300 web sources from major institutions like United Nations (UN), ESA (European Space Agency), NASA, National Oceanic and Atmospheric Administration (NOAA), research universities and many more.
Shedding light on the key context of the app, Mr. Harshadeep, stresses, "Many of our development challenges and solutions require us to visualize data in a spatial perspective. We are presenting a new paradigm for easy and intuitive access to development data—highlighting public-domain online data services from sources around the world."
Spatial Agent App and SDGs
Since 2015, the solutions for almost all development challenges has been dependent on visualization of data which is enhanced when data is looked at from a spatial perspective. It has become imperative, that the 2030 Agenda for Sustainable Development is achieved as policy makers and decision makers are being persistently introduced to the value of dynamic visualizations created by the integration of data sources.
In this regard, the World Bank's Spatial Agent helps explore multi-sectoral synergies in a spatial development context. "Lot of developmental activities happening in a region need to be looked at synergistically. Data is central to what was done for MDGs and what is going to be done for SDGs. Most of us have problems accessing data, either because it is under 'lock and key' within many government departments or is available in strange formats. The Spatial Agent provides the solution to all these problems," highlights Mr. Harshadeep.
Spatial Agent App Applicability
In addition to its wide applicability, the Spatial Agent app pulls hundreds of data-sets, creating on-demand visualization on multi-dimensional topics to provide solutions for social (population density, poverty), environmental (forest density, biodiversity, water resources), economic (GDP, Infrastructure, Trade) and climatic issues (Snow cover, floods, precipitation). The app not only provides data but also provides quick data analytics for planning and policy making. An everyday consumer product, the app is simple to use providing a wealth of information in the user's hand to bring data-driven decision making.
Furthermore, of the many benefits that the Spatial Agent offers, few primary benefits are: one-stop access to high-quality spatial data at various scales; improved multi-sectoral awareness of development issues; and increased data sharing in the public domain. Presenting an easy-to-use visual interface for country level, and sub-national level data, the Spatial Agent app's data analytics services answer all questions of the curious mind. Some of these could be:
Which areas in the Middle-east have experienced rain in the last 3 hours?
Do you know which areas are susceptible to earthquakes in India and China?
How fast is the population in China rising?
What does the global snow cover look like today?
What is the capital to asset ratio of Indian banks?
…among many others.
Get the Spatial Agent App
Consequently, the Spatial Agent app is available for download on iOS and Android platforms. The App is available in 7 languages, English, Arabic, French, Indonesian, Russian, Simplified Chinese, and Spanish. The web-version is presently in development with the Bank's Global Reach Effort for launch later this year. The app is freely available requiring approximately 700 MB of your phone's storage. So, if you have that much space on your phone and are ready to bring the world to your fingertips; get going. Download the app and become the master of Spatial knowledge.
To know more about the Spatial Agent app, watch Dr. Harshadeep's presentation:
Watch this fun interactive video to learn about the Spatial Agent app HERE.