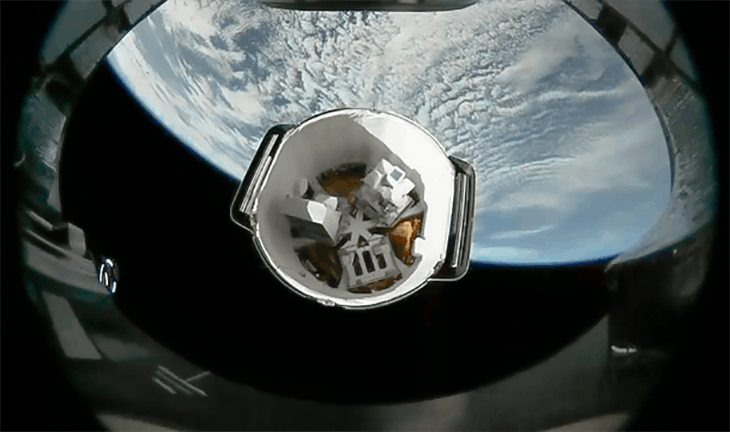 As the International Space Station's 18-meter robotic arm snared the SpaceX Dragon ship on December 17, history was made.
But SpaceX has been carrying supplies to the International Space Station (ISS) for more than five years, and it's not news. Neither is flying recycled spaceships. SpaceX had used a recycled Dragon ship for the first time ever for its last visit to the station in June. And of course, its re-cycled Falcon 9 launches have become a regular affair now.
What is significant and historic is, this is the first time ever, a spaceflight mission has been successfully carried out using completely refurbished technology – a used Dragon ship (that has been to ISS earlier and successfully come back) was launched atop a used Falcon 9 rocket.
While SpaceX has been returning the Dragon capsules routinely back on Earth via splashdowns in the ocean, no non-SpaceX spacecraft has visited the ISS and returned; they are designed to burn up in the atmosphere after a single flight.
In an earlier blog, we had written that SpaceX will use only recycled Dragon ships till its Dragon 2 not ready.
Yesterday's success, Musk also possibly buried a bitter part of past failure — the mission took off from Launch Complex 40 at Cape Canaveral Air Force Station, the site of the September 2016 Falcon 9 explosion. The first mission launched from the site since the disaster will surely be a sign of prophetic significance for SpaceX in times to come.
Mission CRS-13
The success of the mission, CRS-13, also means a huge vote from NASA in favor of SpaceX's re-usable technology. The Falcon 9 rocket is the same one that resupplied the ISS in June 2017 (when the Dragon capsule was first time re-used) while the Dragon spacecraft first carted supplies to the orbiting laboratory way back in April 2015.
The Dragon is carrying over 2,000 kg cargo, which consists of both  supplies for the station and research gear for its crew. After spending around one month at the station, the Dragon will return about 1.6 kg of cargo to Earth when it conducts a de-orbit burn, reenter's the atmosphere and splashes down in the Pacific Ocean.
It will mark another milestone on SpaceX's march toward regular re-flight of its rockets and spacecraft, a key pillar in its strategy to reduce the cost of spacefaring.
Now that another record is broken, SpaceX can look at its next launch — the Falcon Heavy, which, the company says will ultimately launch humans to space from once again from American soil. And if all goes according to plan, will fly to humans to Moon or Mars.
READ our special feature on NewSpace Revolution: The emerging commercial space industry and new technologies