Survey of India is fast moving towards digitization and use of modern technologies like drone surveying. In the past one year it has produced 2,000 maps of the country for various uses and has made more active efforts to make them easily accessible to users through its Nakshe portal. The maps produced by it are authentic and are produced keeping various parameters and development activities in the mind.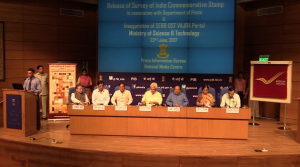 At an event to launch the commemorative stamp to mark 250th year of Survey of India, Minster of Science and Technology, Dr. Harsh Vardhan emphasized on the use of "desi maps" produced by India for the Indians. "From mountains to desert and forest, mapping India inch by inch is not an easy task. But Survey of India did it all. In less than one year the mapping agency has produced more than 1,500 to 2,000 maps and every Indian can access these map easily without going through any hour-long formalities," he said.
"The maps produced by Survey of India are very authentic and are produced keeping various parameters and development in the mind," said Surveyor General Dr. Swarna Subbao Rao. He added that the SoI maps were used for serious engineering programs and the agency was also actively developing technology to meet the multidisciplinary requirement of data that can be used by decision makers and scientists aid to the developmental plans.
A few months back Survey of India had launched Nakshe portal, which makes maps of the country easily available to citizens. A user just needs his/her Unique Identification (UID) details to log in and in minutes they can see a map of the desired location.
Survey of India has also recently moved towards drone photography for surveying.  The agency has introduced drone survey course as well in its institute located in Hyderabad.
250 years of SoI
Thursday's event was organized in association with India Post in Delhi on Thursday. Survey of India has completed its 250 years of existence in 2017. The agency is organizing a year-long series of events to remember the contributions made by its great predecessors.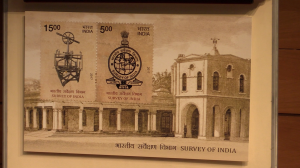 The idea is also to look forward to a new era of geospatial evolution that would help India achieve the economic milestone and the Sustainable Development Goals.
"Established by East India Company in 1767, the Survey of India has come a long way. From surveying India, Tibet, Magnolia and parts of China step by step, using a compass, to now producing digital maps, the principal mapping agency of India has gone through various hardships," reminiscenced Subba Rao.
But, "defeating all odds, our journey is full of great achievements like the 'Great Trigonometry survey', 'Measurement of Great Arc', and mapping whole of India through air photography in which the agency has mastered in," he added.
Praising achievements of the survey of India Manoj Sinha, Minister of Communication, said, SoI is one of the oldest nodal mapping agencies in the world. "As we can't think of development without a map, the contribution of agency in keeping the base of India's development is incomparable," he said. He added that with the time and tradition Survey of India has evolved a lot and has developed technologies defeating endless hurdles.
VAJRA portal inaugurated
 At the event, Dr. Harsha Vardhan also inaugurated the VAJRA portal that stands for Visiting Advanced Joint Research, for his department.
"The Department of Science and Technology keeps doing various activities that can aid in development, even at the district and panchayat level. The department has up-to-date data available for every state and any state can easily access those data and can frame their development work accordingly," he said.
The VAJRA faculty will undertake research in science and technology priority areas of the nation to develop capability and capacity. The faculty will engage in collaborative research in publicly funded institutions. The residency period of the VAJRA Faculty in India would be for a minimum of one month and a maximum of three months a year.