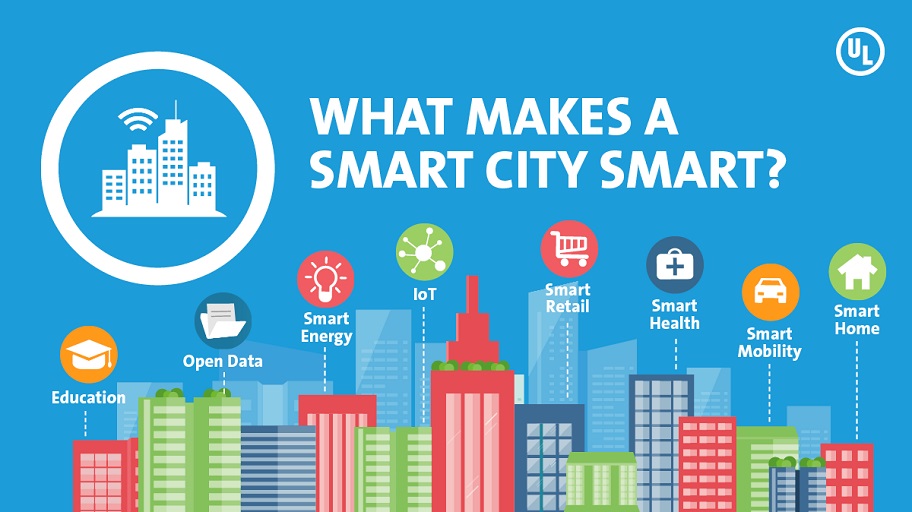 Smart Cities are the flavour of the season. With 20 selected in the first round and another 20 added shortly thereafter, it is but inevitable that these 40 and more cities will become 'smart'. So what is 'smart' in smart cities?
In the approach of the Smart Cities Mission, the objective is to promote cities that provide core infrastructure and give a decent quality of life to its citizens, a clean and sustainable environment and application of 'Smart' Solutions. The focus is on sustainable and inclusive development and the idea is to look at compact areas, create a replicable model which will act like a light house to other aspiring cities. The Smart Cities Mission of the Government is a bold, new initiative. It is meant to set examples that can be replicated both within and outside the Smart City, catalysing the creation of similar Smart Cities in various regions and parts of the country.
Dalberg Global Development Advisors and Confederation of Indian Industry (CII), in a study entitled  "Smart Maps for Smart Cities: Urban India's $8 Billion+ Opportunity" shows that from the technology angle, a Smart City is one that unifies data from a wide range of sources – embedded sensors, public services, citizen reports, telecom companies, and more – to generate information for decision making by policymakers, businesses, and citizens. A city is smart only if its citizens are at the heart of its design. A Smart City must therefore meet the demands of a fast increasing working age urban population through intelligent use of spaces for creating the required urban infrastructure and services for its administrators and citizens at the same time addressing the issues of sustainability and 'greenness'.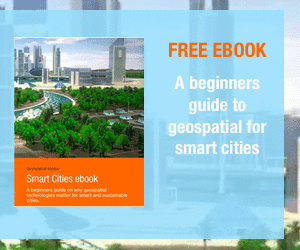 The question arises, is the Indian Smart City Mission addressing these issues of data integration, in particular integration with geospatial data? In the JNNURM, the predecessor of AMRUT and Smart Cities, the work related to the creation of city plans using geospatial technologies was not taken up or taken up perfunctorily. Why? The main challenge is the common perception that the geospatial portion of the project is an 'add-on' and therefore needs to be considered and handled separately. It is a kind of amulet to ensure the success of the rest of the endeavours!
A typical example of this thought process is behind the Smart Cities project. The creation of a geospatial database has to be the starting point of any city improvement programme. The creation of this database has been entrusted to the Department of Space instead of the individual State Urban Departments and municipalities who could then rope in the State Remote Sensing Centres. A perusal of the winning proposal from Bhubaneswar, Orissa in this context further illustrates this geospatially schizophrenic mindset. Here are four quotes from the proposal which specifically mention the use of geospatial systems:
SD4-Diversify Financing Options: Goal 11: Operationalise GIS based property tax management system which works on unit area method.
Option Identification: For undertaking Area Based Development, the first step was to list out potential areas. Idea was to select areas where strategic investments made under Mission can enhance city's image, address major problems being faced by city and provide thrust to economic opportunities. This was done on basis of GIS mapping exercise, review of City Development Plan, results of SWOT analysis, city profiling exercise, discussions with key stakeholders (elected representatives, urban planners and architects) and consultations with citizen groups.
Comment: How is a CDP separate from 'GIS mapping'? A GIS is still remains a mapping tool for planners and not an information system that can be used to develop the CDP, do SWOT analysis and city profiling.
Planning: Step 1: Inform – An extensive area assessment including an area-based SWOT analysis, desk review of all data sets available and GIS analysis, was undertaken by the technical team which formed the basis for planning of Bhubaneswar Town Centre District.
Comment: A reading of the details shows no mention of geospatial data either from DOS or ORSAC. Also there is no mention of GIS analysis beyond what has been quoted in the opening paragraph.
Revenue Enhancement Plan: A. PROPERTY TAX– Recently enacted Property Tax Act will help in moving towards unit area method of assessment. The law will come into force from January 2016. Secondly, it is proposed to move to GIS based property management system. The vendor for software has been finalised and contract for GIS mapping has been awarded to Odisha Remote Sensing and Application Centre (ORSAC). The work is likely to be completed in 6 months. It is expected that these measures will help BMC to increase its property tax revenue by 300% in next two years. Currently tax assessments for residential properties are linked to valuations of 1978 and there are wide spread leakages in the present system. This will help in achieving Goal 11 of the strategic plan.
Comment: While the approach to planning, at face value, appears to be the integration of GIS with other data sources, it is belied by GIS for tax collection being considered a separate effort! Since ORSAC is taking on the task of GIS mapping for tax purposes, who is doing it for the planning and where does the DOS effort come in? What is the need for separate GIS Maps for planning and tax collection?
The problem is that of an urban planning mindset which is tied to 'building permissions' and 'tax collection'. Very few metropolitan cities have planning departments and those that have are staffed at best by eight to ten planners under an engineer who are busy with building permissions rather than planning because they are understaffed, under budgeted and lack modern geospatial tools like GIS. The need is for 80 to 100 planners for a large city and their domains of expertise should cover the various sectors of planning as well as economics and architecture. Needless to say they also need to be able to handle modern geospatial technology in their planning process. This technology goes much beyond a simple GIS and encompasses new data acquisition systems, ERP and modelling.
A possible geospatial strategy (in the context of the Smart City Proposal for Bhubaneswar) could be to make geospatial data the core of the planning process because every activity and plan outlined in the proposal has a spatial element. Create a comprehensive planning database that not only includes 'GIS mapping' but also cross links to 'City Development Plan, results of SWOT analysis, city profiling exercise, discussions with key stakeholders (elected representatives, urban planners and architects) and consultations with citizen groups'. Use this in the context of Decision Support.
A GIS map is just the starting point. It shows the situation as it existed at a point of time when the data was collected, say by a high resolution satellite. A city development plan has to be referenced to the actual situation as captured by the data. This will give a view of the 'planned vs actual' and may bring out anomalies like denuded 'green areas', unauthorised constructions, etc. The SWOT analysis can be referenced to good and problem areas and the city profile is useful to further segregate such areas. Finally, discussions with stakeholders can be referenced spatially to prioritise the action plan. Usually, there can be more than one solution and the need is of a Decision Support system that can weigh alternatives in terms of cost, environment issues and citizen rights.
As the execution progresses the spatial database can be used to monitor activities and maintain a regularly updated spatial record which can be linked to the financial outlays for specific activities and be used in an Earned Value Analysis framework to monitor expenditure and schedule vs achievement.
In the maintenance and operations phases this live updated spatial database can be used for everything from zoning, building permissions, taxes, road, electricity distribution, water supply, and sewerage maintenance. Citizen complaints also can be readily located and action taken. This thus integrates e-governance functions with the main spatial database.
In short, there is more to geospatial enablement for smart cities than one time 'GIS Maps' prepared by a third party.