Over 46 million people around the world are victims of slavery, forced to work in factories, mines and farms, sold for sex, trapped in debt bondage or born into servitude, according to the Global Slavery Index 2016. The number of people living as modern slaves has gone up by 28% compared to previous estimates of 2014.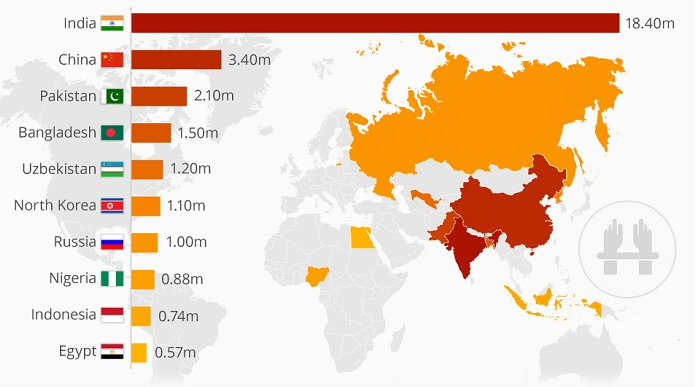 While India holds of the dubious distinction of having maximum number of modern day slaves — more than 18 million — the per capita percentage is higher in North Korea with 4.4% of its population living in slavery, followed by Uzbekistan (4%) and Cambodia (1.6%). It is estimated that of the 167 countries studied, 58% of modern day slaves live in just five countries — India, China, Pakistan, Bangladesh and Uzbekistan – if we go by the sheer numbers.
Mapping modern slavery
The 10 countries with the largest estimated absolute numbers of people in modern slavery include some of the world's most populous countries — India, China, Pakistan, Bangladesh, Uzbekistan, North Korea, Russia, Nigeria, the Democratic Republic of the Congo, and Indonesia. Together they account for 68% of people living in modern slavery. Several of these countries provide the low-cost labor that produces consumer goods for markets in Western Europe, Japan, North America and Australia.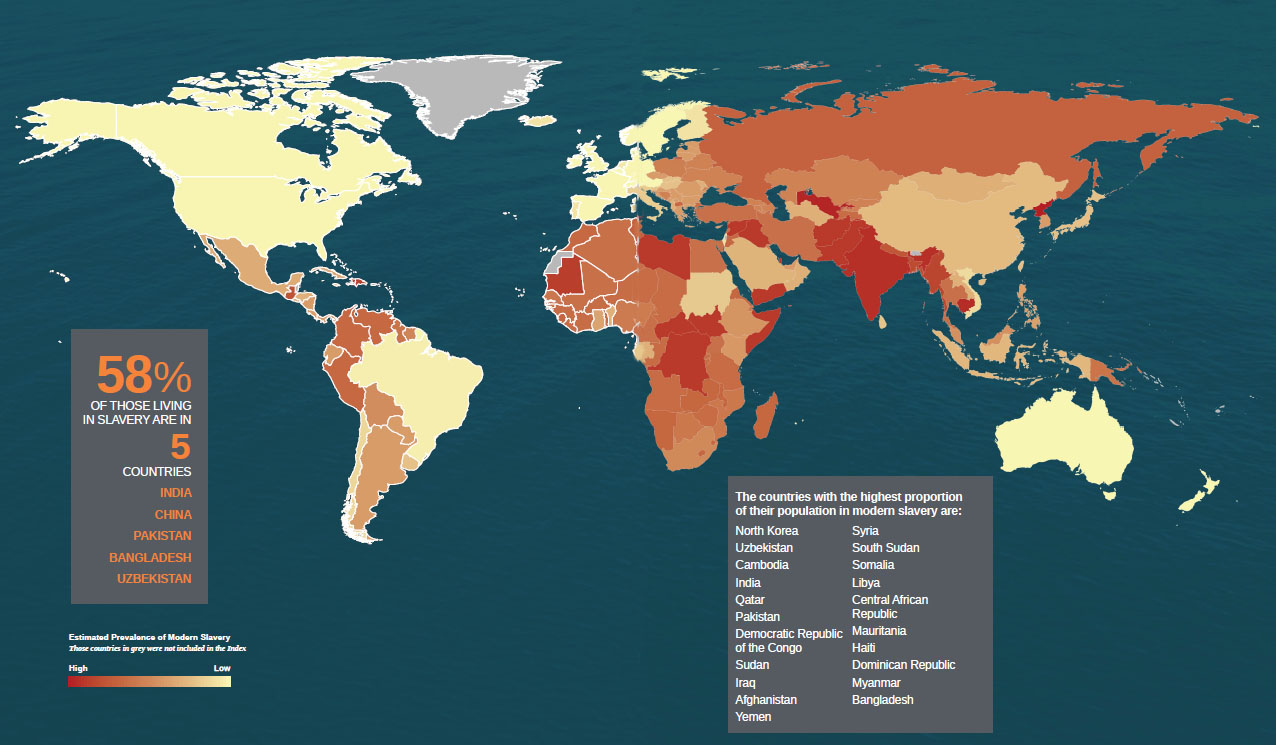 In countries like India or Pakistan it is mostly the people trapped in private establishments who suffer, while there are states that systematically impose forced labor, for example, North Korea and Uzbekistan.  Around 124 countries have criminalised human trafficking in line with the UN Trafficking Protocol and 96 have developed national action plans to coordinate the government response.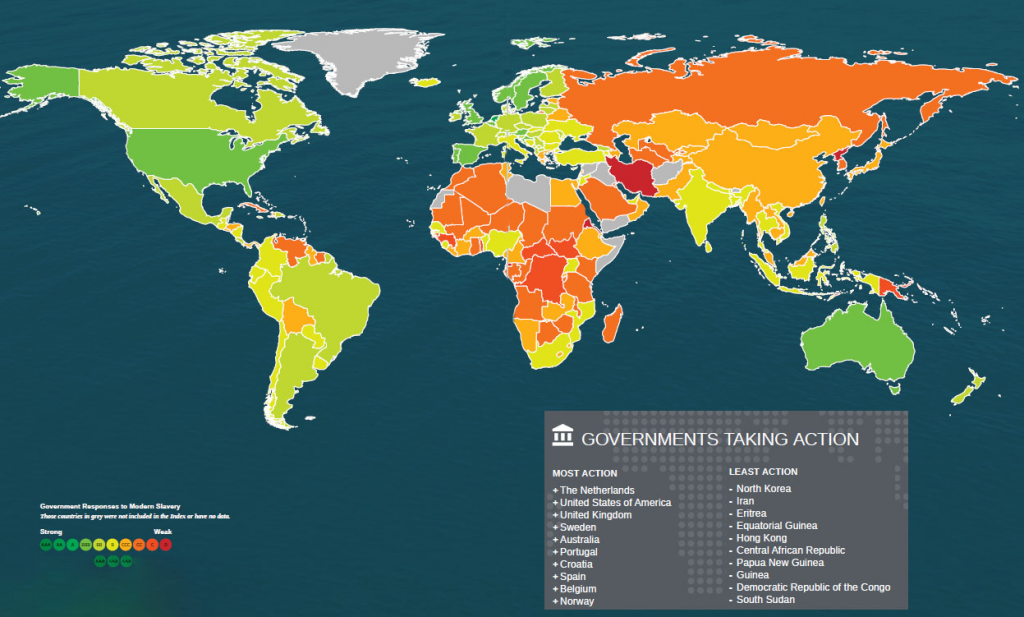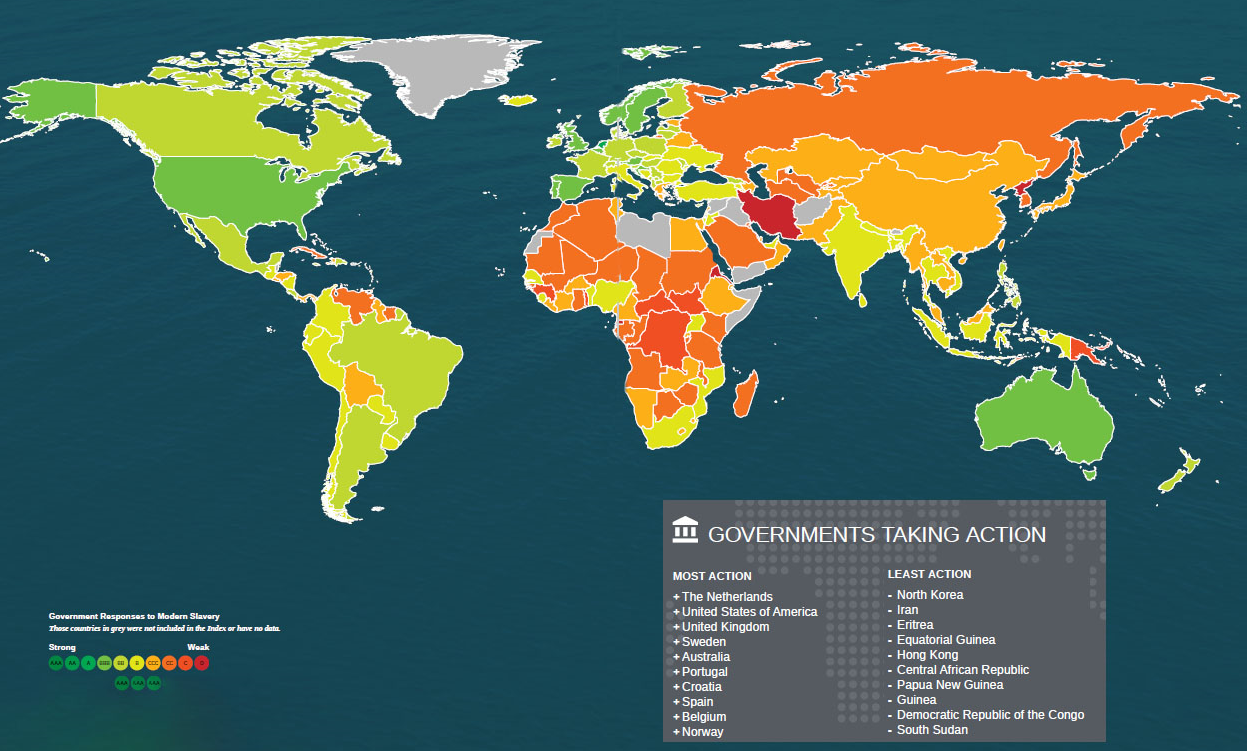 Forced labor conditions are also found also in wealthy nations but they have a lower percentage. The lowest prevalence of modern slavery is in the countries in Western Europe, North America, Australia and New Zealand. However, estimates for these countries have increased following the application of a new estimation technique, which allows more precise measurement when random sample surveys are not appropriate. UK was the first government to adopt this technique, which increased its estimate to 11,700 people in modern slavery. In 2016, a further test of this technique was completed in the Netherlands. This is reflected in the Netherlands estimate of 17,500 people in modern slavery.
It has been noticed that predominantly high GDP countries are taking the most credible actions to tackle modern slavery. They are: the Netherlands, the United States, the United Kingdom, Sweden, Australia, Portugal, Croatia, Spain, Belgium and Norway.
Interestingly, among the governments taking the least action against slavery features Hong Kong at 5th place. Other wealthy countries like Qatar, Singapore, Saudi Arabia, Bahrain, Oman, Kuwait, Japan and South Korea are not doing enough to address modern slavery problems.
The top 10 list is: North Korea, Iran, Eritrea, Equatorial Guinea, Hong Kong, Central African Republic, Papua New Guinea, Guinea, the Democratic Republic of the Congo, and South Sudan.
Sub-Saharan Africa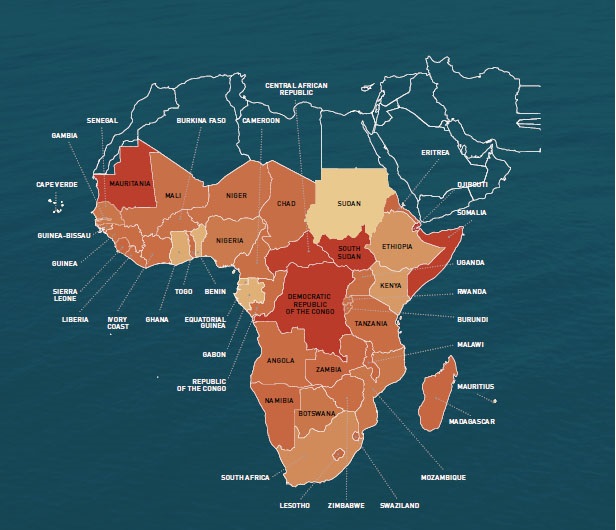 Sub-Saharan Africa is the most vulnerable region in terms of modern slavery. There are a total number of 6.2 million people enslaved in Sub-Saharan Africa in 2016, which is estimated to be approximately 13.6 % of the world's total enslaved population. Its vulnerability score is the worst among at 47.3% and average government response rating is 28.2/100.
While the entire region is considered vulnerable, Central African Republic, Democratic Republic of the Congo (DRC), Somalia, South Sudan, Sudan and Mauritania are some of the worst performers. Slavery in Sub-Saharan Africa usually takes the form of forced labour and forced marriages. According to a UNICEF prediction, by 2050 half of the world's child brides will be African.
However, the issue of child soldiers remains a problem across the region. Escalating violence in Nigeria following the Boko Haram conflict has had widespread effects. Conflict is also prevalent in Chad and Cameroon, where Boko Haram is also active in creating violent conflicts, and in recruiting young entrepreneurs through predatory loans.
The only silver lining is that every country within Sub-Saharan Africa is involved in regional bodies acting against modern slavery or human trafficking and 19 have signed bilateral agreements to ooperate on modern slavery issues.
Middle East and North Africa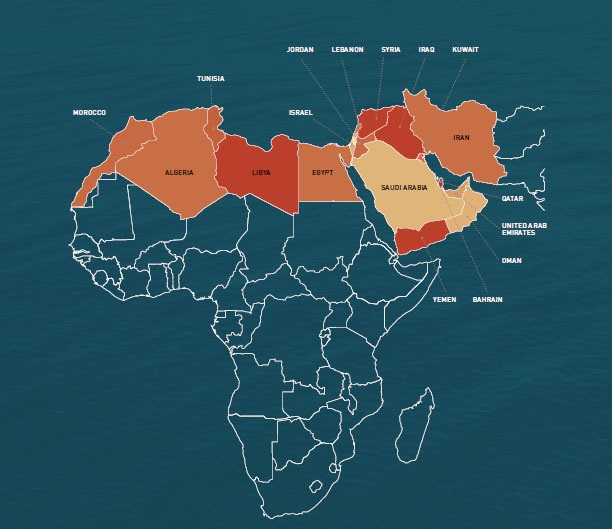 The second most vulnerable region in the world, the Middle East and North Africa (MENA) has about 2.9 million enslaved people, making up 6.4% of the global number. It has a vulnerability score of 45% and scores a low of 32.7/100 in average government response rating.
MENA has seen a change in type of slavery and oppression. Though it continues to be a destination for men and women from Asia and Sub-Saharan Africa who are lured with promises of well-paying jobs, increasingly Middle Easterners themselves faced exploitation and slavery in 2016 as violent conflict escalates and political, economic, social and security spillovers destabilise many countries.
Victims are often forced recruits in state and non-state armed groups or with a very high percentage of children in Syria, Iraq, Palestine and Yemen being recruited, trained and deployed in violent conflict. Then there are victims of forced marriages and commercial sexual exploitation. With little human rights and political freedom, foreign and local citizens were subject to forced labour and debt bondage in service sectors such as domestic work, cleaning, and as drivers and restaurant workers, as well as in construction, agriculture and mechanics.
Asia-Pacific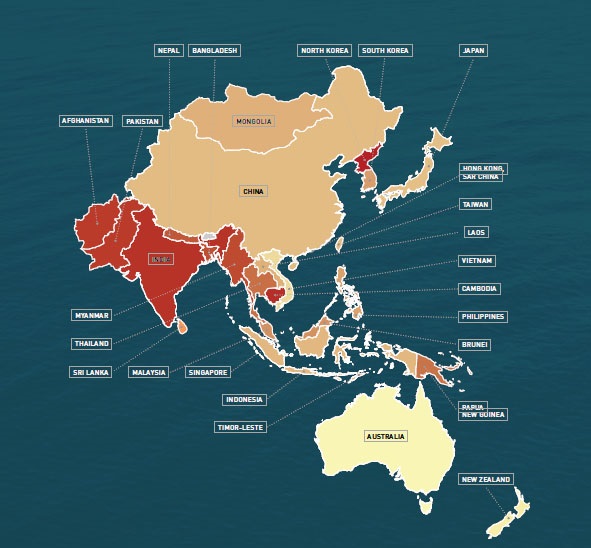 In Asia-Pacific, the most populous region of the world, the estimated number of people living in slavery is 30.4 million, which roughly translates to 66.4% of the global number. The survey gave the region an average vulnerability score of 40.2%, with a low average government rating of 34.8%. Noticeably Malaysia was ranked 11th, South Korea and Hong Kong 12th, Japan 17th, and Singapore 19th in the list of Asian countries where slavery was high.
Low education levels, high population and loosely regulated industries increases the risk of modern slavery in the region, including forced labour in brick kilns, farms and garment sector, child soldiers in Afghanistan, forced begging and prostitution in India and Thailand. Women were also vulnerable to forced marriages, sexual exploitation and domestic servitude. Inhumane treatment of domestic workers, including starvation and sexual abuse is common, as well as extortionate recruitment fees, confinement to the place of employment, excessive unpaid overtime, withholding of wages and confiscation of identity documents.
Eurasia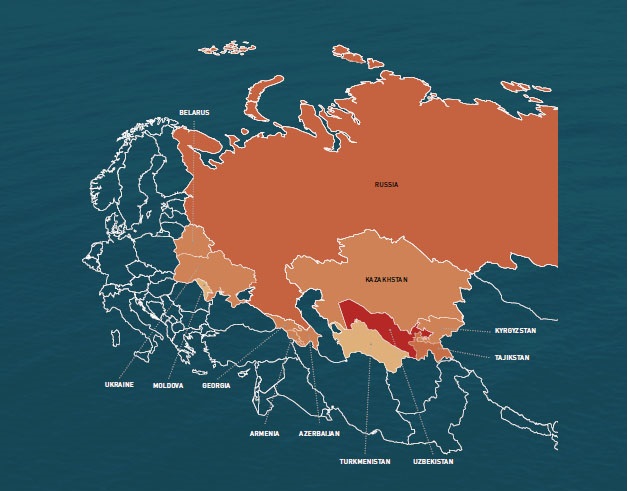 With an estimated 2.8 million enslaved people, Eurasia is third least vulnerable region after Europe and Americas with 37% score. It however has a low 38.1/100 score on average government response rating. It is home to 2.8 million enslaved people, making up for a total of 6.1% of the global total.
It has high state-sponsored forced labour in several countries. Both Turkmenistan and Uzbekistan governments are reported to be subjecting their citizens to forced labour during annual agricultural harvests, while there are reports of forced labour and recruitment of children for armed conflict in the Ukraine. In countries like Russia, Kazakhstan and Armenia, there are instances of forced slavery of migrant workers. There is a resurgence in forced marriages and old traditional practices like bride kidnappings. There have also been widespread reports of public and institutional xenophobia from within the Russian Federation.
Americas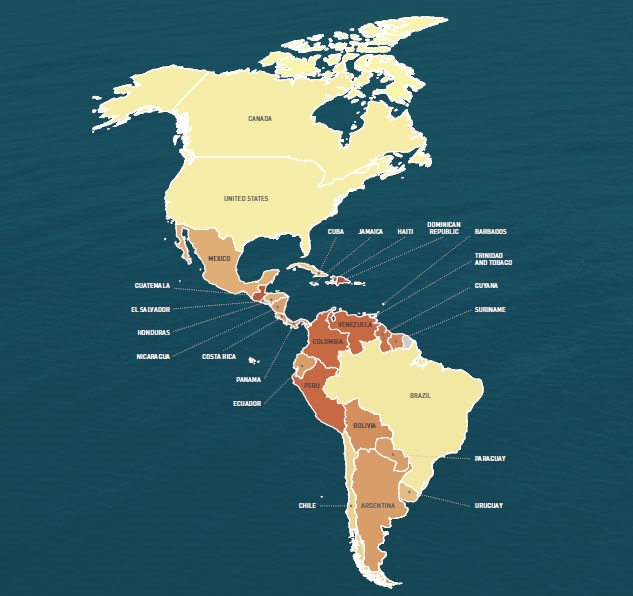 Though it is ranked second least vulnerable region, modern slavery in the Americas affects men, women and children. It is manifested as forced labour and commercial sexual exploitation. Forced labour primarily affects men and women in the agricultural, mining, construction and domestic industries, predominantly in North and Central America and the Caribbean. It is also a prevalent issue among indigenous groups in Peru, Bolivia and Colombia.
Sexual exploitation is particularly prevalent among vulnerable communities, including the LGBT groups from Central and South America, and children in welfare facilities in the US. These practices are evident all across the Americas, and wealthier countries such as the US and Canada are not immune to such exploitation, particularly in the agricultural sector. According to UNICEF in 2014, Latin America and the Caribbean were the only zones where the incidence of child marriage had not decreased and remained level with previous years.
Argentina, Chile, US, Uruguay and Canada had the lowest vulnerability scores in the region.
Europe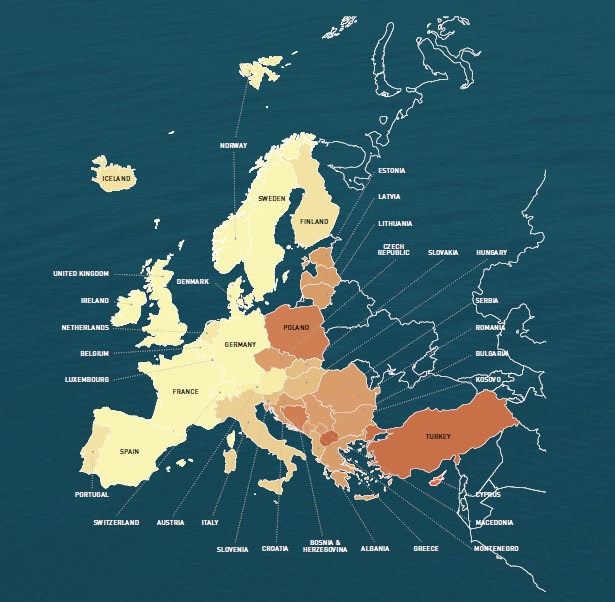 Europe has the lowest regional prevalence of modern slavery in the world at 27.1% vulnerability score. The average government response rating here was found to be the highest — 54.2/100.  However, it still remains a source region for forced labour and commercial sexual exploitation. It is estimated that there are 1.2 million people enslaved in the Europe, which is 2.7% of the global total.
EU citizens from east European countries like Romania, Bulgaria, Lithuania and Slovakia account for 65% of identified trafficked victims within Europe while non-EU trafficked victims are predominantly from Nigeria, China and Brazil. While forced labour and commercial sexual exploitation remain the most commonly reported forms, instances of other forms of modern slavery, such as forced child marriage, have been identified in Turkey. Now, with Europe being a primary destination for refugees globally, instances of crimes against refugees have also gone up. It is estimated that as many as 10,000 children registered as refugees have gone missing, with 5,000 missing in Italy and 1,000 in Sweden.
Nonetheless, European countries overall rank high on indices of peace, democracy, anti-corruption, human rights and access to social services, all of which provide important protection from vulnerability to exploitation. The Netherlands, the United Kingdom, Sweden, Portugal and Croatia have the strongest responses to modern slavery in Europe.
What is the Global Slavery Index
The Global Slavery Index is the only one of its kind to measure the number of people living in modern slavery country by country and is conducted by the Walk Free Foundation, an Australia-based human rights group.
The Foundation index defines modern slavery as a situation where "a person cannot refuse or leave because of threats, violence, coercion, abuse of power or deception, with treatment akin to a farm animal." Forced labour takes many forms such as debt bondage, human trafficking and sexual slavery. The victims are the most vulnerable – women and little girls forced into prostitution, migrants trapped in bondage, at times in a foreign land without passport, and sweatshop or farm workers kept there by illegal tactics.
In addition to measuring the prevalence of slavery, the foundation also studies government responses to the problem and also factors within each country that make people vulnerable to exploitation.
"Governments need to look more closely at illicit labour recruitment, crack down on the illegal companies that provide conduit in which people end up in slavery, and penalise the companies and individuals that are using bonded labour, either directly or in their supply chains."