Trimble's products are always about cutting edge technology. Hence a visit to Trimble booth at any conference is anything but routine. And Esri User Conference, 2019 held  in San Diago from July 8 – 12  was no exception. Of all the offerings, there were four particular products that caught our eye — Trimble TDC150 handheld; Trimble Catalyst On Demand; Trimble TDC600 handheld; and Trimble SiteVision.
Let's take a look at what they do.
Trimble SiteVision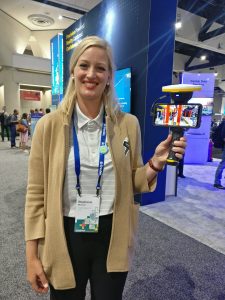 What is incredible about the SiteVision is its size. As big as a foldable umbrella, the device is a high accuracy outdoor augmented reality system in development that accurately displays complex 2D and 3D data in the real world for easier and more efficient planning, collaboration and reporting.
It combines hardware and software in an integrated, lightweight handheld or pole-mounted solution. With this users can view 3D models and assets in true-to-life scale, in the context of their existing surroundings—from any angle or position—for better understanding and communication.
"SiteVision enables users to visualize 2D and 3D data in the real world, a capability with immense potential across a variety of industries. It is a timely example of the power of high accuracy outdoor augmented reality to put geospatial data in context for better decision making," Stephanie Michaud, strategic marketing manager of Trimble, says.
SiteVision can access models from all stages of the lifecycle of infrastructure and buildings, from initial concepts of roads or buildings through the operations and maintenance phase of the assets to improve collaboration. Its applications include client engagement, planning, inspection, utilities, structures, real estate development, landscape architecture and more. The goal is to enable users to, see what they can't, and enable them to understand what a newly-built structure will look like against the existing environment. It easily interprets geospatial data and improve user's understanding around on-site designs or in the context of where the design details will occur.
Trimble TDC150 handheld
Designed for GIS data collection, inspection and management activities, the TDC150 provides users a rugged solution that has the flexibility of a handheld, a modern interface with open Android operating system, and scalable high-accuracy positioning for professional field workflows.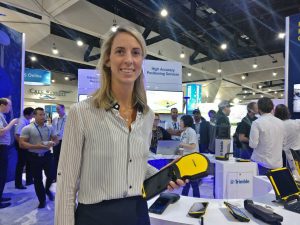 Once again, easy-to-use and carry in the field, the device provides advanced GNSS capabilities in a durable, ergonomic and lightweight form factor. With a built-in GNSS antenna, TDC150 is a scalable solution that allows customers to choose their desired accuracy. It features a bright 5.3-inch sunlight-readable touch screen and an all-day battery for continuous work on the jobsite.
The handheld comes with Google Mobile Services certification to run Google core applications and access thousands of apps on the Google Play Store. Professional GIS field applications, including Trimble TerraFlex software—a cloud-based solution that enables users to easily collect, manage and edit their geospatial feature data—are supported, as well as Trimble Penmap for Android software and Esri's Collector for ArcGIS mobile app. A new innovative TerraFlex workflow uses the TDC150's onboard rear-facing camera to capture features. This visual aid shows users when the camera and receiver are aligned over features, enabling horizontal centimeter accuracy when holding the device.
 "The mapping and GIS industry, including utility companies, local government, and environmental management agencies, look to Trimble for continued innovation," Rachel Blair-Winkler, Business Area Manager for Trimble Mapping & GIS solutions, told us.  "Adding the ability to get the level of horizontal accuracy required in a handheld configuration without the need for an external pole and antenna, and the new camera-based data logging workflow, gives our customers the flexibility to accomplish more while out in the field," she added.
The device is now available through Trimble Geospatial Distribution Partners.
Trimble TDC600 handheld
Trimble TDC600 handheld is an ultra-rugged, all-in-one smartphone and GNSS data collector for GIS and field inspection applications. The next-generation smartphone data collector boasts an Android 8.0 operating system, bright sunlight-readable 6-inch display, powerful 2.2 GHz processor, 4 GB memory and an enhanced capacity all-day battery.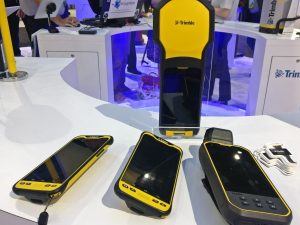 Slim, lightweight and ergonomic pocket-size that easily fits in a user's hand with a strap providing extra security while on the job, the device is an ideal tool for communicating between the field and office for workers across industries such as environmental management, utilities and government agencies.
Equipped with Wi-Fi, Bluetooth 4.1 and 4G LTE cellular connectivity that supports data and voice calls, field workers are able to use the TDC600 as they would any consumer smartphone. With this, users can make calls, send text messages and emails and access the internet—removing the need for multiple devices in the field. It is Constructed to meet military (MIL-STD-810G) specifications, the durable design absorbs drops and shocks, and works in harsh weather conditions, without the need for a protective case.
The TDC600 integrates seamlessly with Trimble's data collection applications —Trimble TerraFlex software and Trimble Penmap for Android software — as well as third-party apps such as Esri Collector for ArcGIS. With its Google Mobile Services certification, users can run Google core applications and access apps on the Google Play Store for personalization of their device. 
"The global mobile workforce is growing and field personnel are constantly tasked with capturing and computing large amounts of data in more places with greater accuracy, requiring powerful and reliable data collection methods and thus professional turnkey solution such as the TDC600 handheld running Trimble data collection apps paired with the Trimble Catalyst service fulfills users requirement," asserts Rachel Blair-Winkler.
Trimble Catalyst On Demand
Trimble Catalyst On Demand builds on the popularity of Trimble Catalyst by providing a usage-based service plan. This new service plan is focused on fulfilling the requirements of a growing number of industries and organizations who recognize the benefits of using high-accuracy GNSS technology in the field, but need a more flexible payment model.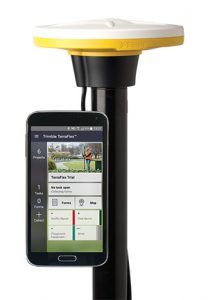 "Catalyst on Demand is a simple, flexible and affordable pay-as-you-go purchasing model that enables more users inside and outside the geospatial profession to access Trimble's high-accuracy GNSS technology. The convenience of this usage-based service means more workers will get accurate data supporting better decisions for everyone involved," Rachel Blair Winkler explains.
Trimble Catalyst On Demand provides scalable access to RTK-quality GNSS positioning using an affordable pay-per-use hourly pricing model in addition to the current Catalyst monthly plans. This new service also enables automated domain-level email address access, which streamlines license allocation for organizations with a large number of users. Account owners purchase access to the service in the form of On Demand time bundles. By keeping the account balance topped up, Catalyst remains ready to use at a moment's notice, for any number of nominated users in the account. This flexibility eliminates the need to predict project requirements weeks or months in advance
Trimble Catalyst On Demand is expected to be available in market by the end of July 2019. Trimble Catalyst service subscriptions and the Catalyst DA1 antenna are available through Trimble's authorized GIS distribution network.