Smart City, as a concept is read and fantasized about a lot. Even though there is no universally accepted definition of a 'Smart City', the concept needs no introduction. Loosely defined, a 'smart city' is an urban region where information technology is the primary infrastructure. Taking these thousand steps forward and reaching its 'kitty hawk moment' is Singapore's Smart Nation initiative.
Singapore's Smart Nation
In 2014, Singapore announced its plan to become a Smart Nation, deploying and harnessing technologies to enhance and empower its citizens' lives, to create economic opportunities, to drive economic growth and competitiveness, and bring citizen-centric digital government services. Essentially, these efforts are reinforced by citizens, government, companies and agencies alike to ensure that all segments of the society are able to harness information technology to respond to their changing needs. It's no surprise that Singapore ranks at number one for smart city development in the 2017 Smart Cities Index by Juniper Research. Concurrently, Singapore's smart nation initiative leverages on the extraordinary geospatial capabilities of the nation, propelling the use of geo-data in workflow management and strategically deploying the use of these technologies for digital and economic transformation. At present, the country ranks fourth in the Countries Geospatial Readiness Index-2018, as the use of geospatial information and technology is paramount in Singapore for effective visualization and engaging communication analysis.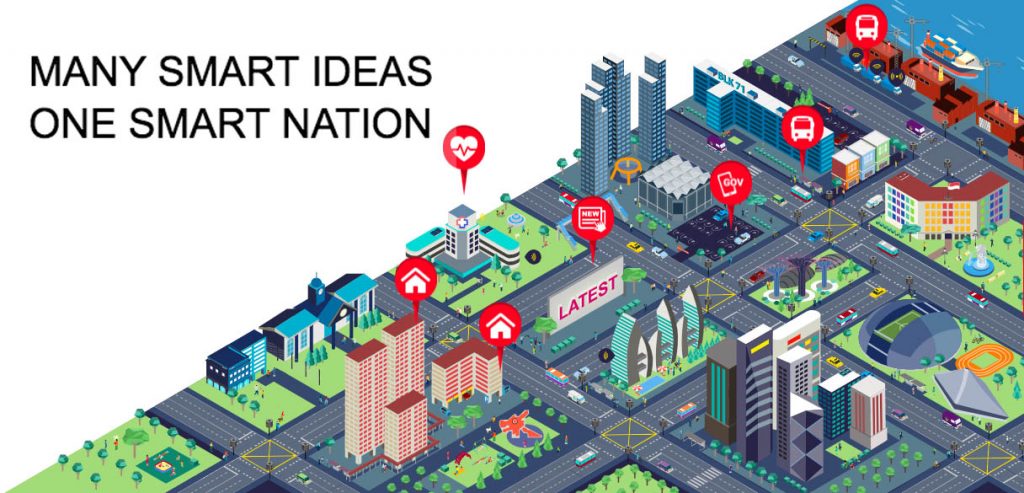 Singapore's Smart Nation: Historical Geospatial Initiatives
With a goal to become the global digital city, Singapore launched the Smart Nation initiative, focusing on the twin technology engines of growth – ICT and Geospatial Technology. Singapore has essentially 'walked the talked' over the past five decades to transform itself from an 'entrepot to a vibrant global hub'. Capitalizing on the digital revolution and making most of its competitive advantage in geospatial technology, the country has continued to build a competitive and sustainable economy even amid the constraints of land and an aging population. Early investments to embrace the power of IT and geospatial technology through a succession of national Infocomm and e-government masterplans has enabled Singapore to transform into a 'thriving e-economy' and an 'infocomm-savvy society'.
A recently released report on Technology and the city: Foundation for Smart Nation by Centre for Livable Cities highlights historical geospatial initiatives that the government of Singapore embraced for the development of its cities in the 1980's. Some of these initiatives in geospatial technologies (listed below), earmarked Singapore's journey towards what it today rightly calls, a Smart Nation.
'ILUS' – First Nationwide Land Use Database: The Integrate Land Use System (ILUS), initiated in 1980, was the first-ever nationwide land use database IT system incorporating GIS at the time when paper maps were still the norm. Implemented over a period of six years with a budget of approximately S$36 million, the project comprised of converting large volumes of paper files, data, and maps into digital formats. Under the project, 15 million pages of historical files, and over 30,000 land use maps and plans, were converted into digital records. In 2002, with the progress of GIS technology, ILUS was upgraded to be made accessible to the public sector and other users by incorporating 'more user-friendly interfaces'.
First Nationwide Enterprise GIS Systems: With the rapid development of ICT and progressions in GIS technology, an enterprise-level Integrated Planning and Land Use System (iPlan) was launched in 2016. The iPlan system was the first nation-wide enterprise GIS-based planning system built on the platform of Esri. With iPlan information retrieval (over 100 map layers), analysis, and generation of masterplans was 80% faster than the ILUS enabling a wider, efficient and effective collaboration within the organization. For instance, iPlan was used to produce the statutory land use – 2008 Master Plan in digital format to guide Singapore's development.
Digital Planning Lab: With the support from planning and development agencies, academia and research, A Digital Planning Lab was established in 2013, to transform the planning process and developed a suite of digital tools for urban planning. To satiate its future infrastructure needs, the Digital Planning Lab developed other digital tools – e-Planner, GEMMA – GIS-enabled Mapping, Modelling and Analysis, and 3D Urban Model.
Land Data Hub: The Land Data Hub – a central repository of land data from various government agencies was established in 1989. The development of LDH ensured the data sharing across government agencies, data standardization, and reduced duplication of data creation and collection. Much of the data was in the form of cadastral maps on which other layers could be superimposed. Additionally, the data was made available to the private sector to develop map-based commercial services such as CD-ROM Street Directory, real estate property information services, etc.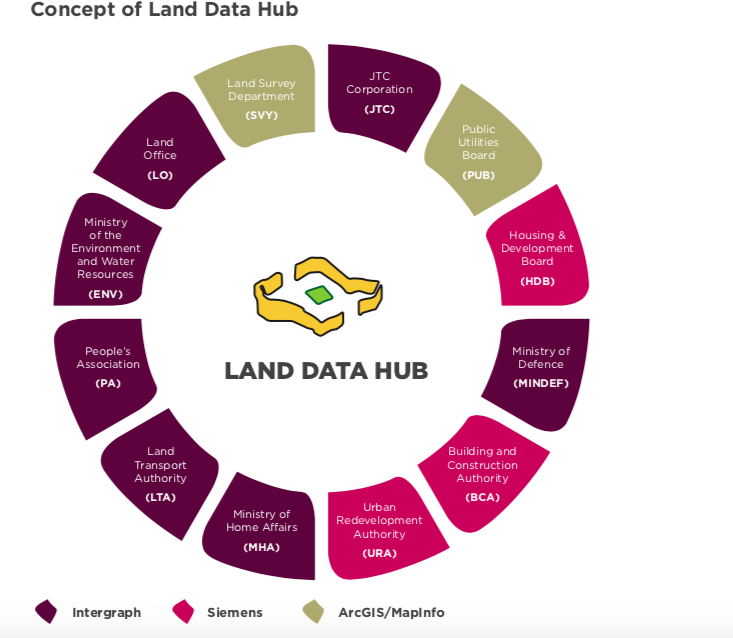 Enterprise Grid Technology and LandNet: The Singapore Land Authority (SLA) was the first in Asia-Pacific to leverage the Enterprise Grid Technology for geospatial data management and distribution. The technology enabled the government wide-launch of the LandNet in 2007, providing the LDH with new capabilities. The new LDH enabled the public sector to download spatial information for quick and efficient decision making. The new LandNet had 16 contributing agencies and more than 220 layers of spatial data available for online access by all government agencies in 2010. Further on, LandNet proved to be economically beneficial to the economy, saving millions of data creation and maintenance costs of individual agencies.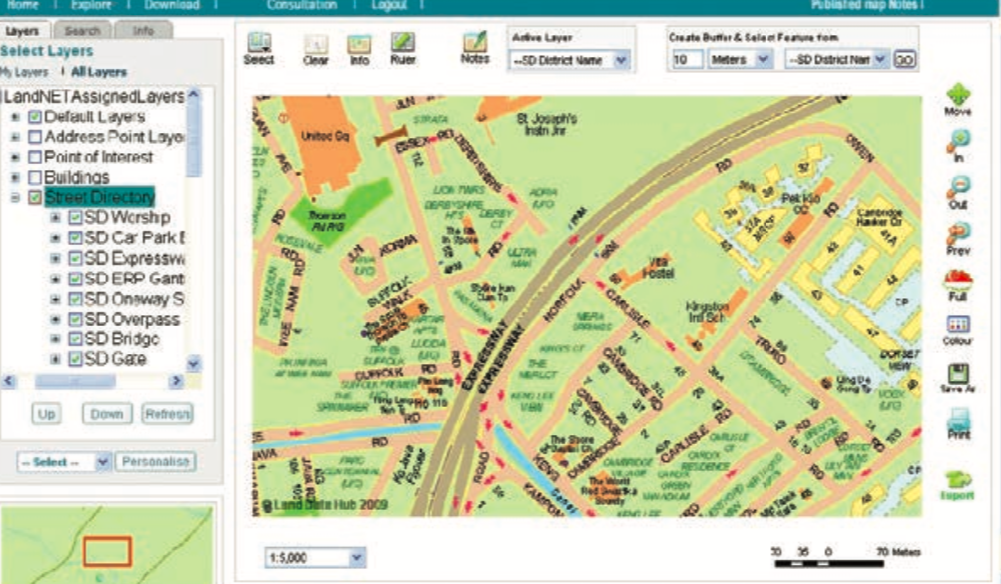 SG-SPACE: Even before many countries began coming up with their NSDI's, Singapore had already established its data repository in the form of Land Data Hub. Ng Siau Yong, Director (Geospatial & Data), SLA, highlighted, that while they had a mini NSDI, in the form of Land Data Hub and a platform in the form of LandNet; they lacked at the time was a legal and policy framework to manage the central repository of geospatial information. With this need, Singapore's NSDI was created with the launch of Singapore Geospatial Collaborative Environment (SG-SPACE).
SG-SPACE was created with the intention to create interlinkages between the LDH and other data hubs – with businesses, government bodies, citizens, etc. Furthermore, to operationalize data sharing policies, two other geospatial data platforms were created – the GeoSpace (Government) and OneMap (Public). Moreover, SLA collaborated with the URA and IDA to house the Central Geospatial Expert Service to guide agencies in developing geospatial solutions and applications for the smarter world.
Singapore's Smart Nation: 'Virtual Singapore'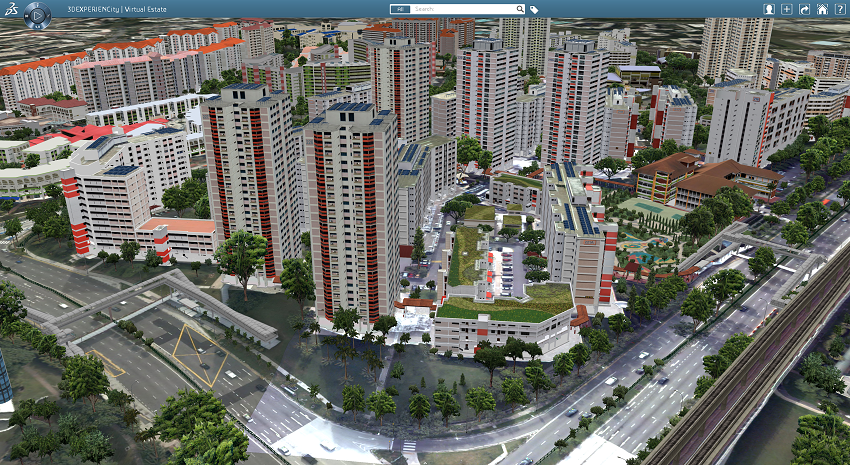 Digital Planning Hub, Land Data Hub, LandNet, and SG-SPACE are few of the focused geospatial initiatives that have played a critical role in transforming Singapore and bringing it to where it is today. Geospatial data and infrastructure have been a focal point for the country since the initiation of IT in the country. Today, progressing from all its previous initiatives in the geospatial domain, the country has launched the 'Virtual Singapore' project, a $73 million, data-rich, a live digital replica of the actual city.
'Virtual Singapore', or Singapore's digital twin is a dynamic 3D city model built of SLA's national 3D map developed with the use of LiDAR as well as real-time dynamic data. Virtual Singapore is a project under the Smart Nation initiative established in collaboration with National Research Foundation (to provide funding), the Singapore Land Authority (for Data), and the GovTech (technology lead).
The project integrates data from government agencies, information from the internet, from IoT devices and sensors to provide a virtual and authoritative platform for urban planning. Presenting a realistic and dynamically charged representation of Singapore, Virtual Singapore will incorporate 3D geospatial technology to drive Singapore to become a Smart Nation. The dynamic  3D city model which shall be inclusive of geospatial, topographical, topological, analytical, semantic, real-time and legacy data.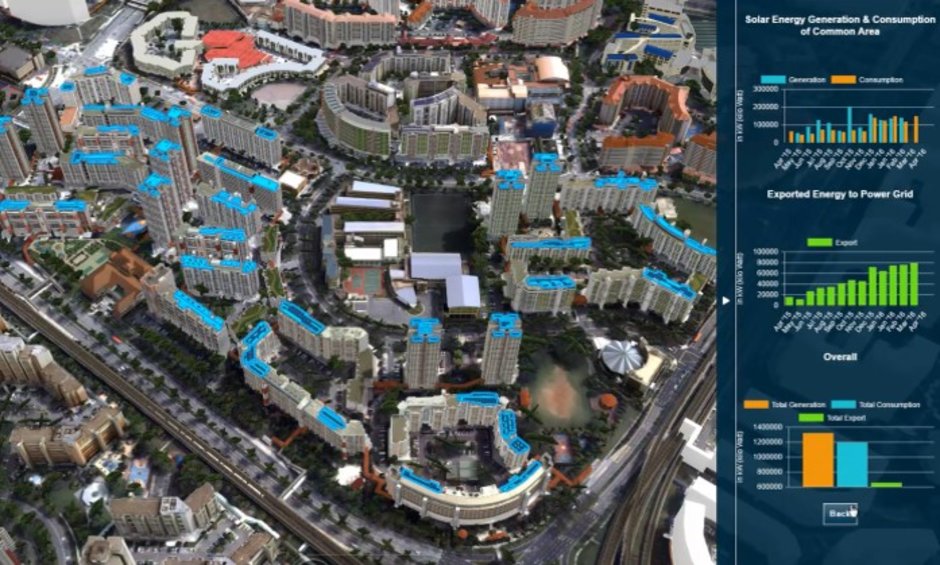 In a recently concluded World Cities Summit on 9th July, Singapore's Deputy Prime Minister announced that Virtual Singapore- which is seen to be a decisive factor in Singapore's Smart Nation initiative will be ready by 2018 end. The platform will enable visualization of projects on the landscape to design road networks, public amenities, pneumatic waste conveyance system, and extended cycling networks among many others. The platform will be first made available to government agencies, then to businesses and then to the public over the next few years.
In conclusion, Singapore, at present, is well-positioned to capitalize on the fourth-industrial revolution to mark the commitment of the government, the private sector, the academia, and the people to leverage on the digital technologies to deliver seamless and secure citizen-centric services. The government is preparing the nation for the digital revolution through its Smart Nation Initiative by creating immense benefits and bringing in game-changing opportunities for all stakeholders alike.
This blog is part of a 2-part blog series. The second part of the blog will be covered next week. Until then, keep reading.