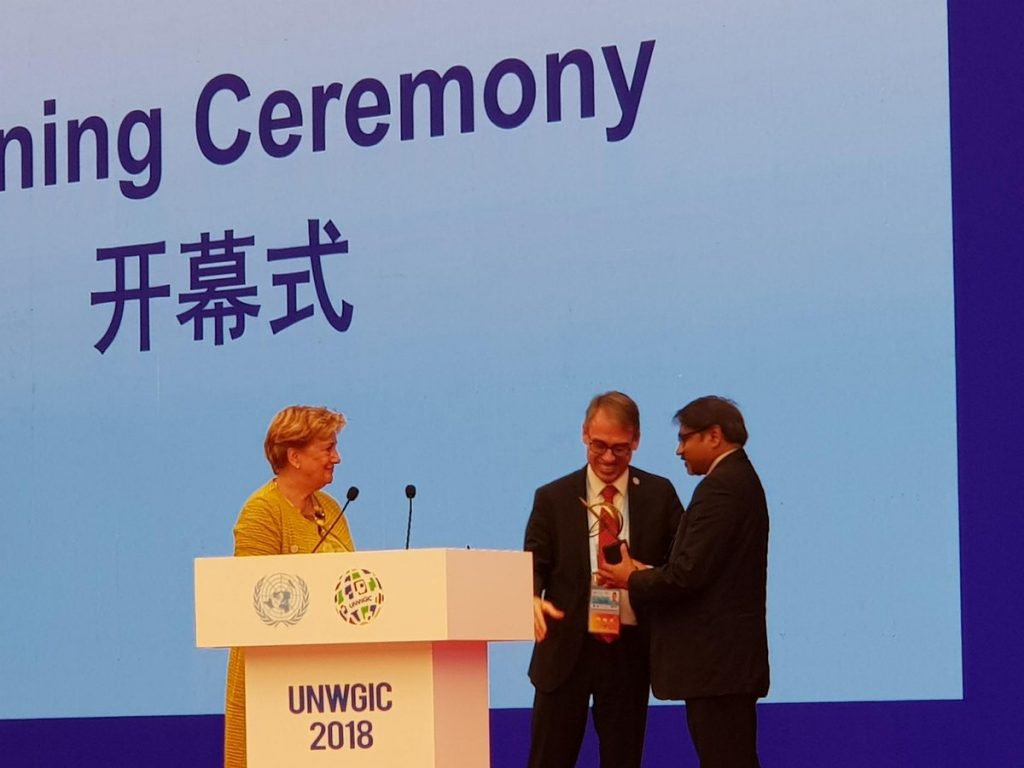 China: Sanjay Kumar, CEO of Geospatial Media and Communications, was conferred with the 'Global Geospatial Industry Ambassador' Award by UN-GGIM (United Nations Global Geospatial Information Management) on Monday at UNWGIC (United Nations World Geospatial Information Congress) being held in Deqing city in China.
The accolade recognizes his perseverance and untiring zeal to create awareness about geospatial technologies and leveraging the benefits for the industry and end users.
It is a stellar testament to his unwavering endeavors to connect the global geospatial industry with governments and other key stakeholders of the larger Geospatial fraternity.
Kumar received the award from Stefan Schweinfest, Director UNSD (United Nations Statistics Division) and Dorine Burmanje, Co Chair, UN-GGIM and CEO, Dutch Kadaster.
Recognizing his decades of unmatched contribution, Burmanje, said, "The value of geospatial information and enabling technologies has only recently become more mainstream and better understood. One person has contributed significantly to this value for decades, exerting leadership and promoting tirelessly the need for place-related information."
The award is in recognition of the time and efforts Kumar invested in for assembling many parties from the industry, building networks with private entrepreneurs, research institutes, governmental bodies and development organizations.
"Leaders from the geospatial industry, governments and beyond are sharing increasingly his goal of bringing knowledge and technology together, based on awareness raising and partnerships," she added.
Stefan Schweinfest, Director of United Nations Statistics Division, said, "At the UN, what we do is we connect. We connect dots, we connect countries, we connect sectors. And every time that we find great partners. Sanjay definitely is a great partner. We saw him working for the geospatial vision."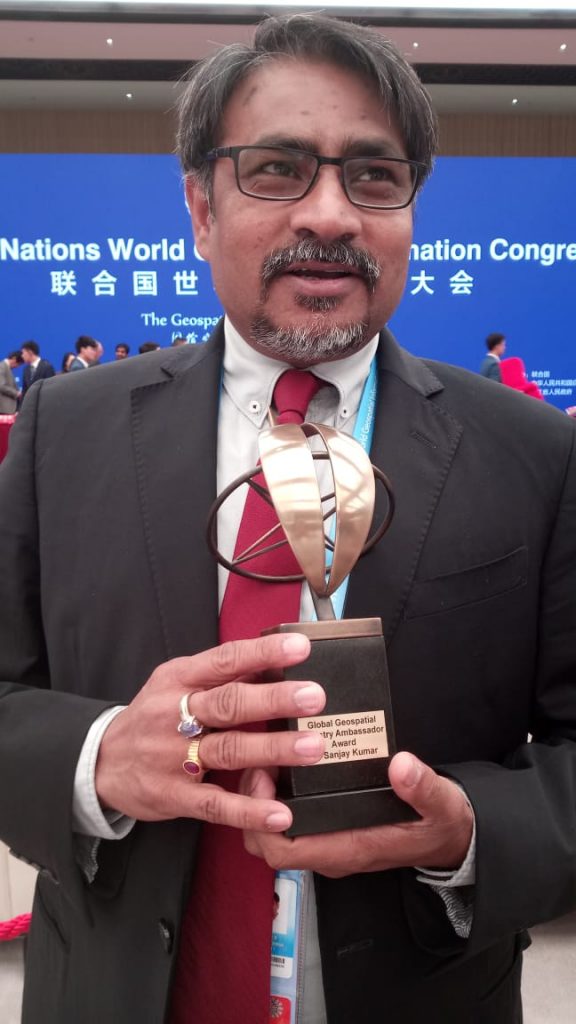 Expressing his gratitude after accepting the award, Sanjay Kumar said, "During my 20-year journey, I am blessed to have been helped, motivated and supported by a large number of people in pursuing my mission. I always like to be friends with people I work with and that friendship keeps me going".
"Everyone has some mission in life and I thank all those who supported me and helped me in my mission of making a significant contribution and finding value around us," he added.
Interestingly, the Award is also special and symbolic in its physical features. It embodies a fundamental cornerstone of place and space; the Greenwich Meridian – the imaginary line that divides the Earth into eastern and western hemispheres, and the point from which longitude is measured. It reflects the worldwide relevance of place and space, and enables precise positioning on the globe.