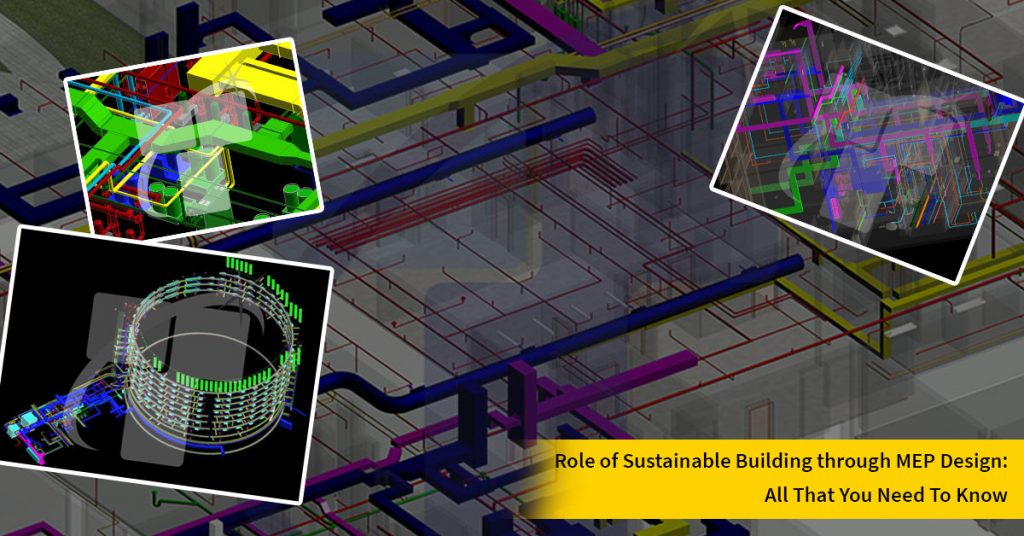 With arising awareness about climate changes and the construction industry to adhere to the reduce-reuse-recycle policy applied into materials and equipment in a project by the MEP Engineers.
Sustainability concept implied to the building design is becoming important these days in the construction industry. Construction Companies have to install an eco-friendly system that helps the environment and controls the budget.
Nearly the recent change brought in the construction industry is that all the owners need to build green buildings. While planning about the design of the sustainable building, it's not easy as regulatory standards implied to projects increases where the owner pressurizes the other construction professionals to consider it.
How Can Sustainability be part of MEP Design?
The most critical part of designing a building would be material and installations of systems. That is required to run the building and make them sustainable construction with the emergence of MEP BIM Services. Services carried forward by the designers and engineers have to cling to wants and needs for making the building more sustainable.
Sustainability has become the prime focus for the MEP Design Services to utilize resources and reduce wastes in commercial construction projects. Therefore, this article will tell you about how MEP designs can improve building design to make it sustainable.
Technologies driving MEP Sustainability
Techniques used in MEP Design are basically to get resources appropriately utilized and control the wastage of materials.
Artificial Intelligence implied in Air Conditioners: – With the application of AI technology into HVAC BIM Services, it can be automated, and adjustments can be made to increase energy efficiency and reduce wastes. Predicting weather conditions is next to an impossible task to be done, and this is where IOT data is used by these systems and install air conditioners accordingly. Few technologies can track human activity by measuring floor temperatures and heating levels.
Heat Recovery Ventilation: – Air-circulation is an important quality, but installations of the right ventilation system can upgrade the building's sustainability. Installing the natural environmental impacted ventilation systems can use the existing heating methods by reducing heat loss to give adequate airflow.
All of these systems use heat from machines and human activity to circulate the airflow from outside, which means no heat, is wasted and ensures sustainable circulation of air.
Digital Control Units and Sensors: – With smart control units and sensors can aid in the monitoring of energy and control. With this technology, owners can monitor energy consumption and control HVAC systems from electronic devices.
Solar Collectors: – Solar energy in recent years has been more powerful where the solar collectors are installed in combination with boiler and thermostats to improve the efficiency of solar panels. It will in near future help to make the solar-thermal system a realistic Revit MEP Services.
High-efficiency Heat Pumps: – This kind of hardware is getting popular in the construction industry due to its environmental versatility and cost-saving measure. To make the most out of sustainable energy source, we can frequently use heat pumps as they are better than the gas pumps and are affordable.
How Sustainability can be a value-added asset
Sustainable building by the commercial owners can save on operating expenses that would not just be good for the environment but also for clients. To discover the new strategies for sustainability into the design model, owner and facility managers have to use those materials and renewable resources that can make the building durable.
MEP System if fully functional and maintained can use BIM to improve upon sustainability operations and maintenance management level. Technology advancement in the MEP Design such as hardware and BIM process is protecting the environment, increases profitability, and designers can reduce carbon footprints in the projects through this.
Also Read: Role of BIM in Urban Construction
Ways MEP Design can make buildings Sustainable
Reduce energy use in HVAC and lighting in a building
The consumption of lightning, heating, and cooling systems through the building designs can be known. Approximately 25% of energy usage in a commercial building is done by lightning and 32% by HVAC systems.
Lightning and HVAC systems are the two critical aspects of a building that takes more of energy consumption for which optimization of design and increasing efficiency of these systems at a lower cost and reduces the environmental impact of the building.
HVAC systems include the use of ventilation, heat sources, prevention of energy in systems and new integrated technologies into HVAC systems. Designs must be made to control the lightning expenditures that allow natural light flow into occupied spaces by using technology to make efficient. Use of Sensors and lighting fixtures that can maintain comfortable indoor environments are installed.
Water Conservation
Some numerous designs and methods can lower the water use and save on water consumption bills. Such as installing low lightning fixtures by the owner can reduce water consumption than the standard faucets, and low flow toilets can lower water flush consumption.
Greywater systems can be used to conserve water usage in the building. The building uses drinking water for all uses, but irrigation and toilet flushing do not require it. Greywater can be used for washing purposes and applications.
Electricity Consumption
To save the amount of electricity used in building necessary steps to identify the best practices and use it for saving energy costs for the owners in the building. Much equipment in the building can raise electricity consumption such as lightning, computers, office equipment, and heating and cooling systems.
The electrical system can become operational and effective by integrating the coordination between the power and special systems, programming the sizes and location of occupied space.
Control Carbon Emissions
Construction Industry gives rise to carbon dioxide emissions from building HVAC systems, electrical appliances, energy used, lightning, and manufacturer making materials, demolition of material and transport of building construction.
By effective designs and building plans, we can reduce carbon emissions. To increase the performance with reduced emissions is through the use of efficient HVAC systems and maintenance. Interiors and exteriors design can make use of effective materials that do not waste energy, and water consumption can control carbon emissions.
Challenges for Sustainability in MEP Services
Implying sustainability in MEP Design Services can bring out many challenges that can find out facets to improve the building's durability. All the construction companies would not be aware at first; what is sustainability? And how do they implement it in the project?
What measures to be taken for reducing wastage and energy consumption in a building by applying sustainability concept through MEP Design by its designers and engineers? What machinery and material should you use in the project that can control costs and reduce unnecessary wastage?
Current scenario for Sustainability in MEP Services
Sustainability in MEP Services is important and starts from evaluation of material selection, initial costs, and energy consumption. Most of the MEP Engineers who look upon the design of the building model construct sustainable processes and reduce the impact of the construction industry on the environment as a whole.
Proper sizing and selection of equipment on the construction site is the key in this process. Direct measures for energy consumption and to reduce carbon footprints that adversely affect the environment while making the building should be considered. For instance daylight harvesting, geothermal heating, cooling systems, etc.
Conclusion
Any construction companies that offer MEP Services can gain competitive advantage by reducing the impact on the environment and reduce the costs of resources. If companies can clearly understand the importance of sustainability in building design and MEP system can make the lifespan of building longer and enhances the health of occupants.
MEP Engineers must use sustainable good and materials that can increase the sustainability of the building, which can result in a reduction of waste of materials. Mainly the construction companies and MEP industry are looking forward to use renewable resources, efficiency standards, green building codes, and energy consumption controlled resources to be taken into consideration while building the design.
The concept of sustainability in MEP BIM Services is gaining momentum rapidly, which emphasis the designers and engineers to make the design as per sustainability standards and codes. It will aid in improving building performance and make a realistic future approach that can overcome compliance.
Note: This is a guest blog by Vishakha Jadhav, Content Writer at Tesla Outsourcing Services.