Citizens are an important aspect of smart cities. A city cannot be built smart until and unless citizens do not participate in the transformation. So, know the role of citizens in building smart city.
The Success of Smart city is defined only when it is accepted by its citizens as the core aim of the smart city is to build a city which is solely for its people. When we talk about the concept of smart cities then they primarily are cities which is smart enough to provide sustainable, environment-friendly urban infrastructure to its citizens where it has all smart facilities popular as smart solutions, which can ease their life. And, the notion was quite clear in the 4th Smart Cities India expo organized in India's National Capital New Delhi. In the event, the panel with the topic " Implementing Smart Cities and Transforming India for our Citizens" truly highlights the topic and gave an insight that why citizens are at the heart of smart cities.
Tanja Feldmann, Director, Sustainable Urban and Industrial Development, Deutsche Gesellschaft für Internationale Zusammenarbeit (GIZ) GmbH, India said that if a smart city is not as per the needs of its citizens then it is completely not a successful smart city. Citizens' acceptance should be the main focus while transforming a city into a smart city.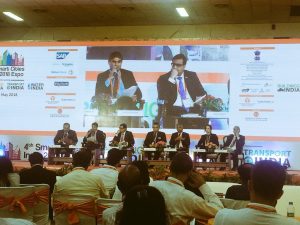 Cities are made up of citizens. They are the main components of any city.  It is not about technology or infrastructure; infrastructure is the requirement of citizens and technology is an enabler. It is very important to ensure that citizens themselves are ready to be smart and build a smart city by involving themselves to the municipal council and are able to think through what kind of future they want for themselves. As if citizens and government envision together, implementation will be more impactful.
Feldmann added that smart cities need to be more than a just functional operating system and for this, they need to provide a better environment to its citizens where they have prosperous, happier with  thriving engaging environment where their daily life become easy with services like better mobility, last mile connectivity, better parking information, single payment card for all facilities etc.
Citizens' views on the top
Smart cities approach works best when the citizen-centric approach is adopted. It can only be planned and developed when citizens have their views in front of their government as to how they want cities to function in a smarter way. It is all about the local municipalities listening to what its citizens need and then applying technology-driven solutions to deliver services in most economical and sustainable way.
Tanmoy Chakrabarty, Global Head and VP Government ISU, TCS said that it is not the technological solutions which are going to make a smart that technology is an enabler and second layer of the smart city.  To build a smart city the first layer is inculcating a joint work environment where people and administration talk to each other and build together a city which is sustainable, resilient and livable. Governments need to pinpoint on what actually is the need of citizens.
Why India needs to develop smart cities
With many studies reviling the fact that by 2030, 50 percent of India's population will shift to an urban ecosystem, there is a pressure on the country to develop smart cities which can accommodate the increasing population against odd concerns such as climate change and resource constraints.
As people are moving to cities there is a huge pressure of urbanization on Indian cities. And, on this NSN Murty, Partner and Leader, PwC, India said, the situation requires the comprehensive development of physical, institutional, social and economic infrastructure as the main element which improves the quality of life and attracts people and investment, setting in motion a virtuous cycle of growth and development. Development of Smart Cities is thus a step in that direction.
The mission of smart cities envisioned by the government of India is all about having smart policies, smart governance, smart investment and smart technologies to deliver better outcomes for urban inhabitants. The mission is to support the productive, accessible, livable cities that attract talents, encourage innovation and create jobs and economic prosperity.
Tanmoy Chakrabarty said that India needs to focus on fundamental needs of the citizens where they are provided clean drinking water, affordable housing, good and low-cost education proper waste management. When these elementary needs are fulfilled then only we can jump to technology which is the second layer of smart cities.
And, to build a successful one, Ashish Mathur's view suits the best. Mathur says India needs to focus on digital and information technologies, better urban planning, public-private partnerships, and conducive policies keeping in the center its citizens' needs then only it can make a difference and leap-frog in the race of smart city development. Mathur serves as Managing Director in JUSCO, India.
ALSO READ:
Ensuring safety and security among the major concerns of smart cities