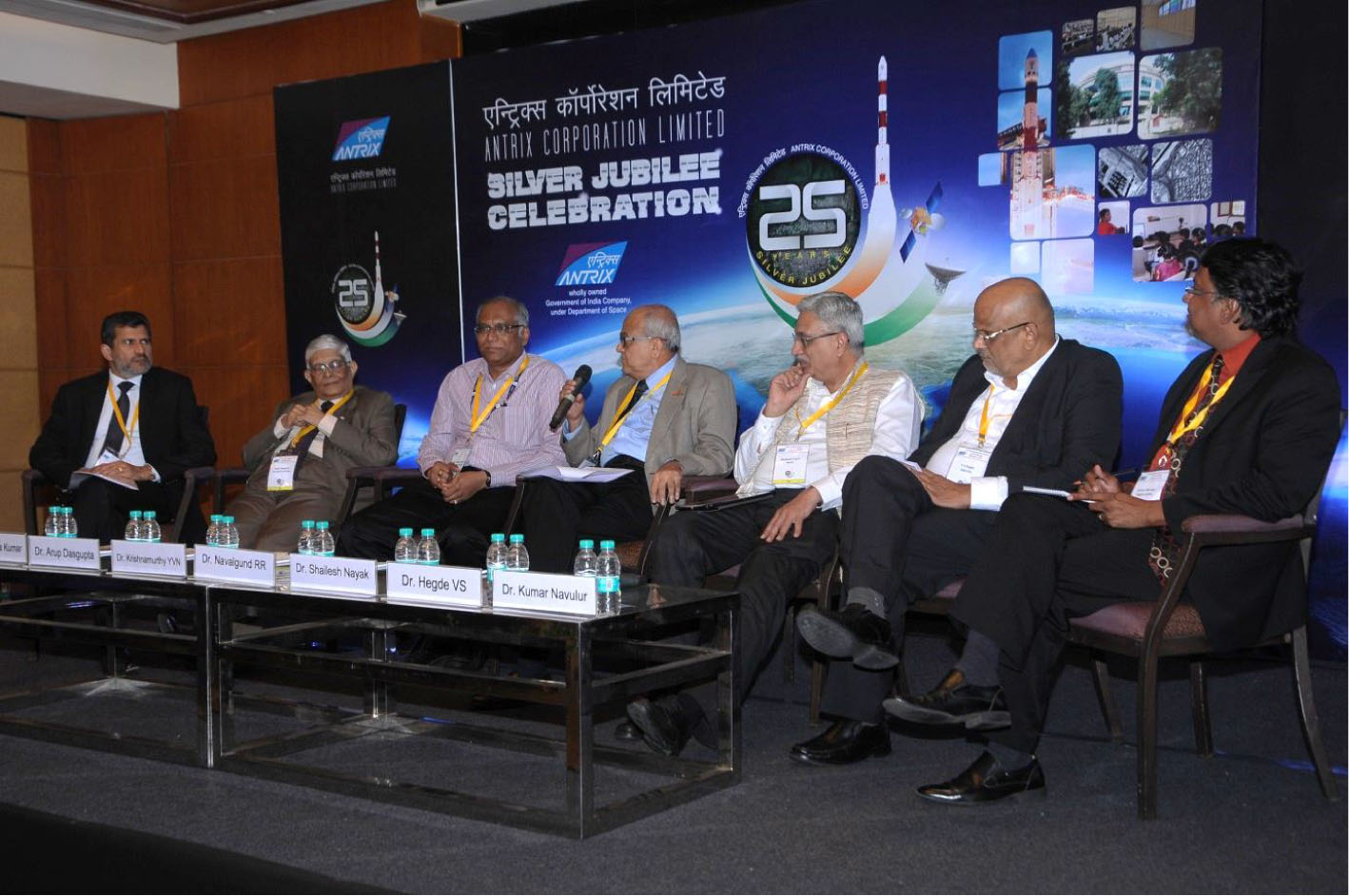 On the occasion of Antrix Corporation Limited's Silver Jubilee, a panel discussion on remote sensing was held in Bengaluru in the later half of the year 2017. The topic chosen for the panel discussion was "Remote Sensing Business Opportunities in the Era of Free and Open Data Access''.
Dr. Ranganath R. Navalgund, former Director of the Space Applications Centre (SAC)/ISRO and the National Remote Sensing Centre (NRSC)/ISRO, currently Honorary Distinguished Professor at ISRO, chaired and moderated the session. Eminent speakers from diversified areas were invited as panelists. The panelists were Dr. Shailesh Nayak, Former Secretary, MoES; Dr. YVN Krishnamurthy, Director, NRSC/ISRO; Dr. VS Hegde, Former CMD, ANTRIX; Prof Satish Dhawan Professor, ISRO; Dr. Arup Dasgupta, Former Dy. Director, SAC & Managing Editor, Geospatial World; Dr. Kumar Navulur, Sr. Director, Digital Globe; and Agendra Kumar, President, ESRI India.
Proceedings of the panel
Arunachalam, Director, Remote Sensing Data & Services, Antrix briefly introduced Dr. Ranganath Navalgund and requested him to chair and conduct the session. Dr. Navalgund welcomed all the panelists for kindly agreeing to participate in the panel discussions, and introduced the panelists.
In his opening remarks, Dr. Navalgund stated that the topic is very relevant in the current scenario wherein a large fraction of remote sensing data is freely and openly available to everyone and thus provides an opportunity in particular to the entrepreneurs to explore several commercial opportunities without worrying about the cost of data itself.
Dr. Navalgund recollected the days, during late 70s and early 80s, when one Landsat scene covering an area of 185 9 185 km, in four spectral bands was procured at a cost of about US$1500–2000. In the recent times, the Landsat data and Sentinel data across the globe are available free of cost and with ease to access. So, business opportunity with respect to selling or licensing of data is nearly over. Of course high/very high resolution (VHR) data and to a certain extent microwave SAR data are available at a cost. Under the Copernicus programme, Sentinel is offering microwave data also free of cost.
Briefing on the evolution of Free and Open Data Access policy
He also briefed on the evolution of Free and Open Data Access policy. He outlined that the initiative started with the First Earth Observation Summit (EOS-I) meeting held in 2003 at Washington DC, USA, wherein high-level representatives of 34 governments adopted a declaration establishing Global Earth Observation System of Systems (GEOSS). One of the first accomplishments of the GEO was the acceptance of a set of high level data sharing principles as a foundation for GEOSS. The 10-Year Implementation Plan says: "The societal benefits of Earth observations cannot be achieved without data sharing." It also sets out the GEOSS data sharing principles; full and open exchange of data, metadata and products shared within GEOSS; all shared data, metadata and products will be made available with minimum time delay and at minimum cost.
Subsequently, many space agencies adopted the data sharing principles. United States came out with Landsat Free and Open Data Policy in late 2008. The policy enabled distribution of Landsat products acquired since 1972. Policy for Ocean and atmospheric data of NOAA is full and open data access. A free, full and open data policy has been adopted by the European Union for the Copernicus programme and provides free and open access to Sentinel data. CBERS data is also made available free at Brazil and China. ISRO/India is making Resourcesat-2/2A LISS-III and AWiFS data (with some latency period) and other coarser resolution data at free of cost through Bhuvan portal of NRSC/ISRO from September 2011. Data/products from meteorological and oceanographic missions have always been free of cost.
Now, with 10 m or coarser data available at free of cost for the global users, business opportunity moves from simple data to value added products and services. Since, the data is available free of cost, entrepreneurs should think of investment in deriving value added products and ensuing services and making them available to users.
Importance of value added products
He quoted the importance of value added products required by insurance companies for implementing crop insurance schemes. Remote sensing data acquired at crucial time periods of the crop growth, combined with other collateral data can provide vital inputs for this service. But, one has to make the product; it has to have a value; build other additional features into it so that the product is reliable and free from litigation. So the entire business opportunity lies in developing the necessary algorithms and software development. Crop insurance company needs actionable products and the product need not depend on a particular source of data. In fact it needs to be independent of the data source.
The entire process of making product has to be transparent with respect to the source of data. One has to work out a process/procedure, which uses multiple data sources in a seamless manner. Another example is the Potential Fishing Zone (PFZ) advisories, where in the service is provided to the fisherman community on a regular and periodic basis, irrespective of the data source. Down the line, economic benefits emerge with value added products and services and not necessarily on the data sales. So, there is a need for change, a paradigm shift. For Google images, maps and other services, one does not pay, but there is a business model behind it. He then requested panel members to provide their views and then the panel would be open to the  participants present in the forum.
Remote sensing data has a perpetual value
Dr. Shailesh Nayak, Former Secretary, MoES, stated that earlier remote sensing data was expensive because it was thought that it could be used only once and the money has to be recovered. But, later it was understood that it has got a perpetual value. Larger the amount of data, the value increases manifold. Further, it has to be treated as a raw data to derive new products/services. In the example of PFZ, initially it was started with one satellite data; but it became so successful when different data (Ocean Color, Sea Surface Height, Sea Surface Wind and Sea Surface Temperature) from 4 satellites were integrated with in situ data and model outputs and delivered through web and location based services.
This has led to economic value of more than INR 50,000 crore rupees per year, much more than the cost of all these satellites according to the study conducted by the Centre for Applied Economic Research, New Delhi. Secondly, Fisherman as such may not be aware of the benefits and may not be able to appreciate/understand it and the role of NGO is critical in taking these services to the grass roots level. The PFZ services also provided environmental benefit by reducing the search time for fishing. With the advancement in using PFZ services, fishermen who have been practicing bottom trawling method of fishing, upgraded their fishing technique based
on PFZ advisory and shifted to gillnetting, which is much more environmental friendly. Such services also drive economic activities. For example, for agro-meteorological services, advisories are sent to about 10 million farmers through SMS, which again drives another industry for about INR 800 Crores, jobs and allied benefits. One has to look into developing newer products; a digital cadastral map of 10 cm height accuracy is now possible with latest satellites, advanced survey and improved positional accuracy.
Generating 'n' number of applications
With these kinds of products, we can generate 'n' number of applications, whether it is precision agriculture or management of mines, tracking of vehicles, etc. This calls for Government and Industries to work together. Indian industries have capability to do the work. They are doing well in North America, South America, Middle East, UK, and Europe. We are unable to take full advantage of Indian industries, which could be due to policy framework. It is not only Remote Sensing Data Policy or Data Sharing policy but also the Geospatial policy, which should encompass all the measurements, in situ, analysis, etc.
INSAT data should fall under EO segment and the services those can be generated from INSAT are enormous and we can extend it to 1/3 of the globe. Other applications using gravity and navigation satellites also need to be looked into. Further, data volume in the coming years is going to be huge. There is a need to define the product standards in the global market. It is not necessary that only 0.65 m data would be useful for applications, even 1 m data also would be useful. It depends on the other parameters like spectral resolution and so on. One has to ensure the standards for any products coming to the market. Branding and Identity of the product is very important. Branding helps the customer to trust our products. Translating from laboratory research to operational product has a time-line. The success depends on the competence of the organization, policy and other related aspects. Many times research products are sold as operational products, which should not be. Thus branding and identity and standards help us in this aspect.
Dr. VS Hegde, Former CMD, Antrix, shared his experience from Antrix/ISRO perspective. Globally, the remote sensing data, in the initial years, was to be pushed down to the user community. Natural resources management and development activities being the subject dealt with by Governments, use of remote sensing data too was mostly restricted to government agencies. Contrary to the satellite communication applications, the users of remote sensing data were to be educated on the application potentials. It may be recalled, EOSAT had even hosted a remote sensing applications consultant in the World Bank in the 90 s. The arrival of high-resolution remote sensing data changed the scenario of applications.
Data interpretation became data/image reading. One has to appreciate that remote sensing data/image interpretation is much different from image reading. He further added that remote sensing data fell into two distinct categories: (a) coarse and medium resolution data, which have immense value from earth system studies and management of ecosystems point of view, and being made available openly and freely. The Copernicus database, Landsat data and Bhuvan/NNRMS datasets fall in this category. The CEOS/GEO/GEOSS mechanisms have aptly identified the societal benefit areas where these data can be used and the benefits that accrue over a period of time that much higher than the cost of the data and satellite.
The other one is (b) high-resolution imaging, wherein the utilization scenario is much different, and is better if left to the private, in tune with current global trend. Today, the high-resolution remote sensing is carried out through constellations of satellite that generate large volumes of data; and their real-time reception, processing, archival and dissemination are integral part of the overall game. He also cited how a niche product like Digital Surface Model (DSM) for large areas developed by DLR and GAF AG, Germany using Cartosat-1 data has brought so much commercial value to the medium to high-resolution stereo remote sensing data.
Evolution of Digital Globe
Dr. Kumar Navulur, Senior Director, Digital Globe briefed on evolution of Digital Globe (DG) satellites over time, in terms of information content, both spatially and spectrally. Another important aspect is temporal resolution, and in this regard, DG is launching satellites in inclined orbits and several parts of the globe, especially near the equator, will be covered 40 times a day. DG is working towards pushing the technology to meet customer mission viz., mapping mission of customers and the entire world is now covered with 50 cm data; and currently helping customers with monitoring/surveillance/persistence surveillance missions.
As regards to sub-meter resolution, he supported the point of Dr. Shailesh Nayak on working with standards and stated that Digital Globe has adopted to OGC standards. He also stated that all applications do not need same data specifications; urban or land record applications require high positional accuracy while the specifications of agricultural applications are totally different. While talking about business model, he stated that while working for Defense agencies, privacy is important and DG provides capacity on the satellites for a given area, thereby enabling privacy. When it comes to already archived data, different licensing aspects come into picture like single or multiple enterprise license or viewable/downloadable options for imagery. The business models are clearly emerging over the years.
Also another trend is around data size and how number of people are unable to handle the data; Not only we are dealing with big data, but we are also dealing with heavy data. An example is the volume of DG archives which is over 100 PB and growing rapidly. To handle the transfer of this large data, DG worked with Amazon Web Services to create a new technology called snowmobile; In terms of where DG is headed, he added that DG is slowly moving from data to products, making use of cloud technology to make data available on cloud; developing API so that people can develop applications. The future of industry is about products, applications and analytics. Also he mentioned that, as part of corporate social responsibility, DG offers free and open data for select disasters under CCL license.
Three key words
Dr. Arup Dasgupta, Managing Editor, Geospatial World, at the outset said that the topic has three key words namely business, open and free. As regards, the key word 'Business', he quoted the example of Indian Remote Sensing Programme wherein the data cost is only 10% of the remote sensing project cost and when the data is used to add value to it or used for mapping, the value goes up. Recovering cost through satellite data is not a good model; one has to add value to it or provide solution using the data and number jumps from 5 times to 50 times, a very conservative estimate. This is where the value lies.
One has to think on adding the value to the data. For example: products for crop insurance. ISRO can provide the wherewithal and industry has to add the value using deep learning or big data analytics, etc. Big data analytics helps to understand the trends and deep learning use the trends and how to modulate the direction of the event for a win–win situation for farmer, consumer and for the government. This needs to be done by Industry. As regards, the keyword 'open', he stressed that the data need to be completely open without any hindrance.
Remote Sensing Data Policy has to be an enabling mechanism; enables the user, enables the data creator and the government. As regards, the keyword 'free', he mentioned it should not have any conditions. One has to look into availability of data, freely in time for the purpose. Of course, private data producers need to satisfy their shareholders hence such data cannot be made free though they should be and are open. When it comes to ground station, it has to be made portable, cost effective and easy to operate. He also suggested the pricing should move from scene based to pixel based approach.
All IRS data (from IRS-1A to till date) has to be made seamlessly accessible by pixel wise, i.e. drilling down the area over time. It is required by research community. It can be made available through the Bhuvan platform. It has to be made more attractive and more accessible. It needs to move with time. Geospatial is not just satellite imagery; it has to include location based information from NavIC; integrate social media data; integrate INSAT imagery and sounder data. Antrix needs to act as an enabler to use these kinds of information to provide solutions. Even for Private satellite operators, the real value lies in value addition rather than just pixels sale. If we can use Geospatial data, we can impact the GDP by 1%, which is very important in the Indian Context.
Transformation from selling image and processing software to providing image service
Mr. Agendra Kumar, President, ESRI India remarked that one of the trends that is clearly visible, is transformation from selling Image and Image Processing Software to providing Image Services. People would no longer like to buy an Image or Image processing software and would like to have a product available to them as a service and pay as per the usage. This trend is happening for both hardware and software. Cloud based services are becoming important because of the large volume of imagery and large server farm requirements to process the imagery in near real time. So, everything imagery, image processing software, etc., will be in cloud and people would prefer imagery as a service. Second aspect is pooling data from various sources, even it is on payment basis and making them available to customers at free of cost/pay small amount for the products.
This is basically to generate higher economic value for the data/product that has been generated. So, the business chain would be Image, Image Processing, Products, Service delivery, viable market and higher economic value. He brought in the analogy of difference between roads and toll roads to explain pricing for products/value added products derived out of satellite imagery. This analogy could be extended to commercial companies, where they have invested for plant and machinery and systems and the charges need to be recovered; it won't be free; but the value derived out of the imagery would be more. Model may change into communication services, wherein you pay a fixed amount and consume the data as much as possible. Some of the market drivers would be multiple passes of satellites every day, shorter time of processing, products of higher value, integration with different platforms for easy integration with application, and finally support for various platforms, so that products that are generated could be consumed through variety of devices.
Huge amount of data is available at NRSC
Dr. YVN Krishnamurthy, Director, NRSC at the outset mentioned that huge amount of data is available at NRSC (about 3 PB) and the infrastructure is already ready to host about 70 PB for the next 2–3 years. ISRO has realized a host of instruments on various satellite platforms for ocean, land, and atmosphere. While touching upon applications potentials using remote sensing data, he briefed on the methodology of water CESS collection and shared the example of water CESS collection for Maharashtra for two river basins (Krishna and Godavari) with collection of INR 365 crores and stated "this is the potential of applications derived out of the data". NRSC is working on how one can make data for per acreage/per applications, and what can be value addition for end benefit.
As regards, crop insurance, all the data is available in Bhuvan and good analysis need to be done. He briefed on the facilities available at NRSC Outreach campus at Jeedimetla, Hyderabad and invited companies/startup companies to work for applications like crop insurance and taxation. He briefed the strength of Bhuvan in term of data content and services that are provided through Bhuvan quoting the example of MNREGA project. Thus, Bhuvan has become a geospatial portal for governmental applications. He invited industries and Startup companies to make use of the Bhuvan platform for commercial applications by taking up projects here, demonstrate and take it forward to other countries as well.
He briefed on the ISRO's vision document-2030, that talks about socio-economic security, sustainable development, disaster risk reduction and governance using space based inputs and how ISRO plans for continuity of data to achieve this goal. Subsequent to the remarks by the panelists, Chairman made the floor open for remarks/views/queries from the audience.
Mr. Shankara Narayana of Digital Globe, mentioned that globally also remote sensing industry is transforming and a farmer looking at the image would be able to do GIS analysis and decide on his cropping pattern, may be after 10 years. We need to continue with the technology and provide best data and value to the customer.
Dr. V. Jayaraman, former Director, NRSC stated that data is no more a fascination, but application is always. Globally, the usage is much more than what is produced and the data consumption is saturating over the years. Drone/aerial photography also needs to be considered by the Industries. Integration of data from various platforms needs to be looked into for deriving value added products/services. Dr. Shailesh Nayak clarified that the data usage has increased over a period of time. Weather models were earlier using 2 GB data in 2007, which has currently increased to about 100 GB to increase accuracy of the weather forecast. Large volume of data is available over the period of time and one has to work on how to use this data. One has to overcome the traditional use of using the data. We need to integrate data from other sources as well and provide the final solution to the customer.
Dr. VK Dadhwal, Director, IIST stated that the biggest gap in today's context is that we have cm scale data, but we do not have cm scale base map of the country. Creating high accurate base map has immense potential for various applications. Another important parameter is calibrating the data, not in terms of radiometry, but in terms of ground feature and geophysical parameters.
Mr. Shantanu Bhatawdekar, Director, EOS stated that Scatsat-1 data are not only used in our country in various models, but also in EUMETCAST, NASA/NOAA; solar insolation products are operationally generated using INSAT data; and solar insolation map is available once in 15 min; roof top solar estimation is done for 20 smart cities using satellite and other data sets; due to policy restrictions, currently only up to 1 m data is hosted on Bhuvan. While the satellite data needs to be made open and free, we need to integrate social media data also to provide more information.
Mr. Amardeep Sibia, CEO, Satsure, mentioned that they call geospatial analytics as large area analytics and trying to use multiple data sets and not just the satellite data. The time spent by entrepreneurs in educating the end users on various benefits is more and requested that the education of end-users on the potential possibilities using satellite data needs to be enhanced.
Mr. Uday Raj, CGM, Regional Centre, NRSC stated that basic things which are needed are (1) the foundation data sets; (2) value added data base for many users to consume; and (3) developing decision support system for various applications. Dr. RR Navalgund, Moderator of the Panel in his concluding remarks stated that remote sensing data alone does not provide a solution to problems. To address a problem/ provide a solution for a problem, one has to add other data, knowledge and intelligence. Intellectual inputs are required in transforming data to an actionable product and service. The entrepreneurs need to invest in adding knowledge to convert data to a product. Such an effort may not pay in a short term, but would definitely pay over a period of time.
Crop production forecasting cannot be done using remote sensing data alone; it needs further knowledge on phenology, physiology, weather, soil etc. embedded into a model to derive useful information. Developing models, algorithms, methods/procedures for geospatial analytics using data from different sources is another business opportunity. History is also replete with examples of creating needs; thereby developing business opportunities. Further, to create business opportunities, appropriate enabling policies need to be in place. Policies need to address use of data from different platforms (space, aircraft, UAV) conjunctively, availability and use of in situ and not be restricted to only space borne RS data. Data is available from various sources; it is not a limiting factor and the need of the hour to transform the data to value added products/services and solution to end users. The panel discussion ended with vote of thanks to the Chair and the entire group of panelists and active participants.
Possible suggestions
Possible suggestions for Follow-up Based on the views expressed by the distinguished panellists and the overall discussions, the following points emerge for follow-up.
Need for high resolution panchromatic and multispectral Remote Sensing Data (1 m and better) with quick turn- around–time would continue to grow both in the strategic and commercial civil domain. Considering this, there is scope for building HR satellite constellations to provide data with high repetivity (visit/revisit every day), establishing ground infrastructure for data acquisition, processing, generation of data products and reliable dissemination mechanisms. Geospatial industries with necessary aptitude and strength may like to pursue this line as a business opportunity.
While moderate resolution microwave SAR data is available free to a certain extent, requirements of SAR data for various civil, disaster monitoring and strategic sectors are not fully met. Hence, there is need for building a constellation of microwave SAR satellites and for launching such satellites at inclined orbit with relatively higher spatial resolution and improved revisit period and down the chain of activities.
Though coarse and medium resolution RS data are becoming more and more ''Open and Free'', business opportunity exists in value addition to the raw data. Nature of value addition depends upon the requirements of the stakeholders. Opportunity lies in developing models, algorithms, methods/procedures using data from different sources including data from in situ observations. One also needs to ensure calibration across different sensors, platforms and time periods.
In view of the huge datasets available over the past five decades, a good business opportunity lies in developing business analytics. Entrepreneurs need to explore the market for diversified user requirements and develop business analytics to meet the user requirements.
As repeatedly stressed by the panelists, there is a need to shift the focus from being providers of data to value added products and services. This includes generation of user-oriented products, new software tools and uninterrupted services. This demands commitment to continuity of similar missions and software tools to bring data from different platforms in a seamless mode.
Creation of a Platform to pool data from various sources viz, satellite, aerial, UAV and in situ is another business opportunity. Such a platform could be used to build newer applications using geospatial analytics. Such an effort requires intellectual inputs for modeling, simulation, etc. The returns may not accrue in a short period, but would definitely pay off in a longer time frame.
7. In order that geospatial industries take initiatives in many of the areas mentioned above, enabling policies pertaining to building/owning RS systems, acquisition and dissemination of HR RS data, accessibility to in situ data need to be in place. The concerned organisations need to examine the adequacy of the existing policies and update. 8 Entrepreneurs may be encouraged through handholding/ incentives. It may be worthwhile to consider conducting a focused workshop with geospatial industries and potential startups to understand their needs to promote Business Opportunities in India using Remote Sensing Data.
This blog has been published with the permission of Indian Society of Remote Sensing, which is copyright holder to this content. It originally appeared in the March 2018 issue of the Journal of Indian Society of Remote Sensing published by Springer India.