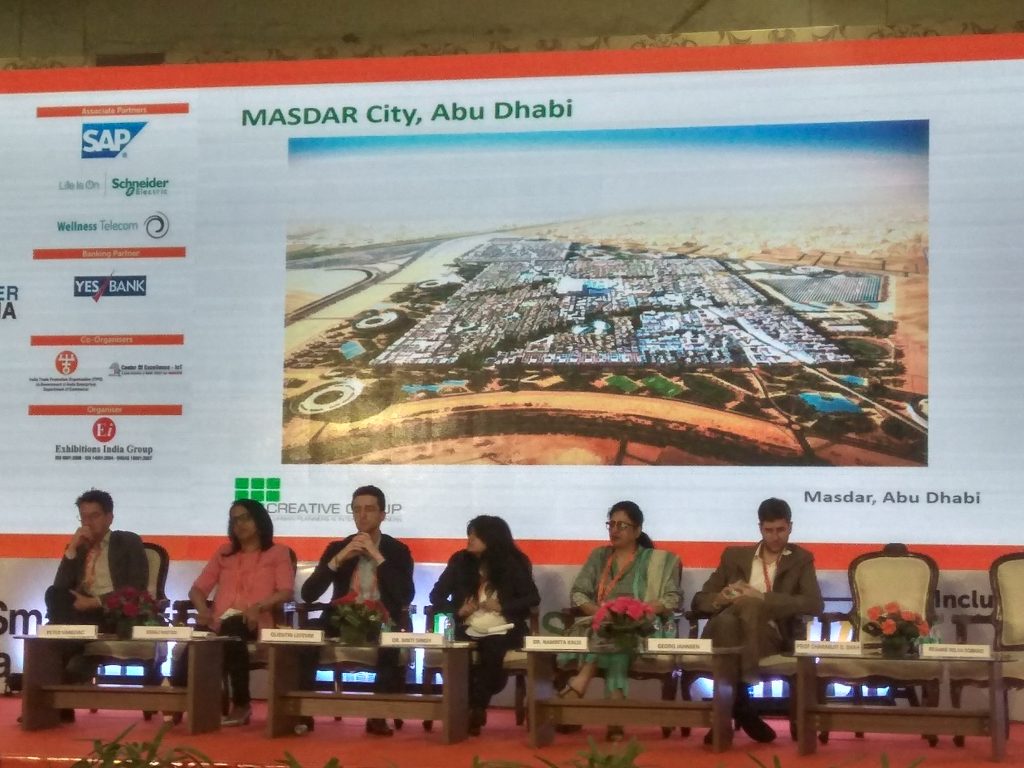 When we discuss smart cities, there is one component that is at the core of it: Urban Planning. In fact, urban planning can be termed as the structural scaffolding of a smart city; its support system as well as the optimized layout plan of the city. A smart city cannot be conceived without elaborate and meticulous urban planning. Hence stems the need of reworking the fundamentals of urban planning in synchronization with the infrastructural and technological needs of a viable smart city framework
At the 4th Smart Cities India Expo 2018, urban planning of the future to bolster the development of smart cities was discussed. With rapid technological advancements in the 21st century, a lot of old urban planning models have already become obsolete. This ensures that the focus should be on amalgamating latest technology goals and urban planning guidelines while recognizing the importance of sustainability.
Namrita Kalsi, Joint GM, DMRC, India, is of the view that since a lot has changed over the decades, it should fundamentally reflect in urban planning strategies that focus on the future.
New orientation of yesteryears approach
Stressing on the need of a calibration between traditional urban planning and technology in a new technology-driven age, she says, "World over, one of the most accepted models in urban development is Smart India. India too is following this route. But the paradox is that conventional city planners should be actively engaged in collaboration and aggregation. But that is not the case. It is the technologists who have leapfrogged and are at the forefront of most aspects of a smart city".
Clearly, this is a lacuna that needs to be addressed. And it's only possible when traditional urban planners become more programmatic in their approach and get acclimated with the emerging technologies that are triggering a paradigm shift in urban planning. There is a need for broader knowledge sharing and nurturing expertise so that the conventional city planners can collaborate with technologists in a mutually beneficial manner.
Namrata Kalsi further adds that urban planning needs a new methodology. "A methodology involving people, process, technology and citizen participation, and facilitating enterprises," she said.
Another fact that needs to be highlighted is that when it comes to enablement of smart city technology and laying the foundations of a truly smart urban habitat, apart from technology and master plans, there are other myriad factors. Some cities will have a head-start over others in incorporation and implementation of smart technology and others will continue to be laggards at least until a tipping point is reached.
Eschewing a uniform pattern
Georg Jahnsen, Urban Planner, GIZ, India, opines that a coherent vision is needed for sustainable development and for that data collection and visualization is indispensable. Data is undoubtedly among the many pillars of Smart City development.
He said, "Cities need to look in the mirror and identify their history, challenges, contradictions, and complexities.  There can't be one silver bullet or a one-size-fits-all model. A multiscale, specially-tailored approach is the key and cross-sectoral planning is the need of the hour".
What lends credence to Georg's statement is the fact that different cities have different baggage, burdens of the past, hesitations of the present, and anxieties of the future, and naturally, they will follow different trajectories.
In the field of policy making, what will empower smart cities more is decentralization in decision making and gradually devolving power to actual stakeholders at the grassroots level.
Sustainability to be a hallmark
Peter Vangsbo, Business Developer Director, EIT Climate, Denmark, lays emphasis on the fact that smart city development and meeting sustainable development and climate change mitigation goals should go hand-in-hand. Combatting pollution strains our cities and the envelope of pollution shrouding our cities has already made vast stretches of urban spheres unfit for residence. We cannot afford to overlook this important aspect.
Peter gives a possible solution to tackle the issue of pollution. "Export ideas. Focus more on education and knowledge sharing, innovation and Inspiring startups".
He also added that "Encouraging the germination of new ideas, fast-tracking process, throwing new light on challenges is the way forward". He gave the example of Copenhagen Municipality whose target is to be C02 neutral by 2025.
A lot has been done and clearly, a lot more is being done on the technological front. AI, IoT, Blockchain are some of the engines of Smart City. The umbrella of converging technologies would ensure that we make giant strides in smart cities and set new benchmarks.
Coupling policy and technology
But, Shonali Rastogi, Founder Partner, Morphogenesis, gives us some food for thought when she asks, "That should Smart City only be synonymous be groundbreaking technology and smart be the buzzword of technological capability".
Pointing that "Smart should not merely be about digital enablement, but equally about policy mechanisms, governance, and a systematic approach."
It goes without saying that smart city development has to be truly holistic, encompassing everything from technology to policy to enablement to government action and citizen participation.