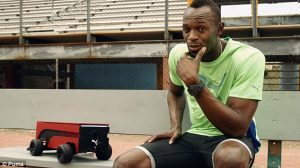 If you've been following the Rio Olympics just like we have, you must have established that Usain Bolt has no competition on the race track. But he definitely has the perfect running mate we always wanted. In April 2016, Puma, the German multinational company that designs and manufactures athletic and casual footwear and clothing wowed us by introducing 'BeatBot'. The robot device is a programmable, self-driving robot that aims to motivate runners more than a stopwatch. 
The whole idea of owning fitness trackers like Fitbits, Nike+ Fuelband etc., is to help people set goals to get fit, monitor health, and understand their routine. But BeatBot pretty much takes it to the next level. And makes it impossible for you to not feel motivated.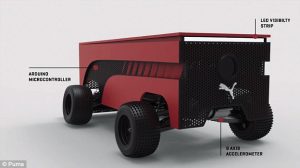 Puma designed and developed the BeatBot, which resembles the company's shoe boxes. It included NASA's robotic engineers and three MIT graduates in the process. Puma has equipped it with GoPro camera and LED lights. The robot can help runners to improve by allowing them to race against their competitors. The BeatBot scans and follows the line on a track using nine infrared sensors, while wheel revolutions measure both speed and distance. That data is processed in real-time, to make more than 100 maneuvers per second to stay on the line, navigate bends, and cross the finish line at the pace you've programmed. According to The Daily Croton, Puma's BeatBot can run as fast as Olympics medal victor Usain Bolt, World Record holder for the 100 meter sprint with a time of 9.58 seconds.
Currently, the robot is only available for Puma-sponsored athletes to use while training. But it makes us wonder if a robotic running mate is the future of fitness?
Watch BeatBot in action on https://www.youtube.com/watch?v=Q-g1DtiXfu8