The expansion of workplace technology means there are more ways for employers to use employee performance data to improve overall operations. But with more insight comes greater responsibilities and challenges in ensuring privacy compliance and ethical practices.
In a global report comprising of four GPS tracking studies commissioned in the U.S., Canada, Australia, and the U.K. from TSheets by QuickBooks, 2,500 employees reveal what concerns them most about GPS tracking in the workplace. There also seems to be a knowledge gap between the perceived threats and the reality among employees who have and have not experienced the technology at work.
Thumbs-up: Most employees report a positive experience with GPS
In all countries surveyed, 1 in 3 employees has used GPS tracking for work, suggesting a remarkably consistent rate of technology adoption. For respondents who have had their locations tracked by GPS at work, the majority describe their experience as "positive." The number of those on the opposite end of this spectrum was, on average, just 6 percent. The other big reveal is how the second highest majority from this equation, averaging 36 percent, is indifferent toward the technology.

The numbers changed drastically when the same question was posed to employees who have not used GPS tracking at work. In Canada and the U.K., at least half predicts a negative experience, followed by Australia at 47 percent and the U.S. at 38 percent. An average of 11 percent foresees a positive outcome, but once again, an average of 42 percent of respondents in all the surveyed countries say they would be indifferent.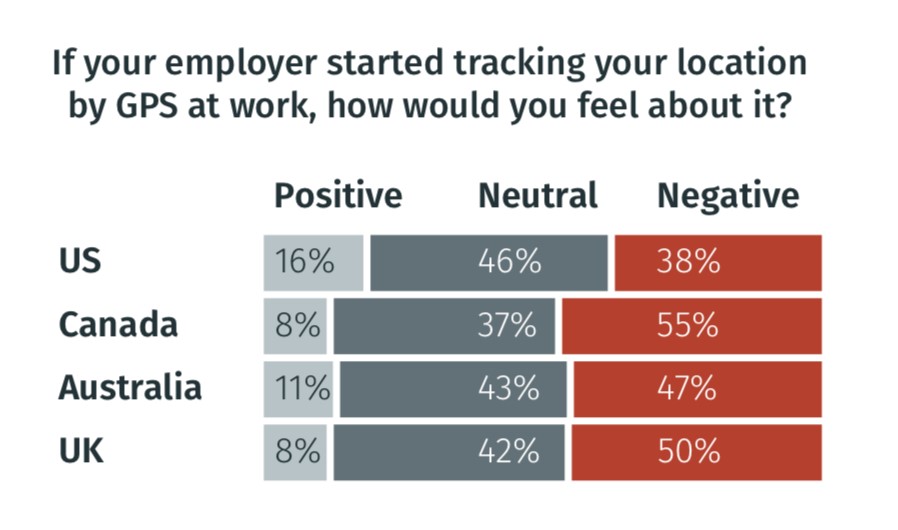 Battery drain and data usage supersede privacy concerns
It is common to see the issue of privacy being raised when talking about GPS tracking in the workplace. In the TSheets report, employees in the U.K. and Australia who have not used GPS at work rank privacy as their top concern. In Canada, micromanagement takes top billing, while U.S. respondents cite smartphone data usage. Again, these are employees expressing their expected concerns.
For employees who have used GPS at work in the U.S., Canada, and the U.K., their primary concerns are battery and data use. However, privacy remains the No. 1 fear among Australian employees. This aligns with the nation having the highest number for those reporting a "negative" experience using GPS at work. Overall, the data suggests that US employees are least concerned, and there isn't a hardline resistance towards GPS tracking technology among most workers.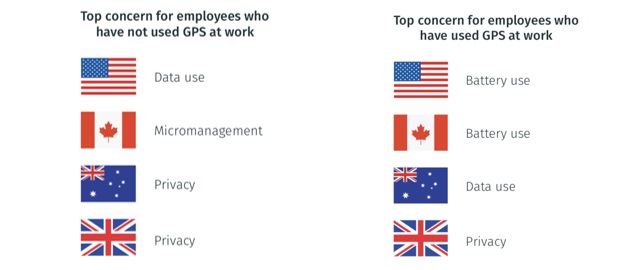 Employees agree on increased accuracy, other benefits
GPS tracking is often seen as a one-sided argument with employer-only advantages. But employees in all the countries surveyed, regardless of whether they have used GPS tracking at work or not, seem to disagree. They say the technology benefits them in "tracking travel time and mileage" accurately, thus ensuring they get reimbursed for what they're owed. That's not all. Employees add that GPS tracking helps to increase safety, efficiency, accountability, and streamlines payroll systems.
Respondents also divulge on enabling GPS for non-work-related apps and, on average, only 1 in 10 would "never use apps that require location services," implying that most do not mind sharing their locations for the right reasons.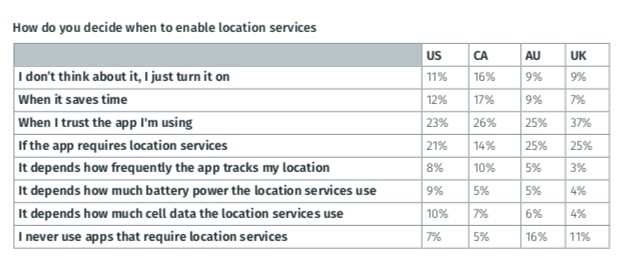 How to know if GPS tracking is right for your business
When it comes to technology, the writings are often on the wall. In 1964, Jacques Ellul, a French philosopher predicted, "modern technology has become a total phenomenon for civilization, the defining force of a new social order in which efficiency is no longer an option but a necessity imposed on all human activity."
If you're contemplating GPS tracking for your workplace, first consider these questions.
Do you have a mobile workforce?
Often, time theft and wage fraud are the results of unintentional human error, especially for businesses with mobile employees and seasonal workers. Resolve this with the help of a GPS time tracking solution that will tell you the who, what, where, and when automatically.
Is employee safety a concern?
If you have employees spread out at sites, using heavy machinery — think construction workers, landscapers, or road workers — accounting for each of them and knowing they're safe in case of emergencies, natural or human-made, is immeasurable peace of mind.
Does your business need a fast response time?
Chris and Allie Isaacson run SERVPRO of Boise, a cleaning and restoration franchise with over 2,000 locations worldwide. Chris knows every time the phone rings, it's someone who needs help. The visibility provided from GPS tracking allows them to reassign and dispatch team members efficiently, which, for their customers, can be the difference between surviving and thriving.
3 things to consider before, during, and after GPS tracking implementation
If you've decided to implement GPS tracking for your business, make sure you check each of the following.
Seek legal advice
You can research plenty on your own. But there are laws in place when it comes to employee privacy, and they can vary greatly by location and jurisdiction. In the TSheets survey, 38 percent of employees in the U.K. say they were not able to turn off the GPS tracking on their own and that it was on all the time, even when they weren't working. This is a clear privacy violation on their employer's part. Be sure you're on the right side of the law.
Due notice and explanation
Overall, it is good practice to notify employees of GPS tracking through all possible communication channels beforehand. The notice should include a statement to justify the practice, how location tracking works, and how information is used, among other things. Many respondents in the TSheets survey were not notified before implementation, raising immediate red flags.
Appoint contact
Once the policy and execution are in place, don't forget to have a go-to contact for employees to reach out with questions and concerns. A centralized person in charge ensures consistency to prevent speculation and water-cooler conversations that will only spur more confusion and miscommunication.
In the case of GPS tracking at work, it's clear that knowledge is empowering, evidenced in the perceived threats versus reality between employees who have not used GPS and those who have. And this onus falls on the employer, as educating employees is the only way to ensure everyone is on board to reap the collective benefits.