In the UK, the Construction Innovation Hub (CIH) is offering innovative businesses the chance to be part of a special programme. Though this, CIH hopes to help create the next generation of new build projects. The Platform Design Programme, announced July 29th, 2019 through an Open Call at the Manufacturing Technology Centre in Coventry, UK, is a centerpiece of the CIH.
Bring together expertise
The CIH is a relatively new initiative, born out of the UK Government's Construction Sector Deal. Launched in November 2018, with £72 million from UK Research and Innovation's Industrial Strategy Challenge Fund, the CIH aims to bring together expertise from different knowledge platforms. These are the Manufacturing Technology Centre (MTC), BRE (Building Research Establishment) and the Centre for Digital Built Britain (CDBB). Also, the Hub works in close partnership with the Active Building Centre (ABC) and Network Plus, as part of the wider Transforming Construction Challenge.
Catalyst for Transforming
CIH's mission is to be a catalyst for transforming the UK construction sector through manufacturing technologies and digital ways of working – boosting productivity, exports and asset performance to benefit society. Key inputs of the programme include product family architecture, standards & compliance, information management frameworks and security. Its key outputs are four-fold. Firstly, for the owner, high quality projects with better performing assets should emerge. Secondly, for the user, a better experience in quality and safety lays ahead. Meanwhile, the operator gets hold of better, useable data, more effective operations and maintenance strategies. Lastly, the industry will benefit in providing a safer environment for its workers and through the combined enhanced efficiencies. Projects should become more predictable and profitable.
Open Call
In order to accelerate the initiative, CIH has set up the Platform Design Open Call with 'more questions than answers'. Industry partners can join in to bring up their abilities to the fore. Mark Ireland, Chief Engineer at the MTC explains: "It's not about selecting winners. We are trying to create consortia". Successful applicants will get detailed support from manufacturing, performance and digital experts from across the three centers of the Hub. So they can develop and refine their products, technologies or services. "It's also an opportunity to test and validate your product", says Keith Waller, Program Director of Transforming Construction Alliance. There will be installations and showcases of early designs on a proof-of-concept building. The Platform Design Open Call will formally open for expressions of interest at the end of August. Until then, businesses are being encouraged to contact the Construction Innovation Hub to find out more.
Also read: FARO tech redefines design prefabrication collaboration.
A Kit of Parts
What the Construction Innovation Hub is basically doing, is inviting AEC firms to help develop a new 'kit of parts'. Building on the Infrastructure & Projects Authority's recent call for evidence on a Proposal for a New Approach to Building, the Hub follows its Design for Manufacture and Assembly (DfMA) approach. According to P-DfMA principles, platforms should combine design, manufacture and procurement principles holistically. In soing so, they can ensure a very high degree pf rationalization and integration. Also, platforms will need to manifest themselves as a kit of parts of pre-engineered components, assemblies and products that go together in pre-defined ways. Lastly, platforms are to incorporate a number of interacting elements, including superstructure, envelope, MEP and fit out.
The platform as an inspirational source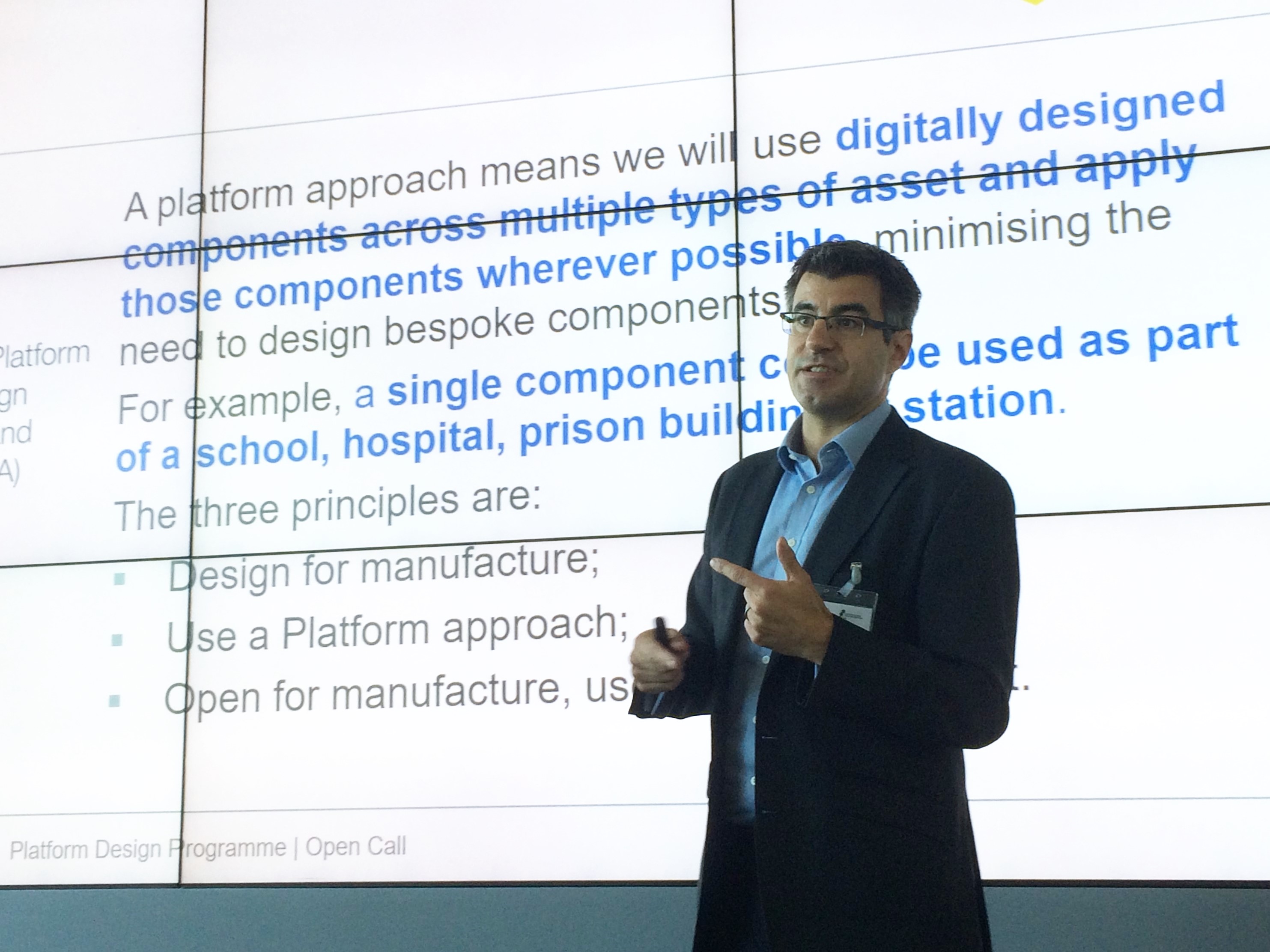 At this moment we make use of lots of individual systems, dimensions and semi-standards. Jaimie Johnston, MTC Design Lead, likes the construction world to embrace the platform as an inspirational source. He likens automotive-as-a-platform, which began when Henry Ford streamlined car production, to highly standardized Ikea furniture. During the Platform Design Open Call presentation, he elaborated on the dimensioning of sea containers, which changed the way we transport products over sea. "With a platform approach will be using digitally designed components across multiple types of assets and apply those components wherever possible, minimizing the need to design bespoke components. For example, a single component could be used as part. of a school, a hospital, a prison building or a station. The three main principles are: design for manufacture, use a platform approach and have the product be open for manufacture, use and procurement.
Superstructure
According to Jaimie Johnston, superstructure is going to be the most critical part: "It's vital. It's about fire resistance and acoustic separation between floors, load bearing capacity, vibration and structural response factors and dimensional stability". The embodied carbon and the speed of erection will be of equal importance. But the carrier frame is predominant, because it has a role in enabling the other platform systems. Johnston gives some examples: "It needs to be the right cross section to accommodate services within structural depth. Also, it has to support the envelope cladding panels. Moreover, the carrier frame must allow fit-out to be fixed without drilling holes." Superstructure must therefore be economic in material and labor, promoting rapid and accurate attachments of cladding, installation of partitions and ceilings and enable the optimization of sequence.
Platform Examples
As a 'thought exercise', the CIH worked out three platform levels for future focus. Roughly sketched, a 'Platform 1' building could be a small house. 'Platform 3' typically holds industrial halls and warehouses. As for now, 'Platform 2' seems to have the most potential. At least, it looks like its components have the broadest use. Contractors can share the same structures, dimensions and forms from Platform 2 between buildings in education, residential and health care.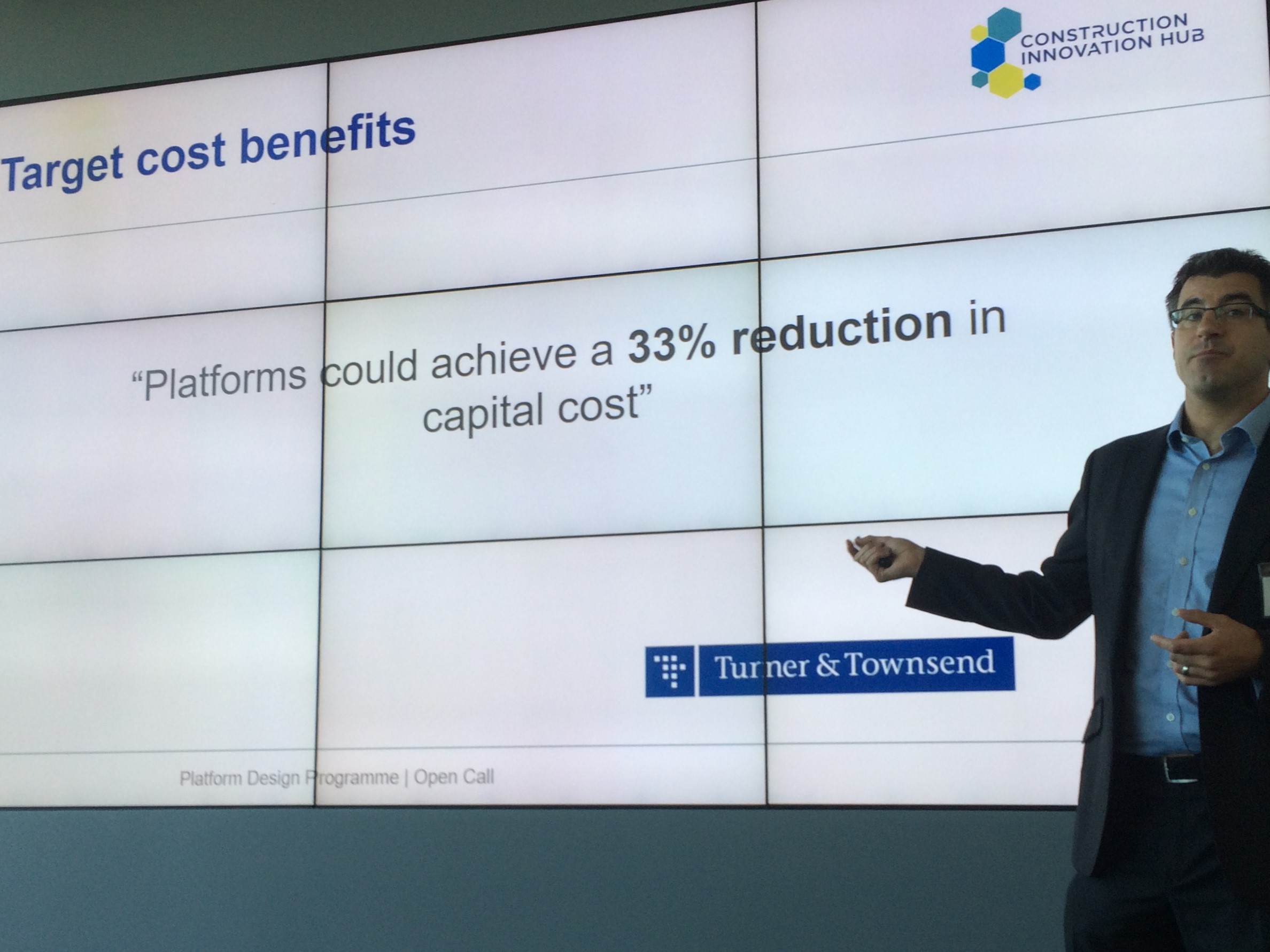 "And there is nothing risky or bizarre about the outcome", asserts Jaimie Johnston. Capital cost reductions of 33 per cent could be achieved, he says. "And while 33 per cent might not be feasible in all situations, you know that we'll all be smiling when we do reach 20 per cent."