Cloud-based solutions provider, Planet OS, launched a new climate data tool this week, in collaboration with NASA's Earth Exchange team. The tool provides access to two climate datasets that include NASA Earth Exchange Downscaled Climate Projections (NEX-DCP30); and NASA Earth Exchange Global Daily Downscaled Projections (NEX-GDDP).
These downscaled and bias-corrected climate datasets provide a better representation of regional climate patterns and are used to determine specific impacts to numerous real-world applications such as crop productivity, flood risk, energy demand, and human health.
However due to their immense size, archive structure and file format, acquiring and incorporating downscaled climate projection data into regional analyses can require significant technical knowledge.
How it works
There are three stages to creating and using a custom climate dataset using the tool.
Select Your Data
Using a simple web front end, select the climate data that you want by model, date, scenario, variable, and geographic region.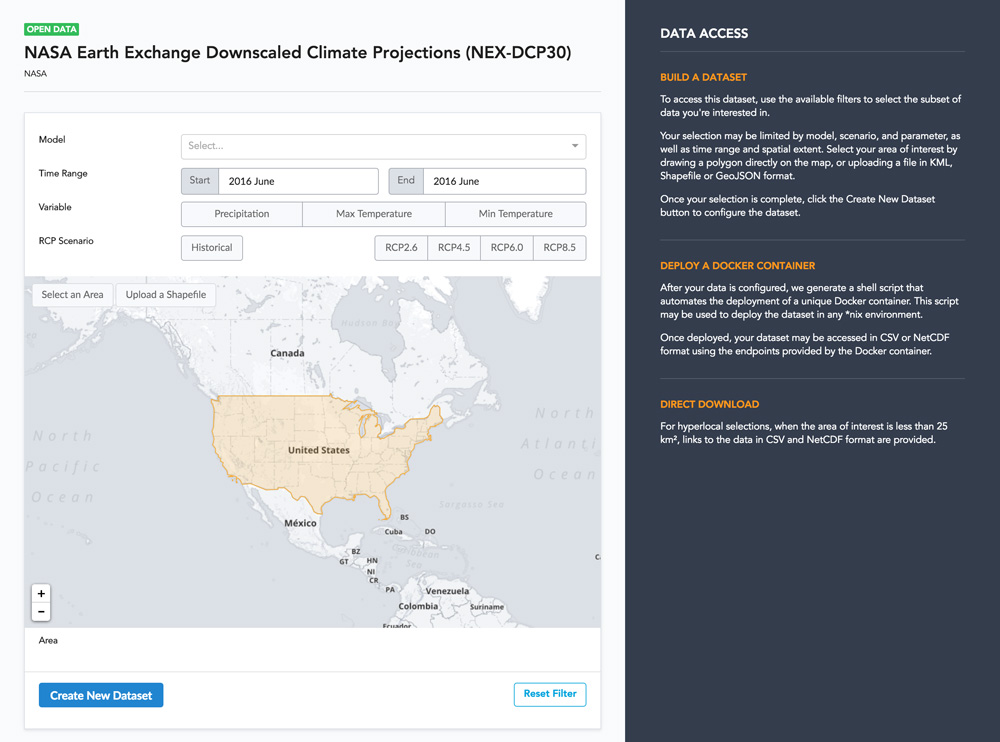 Create Your Dataset
Once your selection is made, the tool creates a simple script to transform the selected data into a CSV or NetCDF file. This script can be run on any supported system, however, we recommend running it in Amazon's cloud because that's where the OpenNEX data lives, making it the fastest and most performant environment. Don't worry, we'll walk you through this in detail – it's not hard!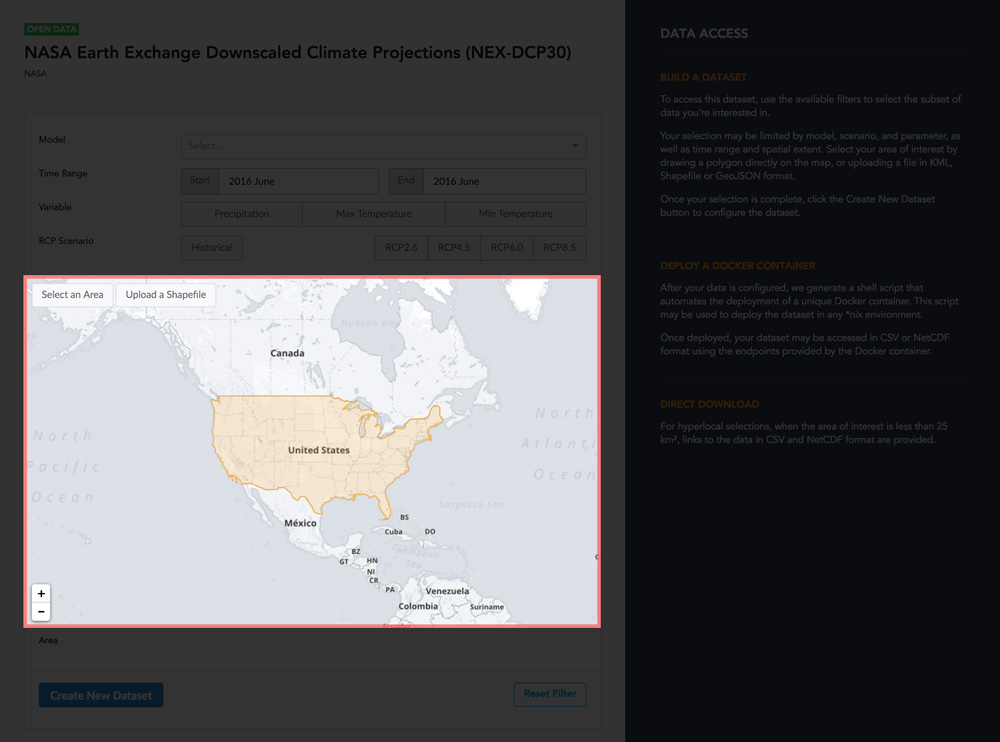 When a geographic region under 25 km² is selected, a download link is also provided, allowing you to access the data directly from your browser.
Use the Data
All data and programming environments have great, easy-to-use tools for handling the resulting CSV files.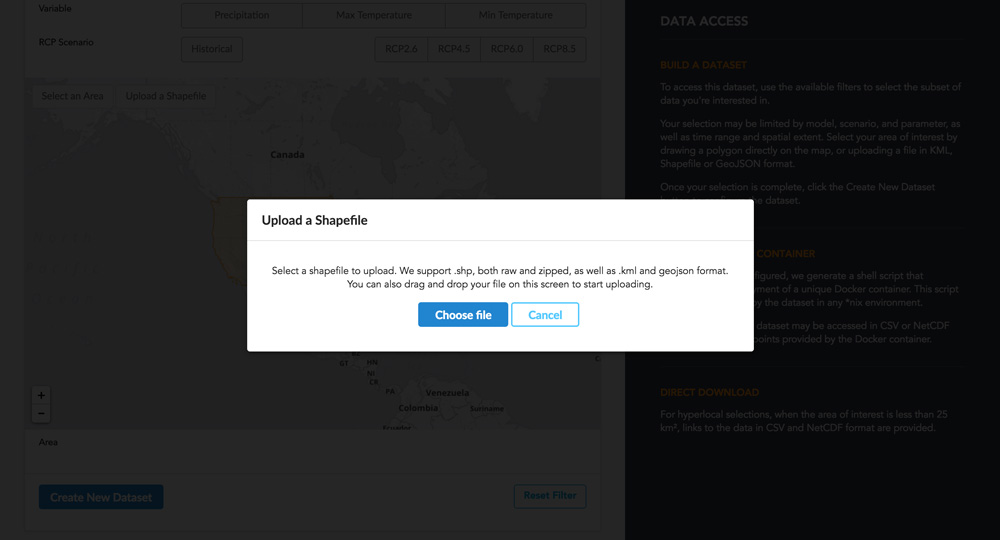 The OpenNEX Climate Data Access Tool was designed to remove these technical barriers and allow quick, easy access to these valuable climate data by both scientists and policy planners.
The datasets also provide maximum temperature, minimum temperature, and precipitation for the periods from 1950 through 2005 (Retrospective Run) and from 2006 to 2099 (Prospective Run).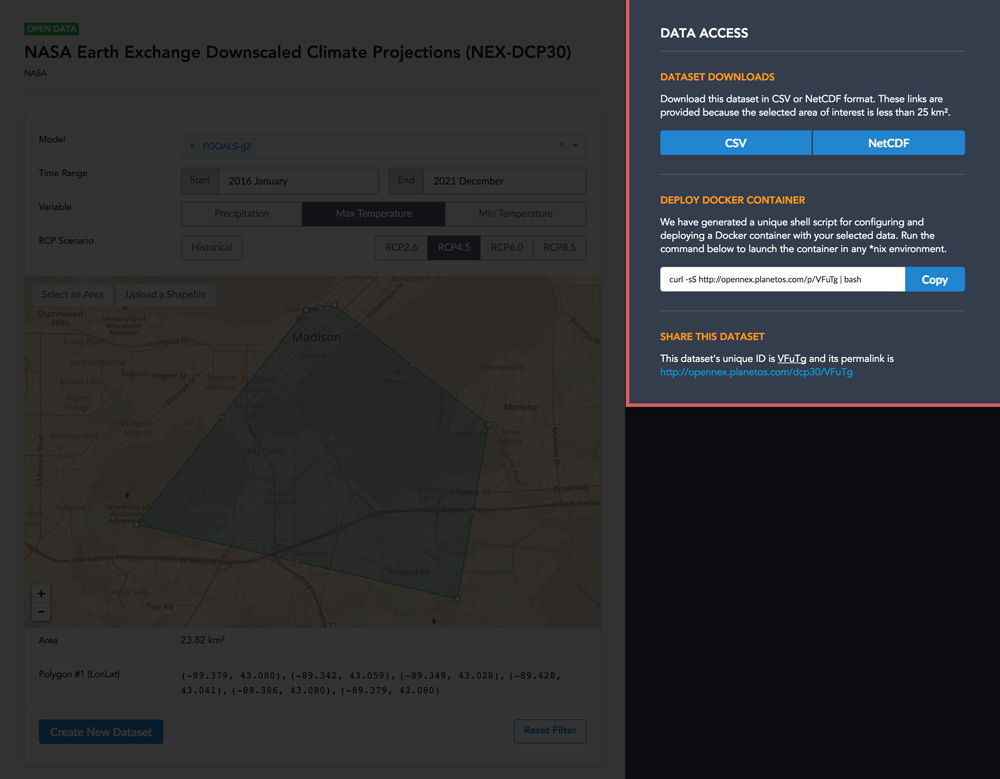 Climate information is important to not only highly technical scientists, researchers, and numerical modellers alone, but also to non-technical local community members and decision makers who are responsible for developing response plans.