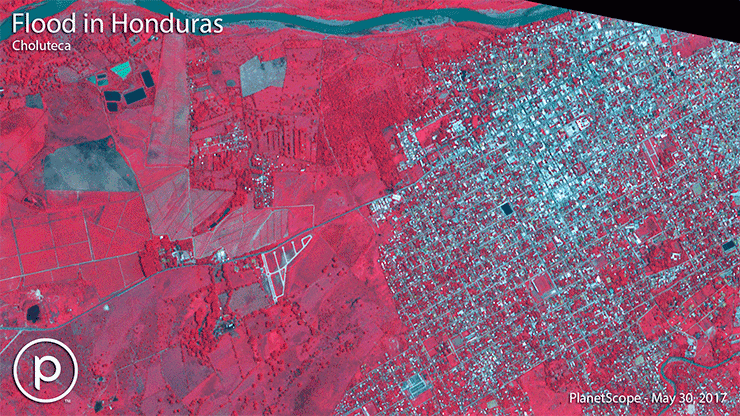 The use of satellite imagery for disaster response – rescue ops, rehabilitation and monitoring the after effects – is well established. It is also crucial in long-term recovery efforts. Now, small satellite major Planet has launched a new digital volunteer program in partnership with the Digital Humanitarian Network  to help ensure "its data gets to the right people at the right time to accelerate and improve humanitarian response".
Digital Humanitarian Network (DHN) is a "network-of-networks" or consortium of Volunteer & Technical Communities (V&TCs) which provides an interface between formal, professional humanitarian organizations and informal yet skilled-and-agile volunteer and technical networks.
The members of the Planet Rapid Response are being given specialized training on the Planet platform and data, so that they can provide the latest satellite images available and/or geospatial analysis directly to field-based aid organizations.
After any major disaster, there is a huge demand for location-specific information and satellite imagery to study the intent of damages. Planet wants the rapid response team to respond quickly to requests for geospatial analysis from field-based humanitarian organizations in times of disaster response.
A humanitarian organization or NGO, which needs fast access to satellite imagery or data analysis after any major disaster, can simply activate the Digital Humanitarian Network. Once the network has been activated, an organization can request satellite images of disaster affected areas on a daily basis as well as before/after analysis. A humanitarian organization also has access to the Planet Explorer account, which enables access to Planet's entire archive of imagery within a disaster-affected area, for a minimum of 30 days. Planet also provides API keys to access imagery programatically.
While commercial entities are granted access to Planet data under the CC-BY-SA licence, which requires that any derivative products that use our data also be shared under the same license, non-commercial entities (including humanitarian organizations, intergovernmental agencies, etc.) are granted access under the CC-NC-BY license, which does not require sharing of derivative products. If however such products are shared, there is a requirement that Planet be acknowledged as an underlying source of data.
Remote sensing and GIS can give people involved in emergency and disaster response a wealth of information for assessment, analysis and monitoring of natural disasters such as tsunamis, earthquakes and floods, enabling them to better assess the region's risk and vulnerability. Such information also allows for targeted rescue and relief ops, mitigation and preparedness activities in such areas. Multispectral satellite imagery are crucial for for pre or post-disaster assessment.

Planet is currently the owner of largest satellite constellation. After its 88 Doves were put into orbit by ISRO in February as part of the Indian space agency's record 104-satellite launch, Planet had another big launch in July when a Soyuz rocket packed 48 Doves, making it the owner and operator of the largest satellite fleet ever put in orbit – 197 in total. And once the 48 satellites begin imaging, Planet will have global, daily coverage of the entire Earth, covering over 150 million sq km every day.