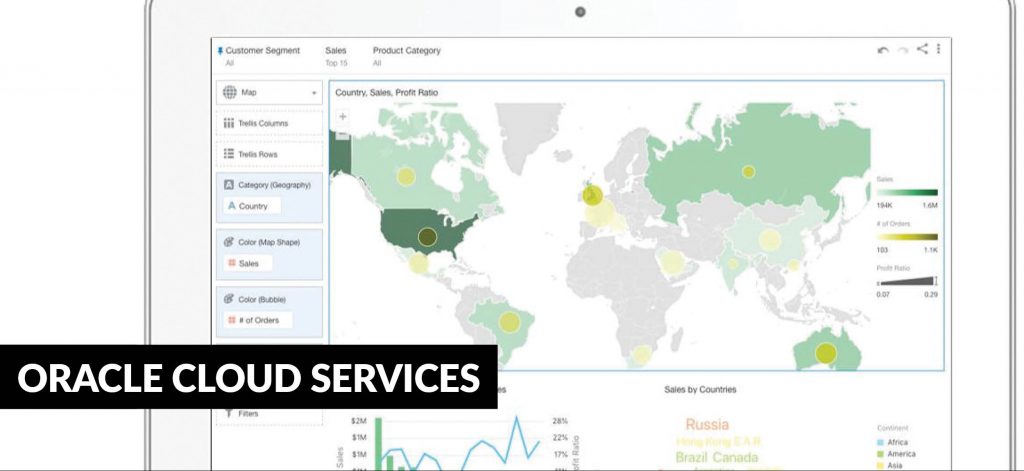 By incorporating spatial data management, analysis, visualization and development APIs, Oracle Cloud Services make location intelligence and advanced geospatial analysis part of every users' experience. Oracle Database Cloud Services include the world's most popular database management system and the platform for the most demanding GIS and land management systems, Oracle Database with Oracle Spatial and Graph. Oracle Big Data Cloud Service offers the first commercial Big Data geospatial features for Spark, Hadoop, and NoSQL – Oracle Big Data Spatial and Graph; and Oracle Analytics Cloud has the most comprehensive autonomous analytics in the cloud with automatic recommendations, location analytics, chart and map creation, single-click trending and forecasting, and drag-and-drop clustering and outliers.
Key Features
• Autonomous Cloud services – self-driving, self-securing, self-repairing – resulting in substantial savings in labor cost.
• Interactive map visualizations, JSON support for spatial data, REST APIs for modern application development.
• Integrated geocoding and routing .
• Performance and massive scalability features for enterprise deployments .
Oracle also delivers leading location-enabled SaaS services for public safety, utilities, transportation and logistics, communications, and real estate and horizontal applications in financials, human capital management, CRM, ERP and customer experience.