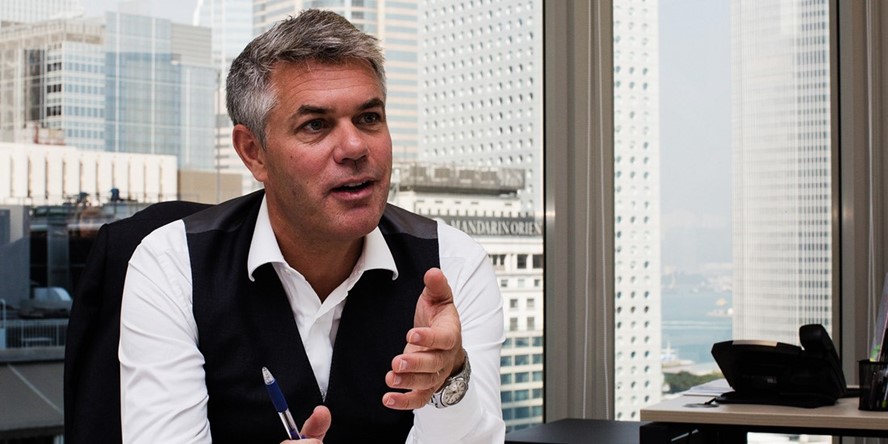 The prestigious Harvard Business Review has released its annual list of Best Performing CEO's in the world for 2018 and Ola Rollén CEO of Hexagon, features in it at the 88th position. This is the fifth consecutive inclusion for Ola. It's not at all easy to be included in the eminent list of the world's top CEO's and being a world-recognized business leader requires visionary approach, perseverance, painstaking efforts, out-of-the-box thinking and a lot more.
CEO's of big companies have to face adversarial situations from all quarters and be prepared to tackle them adroitly. The challenges include driving growth, pioneering innovation, adding value, infusing vibrant work culture, exceeding customer expectations, handling mercurial investors and simultaneously weathering vagaries of the market and precarious politics of the day.
Harvard Business Review recognizes all of this and then includes CEO's whose companies have built a momentum and are sustaining it. Certainly, there is no possibility of a fluke when it comes to inclusion in Harvard Business Review's list.
Outstanding achievement
And this is precisely what makes Rollén's achievement emphatically astounding. This is the fifth consecutive time that he has made it to the list. This is a remarkable feat in itself. It amply highlights the ambitious vision of Rollén and is a testament to his thorough professionalism and the unalloyed pursuit of excellence.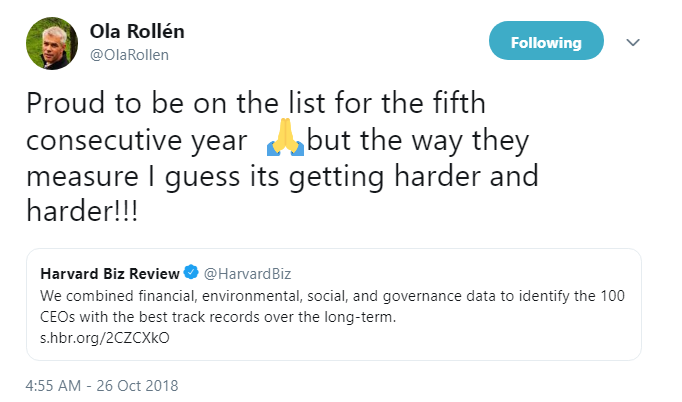 Rollen tweeted from his personal Twitter handle thanking the Harvard Business Review while also saying that the parameters of the ranking are getting more and more difficult.  But for someone used to sail against the wind and delivering amazing results, there would be many more feathers in the cap.
Ola Rollén certainly needs no introduction in the geospatial fraternity and the larger international business community. As the founding CEO of Hexagon, he has steered the company through several up's and downs and taken it from obscurity to being a marque geospatial brand.  Rollén has proved the mettle of his dynamic leadership by transforming Hexagon from a conglomerate of small, disparate businesses in 2000, to a global leader in geospatial technologies today.
Hexagon has an indelible imprint of Rollén and it is difficult to envision the company without him. The proverbial Swedish knack for ingenuity, innovation, and excellence coupled with Rollén's vision, enthusiasm, resilience and dynamism has made Hexagon into an inspirational success story.
Hexagon AB – in a league of its own
Hexagon AB today is worth $14.7 billion. There are more than six sides to the Hexagon Group – it has a network of 45 subsidiaries providing products for measuring — everything from the length of a microchip to the height of a mountain. Hexagons sells its software and hardware for nano, micro, and macroscale applications in more than 160 countries, and maintains R&D operations in about 50 countries with about 18,000 employees.
According to Hexagon's 2016 annual report, 50% of its net sales come from the Geospatial Enterprise Solutions business, which includes Hexagon Geosystems, Safety & Infrastructure, and Positioning Intelligence. Hexagon's geospatial solutions are used for infrastructure planning, construction and maintenance and in the mining, agriculture and public safety industries. The other half comes from the Industrial Enterprise Solutions.