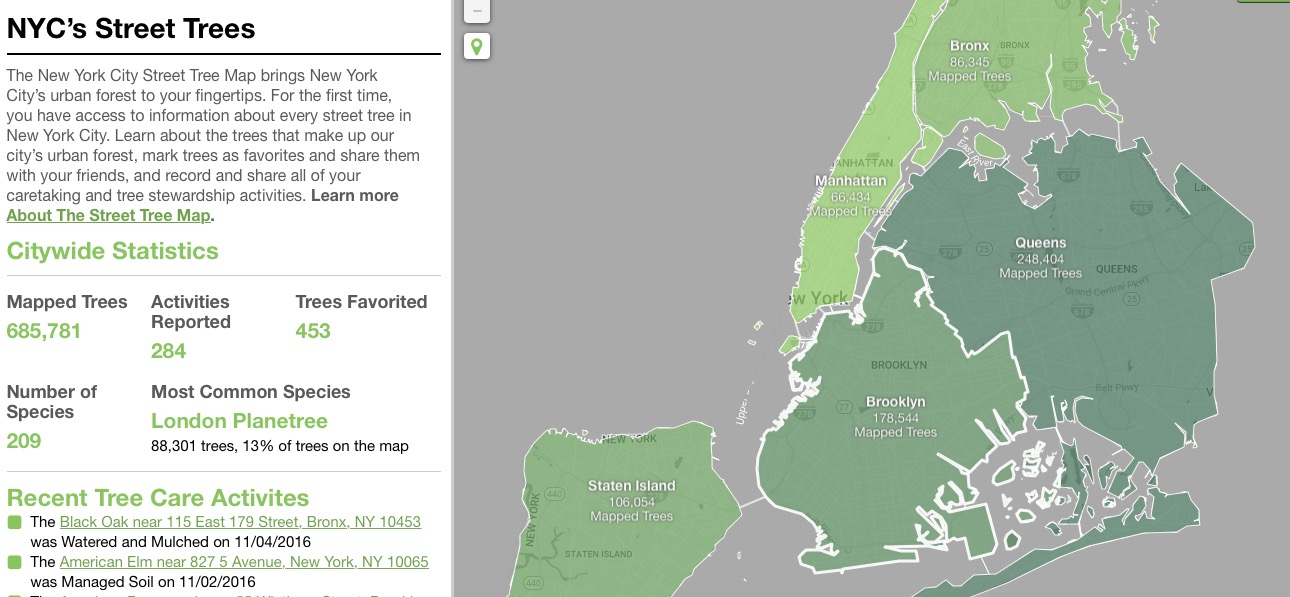 Maps can be so much fun! And this one is totally tipping the scales for its awesomeness quotient. The New York City Street Tree Map shows the exact location of 685,781 trees in New York City. If this number sounds oddly precise, it is because the NYC Parks department had 2,241 volunteers map every street tree in New York City for its TreesCount! 2015 project.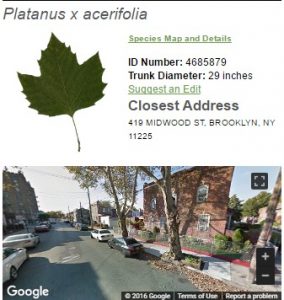 A highly interactive map now hosts this data, pinpointing each tree as a dot coded with colors to identify their genus. Clicking on a tree-circle dot would reveal the plant's species, leaf shape, trunk diameter and the closest address. You also get a bird's eye view of the tree's real-life surroundings courtesy an image from Google Street View.
And as long as we are talking about the leading center of finance in the world, how can we ignore New Yorkers' love for money!? So, a separate section, fueled by the USDA Forest Service's i-Tree software, shows you how much each tree is worth to the city.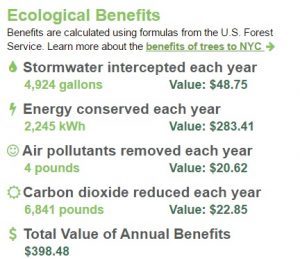 For example, take a London Planetree on Midwood Street in Brooklyn — which, incidentally, is the most common (13%) species in the city. The tree intercepts almost 5,000 gallons of stormwater every year, a service worth around $50. It saves citizens more than $280 by saving energy through shading buildings, lowering summertime temperatures, and reducing wind speeds. It saves New Yorker another $40 by absorbing gaseous pollutants and reducing atmospheric carbon dioxide annually, bringing its total ecological benefits to the community to almost $400.
Collectively, NYC's trees save the city more than $11 million through their ecological benefits. Talk about money growing on trees!
It should be noted that Washington, D.C., Los Angeles, Chicago and San Francisco have also conducted tree surveys. But, no other city has put together such a unique and interactive tool to bring citizens closer to nature.
Stressing on the importance of this project, NYC Parks Commissioner Mitchell J. Silver said in a press statement: "We want New Yorkers to feel a connection to their street trees right outside their windows, to our wild forests along the coast, and to all the open spaces in between. Our street trees beautify neighborhoods, make our communities more resilient in the face of climate change, and provide economic and social benefits. The important work our volunteers will help us support the next generation of both trees and stewards, and will allow us to gain insight into what we can do to make our urban forest even stronger."
Check out the New York City Street Tree Map here.