In the last few weeks, Topcon Positioning Group's Senior Manager Vertical Construction, Chris Emery, has been promoting a 'new workflow that makes near real-time construction a possibility'. Where does hardware meet software on the construction site?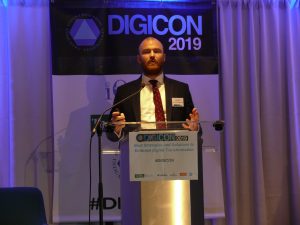 Industry Challenge
There is an industry challenge within the construction industry, he said during DigiCon 2019 in Dublin, in June. "There is a strong need for accountable construction processes that minimize mistakes, waste, re-work and cost/time overruns. As a global average, higher costs versus budget runs around 20 percent. This is mainly due to re-work and delays from", as Emery states, "unforeseen events."
Four phases
The construction of any building, be it a bridge, a factory or an office, is in fact only one of the parts of four phases. Chris Emery explained, a layout or a scan of the construction itself needs to be produced. Full dome 3D scans and panorama photos must be made at every set-up of all measurements. Duct work, columns, beams, grinders and ground penetrations find their way into the project. Emery explained: "Still, you will go back to a new round of scanning to capture the new situation". While processing the scanned data captured, Magnet Collage software is typically deployed in the next phase of the workflow: data processing. Moving to the fourth and last phase, Verification, all hardware and physical groundwork are set aside for a range of software functionalities. "During the verification process, one utilizes Clear Edge3D Verity running on Autodesk Navisworks for construction verification", said Emery.
Magnet Collage
Magnet Collage processes, aggregates and analyzes 3D point clouds from diverse sensors. Export is possible in multiple different formats. Thus, sharing and collaborating with 3D point clouds and meshes are viable options, opening up connectivity possibilities with different divisions within the construction workflow.
ClearEdge3D Verity For Navisworks
The analytic tool Verity For Navisworks automates the process of checking elements against the captured scan data from the construction site. Thanks to its accuracy, the outcomes will give a clear indication of the construction quality with as-built tolerances. Furthermore, it adjusts the model against the point cloud reality to create a true as-built model. With Verity one can report issues via integration with industry standard construction management tools. This way, the software increases project profitability by avoiding re-work and identifying problems.
ClearEdge3D Rithm by Autodesk Navisworks
Rithm is a true real-time software-tool running on Autodesk Navisworks. It provides a workflow to allow floor flatness checks during construction to correct areas while the concrete is still workable. It is easy to visualize high and low areas with elevation and deviation heat maps, contours and grid points.

Visit GeoBIM in Amsterdam, November 11-12, 2019
Additional resources required
3D laser scanners record progress and allow for a comparison to the original design model. However, this often requires additional resources, acquiring additional equipment and investing time in additional training. Therefore, in the words of Chris Emery, "We need a single unit solution with digital layout capabilities of a one-man robotic total station combined with a laser scanner". This means that the same tool and the same operator who perform the layout, can also capture high resolution 3D scans. When used in combination, the power of as-built data capture is added to existing layout processes. According to Emery, the Topcon GTL-1000 is "the result of fifteen years of continuous learning and development. Basically, it's one instrument doing the work of two".
Topcon Video shot in Dublin

During DigiCon 2019 in Dublin, Ireland, Topcon shot a demonstration video highlighting the GTL-1000. Concluding his presentation on workflows, Chris Emery summarized: "It is now possible to compare the original design with an as-built model where you can visually resolve project-critical decisions. When you are able to avoid mistakes or deal with them in a proper manner, all stakeholders will save money."
Also read: Digitization, Brexit, the Irish Construction Industry