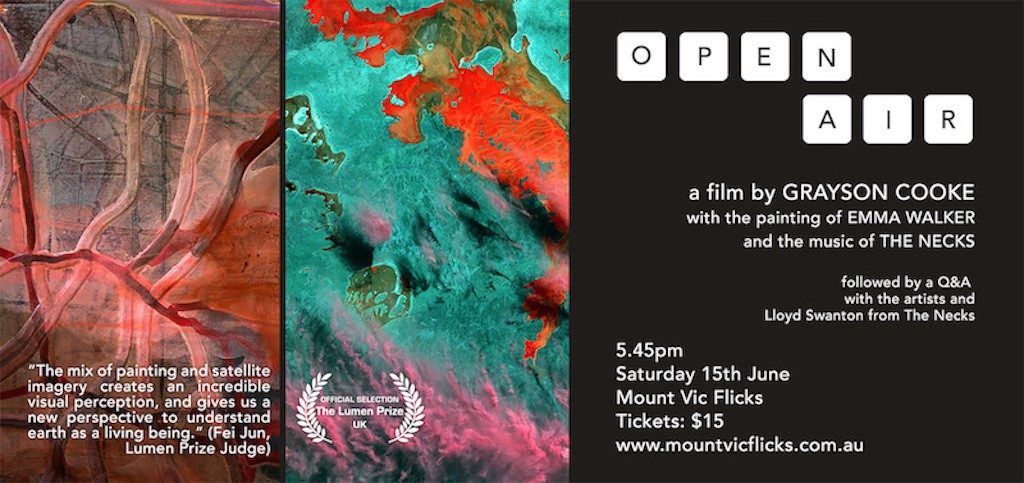 Cartography and the visual arts have always been connected, for obvious reasons. Combining modern music and cartography is a much rarer sight, though. This is exactly what 'Open Air' does.
'Open Air' utilizes instrumental music by Australian piano trio The Necks, satellite imagery of the Australian landscape as well as extreme focus on the brush techniques of Emma Walker (whose work graces the covers of several of the Necks' live albums.). With 'Open Air', video artist Grayson Cooke has produced an immersive visual experience to accompany The Necks' 2013 album, Open.
This weekend
Australians (and tourists visiting the country) are in for a treat this weekend. Open Air is screening this Saturday night at the heritage Mt Vic Flicks in Mt Victoria in the Blue Mountains, NSW. It will be followed by a Q+A session featuring the visual artists Grayson Cooke, Emma Walker plus Lloyd Swanton, bass player of The Necks.
A visual interpretation
'Open Air' is visual music: a visual interpretation using timelapse satellite imagery, but above all, it's a profound meditation on the forces that shape the earth. In a blog published on The Conversation (http://theconversation.com/an-artists-surreal-view-of-australia-created-from-satellite-data-captured-700km-above-earth-96718), Grayson Cooke states that "most us would have heard about satellite data being used for surveillance, for GPS tracking and for media broadcasting. But artists can divert satellite data away from a purely instrumental approach. They can apply it to produce new ways of seeing, understanding and feeling the Earth."
Sound Cloud taking on new meaning
"Being able to create false colour images that combine infrared and visible light in different ways allows me to produce beautifully surreal images of Australian landforms," writes Cooke. "Because geoscientists need clear images of the earth's surface to analyse, they filter clouds from the data. I chose to take the opposite approach, highlighting the incredible array of meteorological conditions experienced by the country." In their music, The Necks try to accomplish something similar. In lieu of addressing the broad jazz tradition of the piano trio, they shy away from any mannerisms that are associated with the genre. Instead, they go for an atmospheric approach more akin to Minimal Music or trance. Combined with the time-lapsed paintings and imagery, the word 'sound cloud' takes on a whole new meaning.
Latest films in couleurs locales
The venue is special as well. Mount Vic Flicks is a family-run independent cinema located in the upper Blue Mountains village of Mount Victoria, Australia. Screening new and classic films from Australia and abroad, including arthouse, 3D and kids' movies, it tries to be more than 'just' another tourist site in heritage-listed Mount Victoria. But of course, it also is a much loved and treasured icon of the Upper Blue Mountains. Built in 1934, the cinema is a window into the golden age of Australian country picture theatre culture.

https://mountvicflicks.com.au/sessions/open-air/