Monitoring the evolution of wars and conflicts, the damage they produce on different aspects such as the environment, heritage sites and infrastructures, as well as the extent of the humanitarian crisis they lead to, can be a complicated task given the danger that being on site poses.
Satellite imagery is a key source of information to both monitor and map a conflict's evolution and impact without the risks and costs associated with having people on site. It allows to capture reliable imagery and ensures accurate and timely monitoring over sites located in areas affected by ongoing threats, where it's difficult to get up to date information and to verify potential damages otherwise.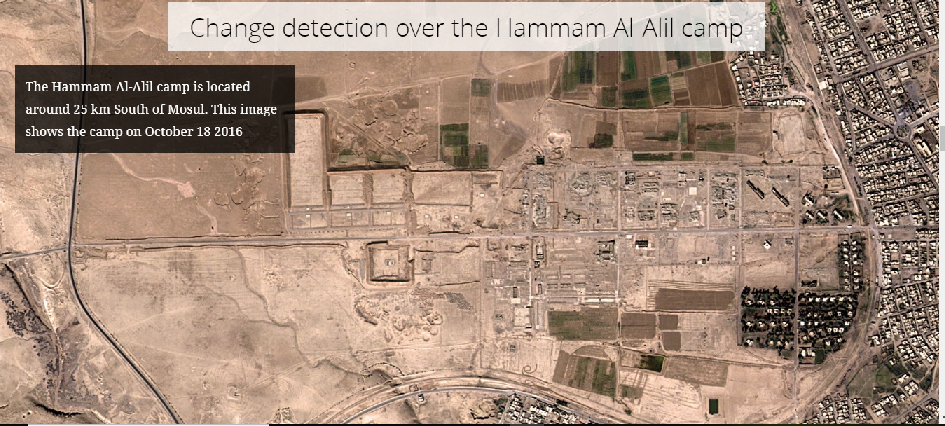 Satellite imagery also plays an increasingly important role in monitoring and measuring humanitarian crisis. It serves to support decision making and manage humanitarian aid and response through, for instance, the monitorization of changes in refugee and internally displaced persons (IDPs) camps. Deimos-2 data helped to detect the evolution of the refugee camp at Hammam Al-Alil, around 25 km south of Mosul.
The multitemporal analysis of Deimos-2 imagery provided reliable information to measure the camp's growth and density over time, allowing to have an estimation of the population sheltered there. Accurate multitemporal analysis showed that the number of tents increased from 3,738 on February 19, 2017, to 8,136 on April 22, 2017. Therefore, the camp grew by a 54 per cent during just 2 months. Given that, in average, 6 persons are accommodated in each tent, the amount of people hosted in the camp incremented from around 22.500 to almost 50.000 from February 19 to April 22. The total amount of people hosted in the camp is around 56000 which matches the capacity expectations of the United Nations High Commissioner for Refugees (UNHCR).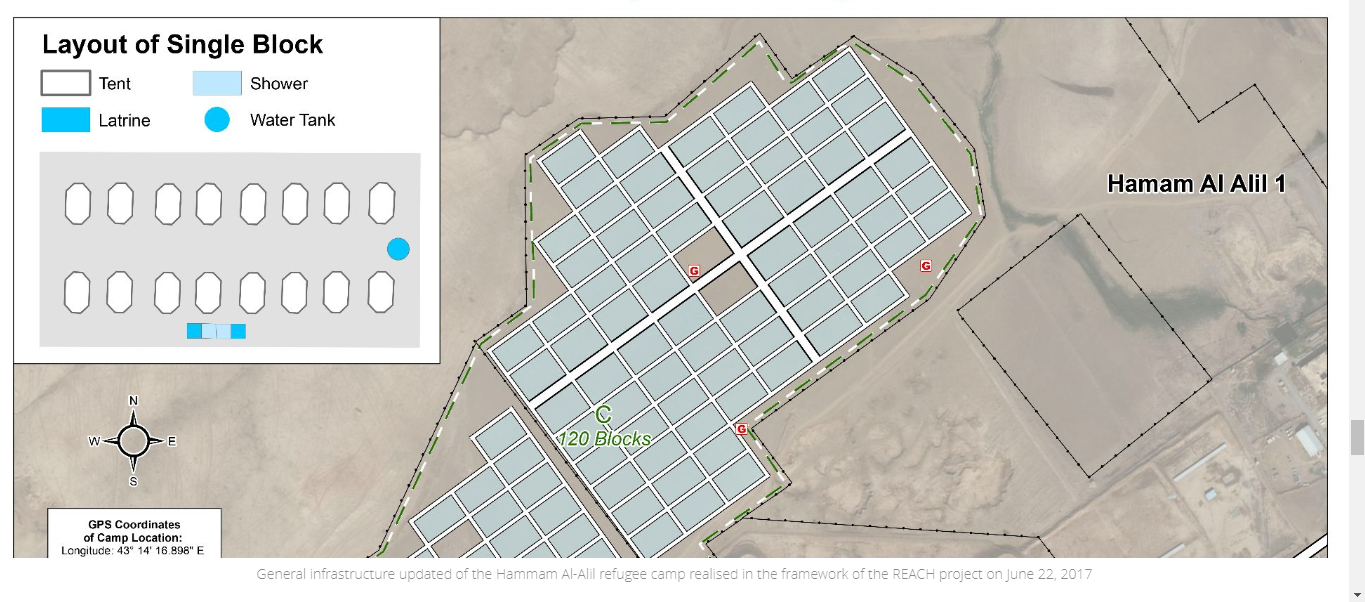 The image captured on April 22 also shows a part of the camp still under construction, which allows forecasting a future occupancy of almost 56000 person which matches the capacity expectations of the United Nations High Commissioner for Refugees (UNHCR) responsible of managing and developing this camp. This total occupancy has been verified in the image acquired on October 21.  
Key figures as per UNHCR report
987,648 IDPs in Ninewa (including as a result of the Mosul military operation)
109,398 IDPs currently displaced due to military operations in Hawiga (Kirkuk) and Shirqat (Salah al-Din)
67,134 IDPs currently displaced due to military operations in west Anbar
566,902 Individuals (119,175 households) currently enrolled in ASSIST, UNHCR's assistance tracking tool
3 million IDPs since January 2014
262,758 Iraqi refugees hosted in countries in the region, with 29,965 Iraqis in camps in Hassakeh, Syria