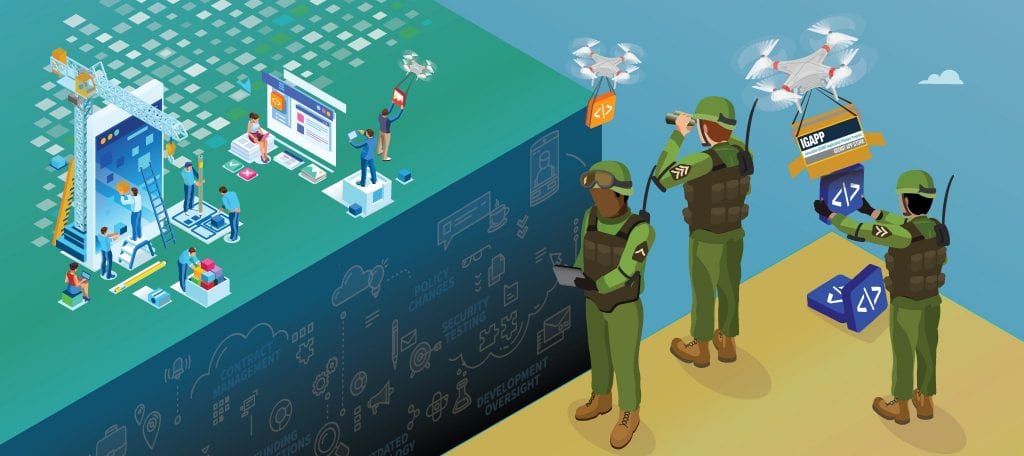 How do you ensure quick and easy access to sensitive and mission-critical information to millions of employees in your home country and overseas? Perhaps that was the question facing the US' National Geospatial-Intelligence Agency (NGA) when it set out to build GEOINT App Store — a platform designed for Department of Defense (DoD) staff and intelligence community personnel who possess a common access card (CAC).
The challenge was twofold: to create an ultrasecure platform with the resilience of a government defense product, and at the same time offer a simple, up-to-date user experience similar to ubiquitous commercial stores such as Google Play and Apple App Store. Sometime after building the app store in 2012, NGA sought to expand it and include commercial applications. So in 2015, the agency partnered with SAIC (previously Engility) to create the Innovative GEOINT Application Provider Program (IGAPP).
"By creating the IGAPP, the NGA showed a forward-thinking approach that allows the government sector to stay on the cutting edge of technology. We bring innovative commercial apps to government end-users. Today, the demand for applications through the store is growing at an exponential rate and is creating a rush of commercial vendors seeking to offer their applications to DoD users," says John Holcomb, IGAPP Program Manager.
How does it work?
The GEOINT App Store is available to all members of the US DoD and intelligence community. Simply put, anyone who owns a CAC can access the store. While an official figure on the number of users isn't available, an estimate suggests that there are over 5 million active CAC users. Like domestic users, DoD staff posted overseas can access the store by logging into it via their verified CAC. The platform is also available to other select US government agencies through a personal identity verification (PIV) card and to select foreign partners identified by NGA. Through the store, the users not only can access cutting edge technology anytime and anywhere for professional requirements but can also share crucial mission-related information with their colleagues/supervisors.
What is the number and nature of apps?
 Currently, there are over 130 applications on GEOINT App Store. Of these, 90 are commercial apps that have come through IGAPP. The remaining are the ones funded and developed by the government. Also, the apps are offered at different classification levels — not everyone has access to everything. About 85 of the 90 applications that have come through the IGAPP program are paid.
Any application that is accepted into the store has to directly solve a government user need in one of the mission areas such as aviation, maritime, land, disaster response, science and DoD. So, apps with geospatial mapping tools, distress signal, military ranking reference tools and real-time weather tracking are available on the platform.
Interestingly, some of these apps are quite popular among pilots. "The situational awareness and information ForeFlight (Foreflight Military Flight Bag) seamlessly provides is unmatched. It makes flight planning so easy. Through this app, checking the TAF, winds and available runways takes less time than writing this sentence," says a pilot with DoD.
Which are the most popular apps?
Some of the most downloaded apps on the store include  Avenza Maps, myE6B Aviation Calculator, Foreflight Military Flight Bag and SpyMeSatGov.
Avenza Maps: Avenza Maps is an offline mapping tool for location and navigation. It can work even when there is no mobille network or Internet connection. The powerful mapping tools allow a user to add features to the maps in the field and share the updated version with their team. The application is a modified version of the commercial Avenza Maps available on Google Play and Apple App Store. Users can view all of their maps in Avenza even when they are in areas without connectivity because the maps are stored on the phone.
myE6B Aviation Calculator: The E6B Aviation Calculator is one of the most commonly used piece of equipment during flight planning, pre-flight briefings and in-flight course corrections.  myE6B not only solves more than 75 aviation calculations and conversions but also provides access to the global standard aviation weather products from "inside the app".
Foreflight Military Flight Bag: ForeFlight Military Flight Bag (MFB) is an enhanced version of the commercial ForeFlight Mobile EFB app. Pilots use it to plan routes, file flight plans, access preflight and in-flight weather, download and view electronic charts and maps, manage flight publications, log flights, and more. MFB also includes worldwide DoD chart coverage, geo-referenced DoD approach plates, and options for secure sideloading of data, making it the ideal mobile solution for government and military pilots.
SpyMeSatGov: SpyMeSatGov is the only mobile app that notifies a user when an imaging satellite could be taking his picture. It's also the only mobile app to offer on-demand access to the latest enhanced view high-resolution satellite imagery. Users can drill down to look at the details of any pass or a description of the satellite, and see a dynamic map graphic update with real-time position and imaging resolution information.