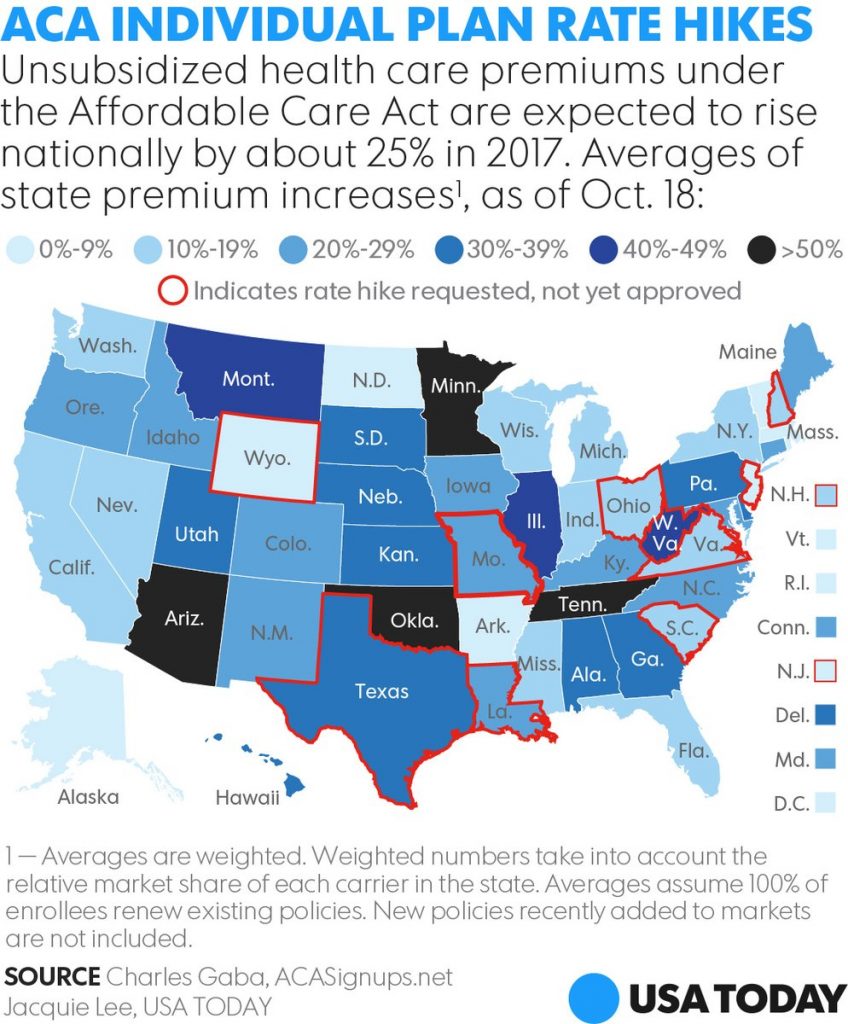 A report published in Bloomberg last week has made the Americans worried about their health insurance plans, which is going to be seriously affected from next year. Based on numbers provided to Bloomberg by the US state officials, the agency published an article saying that 1.4 million people in 32 states will no longer have coverage under Obamacare in 2017.
Based on the news, USA Today published a detailed map that shows unsubsidized health care premiums under the Affordable Care Act (ACA). The report estimated that the price will increase all across the US by 25% in 2017.
The map shows seven states which include Alaska, Arkansas, Rhode Island, Vermont, North Dakota, New Jersey, and Wyoming, with a predicted rate hike of less than 10%. Of those seven, New Jersey and Wyoming have requested additional rate hikes that just haven't been approved yet.
Another thirteen states that have Washington, Nevada, California, Wisconsin, Michigan, Indiana, Ohio, New York, New Hampshire, Virginia, South Carolina, Florida, and Mississippi, are expected to see rate hikes in 10-19% range. In this bracket, additional rate hikes have been requested by South Carolina, Ohio, Virginia, and New Hampshire.
The map shows 12 states that have Oregon, Idaho, Colorado, New Mexico, Iowa, Missouri, Louisiana, Kentucky, North Carolina, Maryland, Connecticut and Maine that should see their rates go up by 20-29%; out of which, Louisiana and Missouri are waiting for approval on additional rate increases.
And nine states should be prepared for a hike of 30-39% in the health insurance plan. These states are Utah, South Dakota, Nebraska, Kansas, Texas, Alabama, Georgia, Pennsylvania, and Delaware; of those, Texas has a rate increase pending approval that may go even higher.
As far as Montana, Illinois, and West Virginia are concerned, rates in these states will go further up to 40-49%, and costs in West Virginia are expected to go even higher once their requests are approved.
But the most shocking rate hikes will occur in Tennessee, Minnesota, Oklahoma, and Arizona. The cost of an insurance plan in one of those four states is predicted to skyrocket to over 50% above the current rates.
With the majority of the price hikes dropping like live grenades on the American public just a week before a highly contentious presidential election, it remains to be seen whether the rising costs will tip the balance — and if so, by how much.