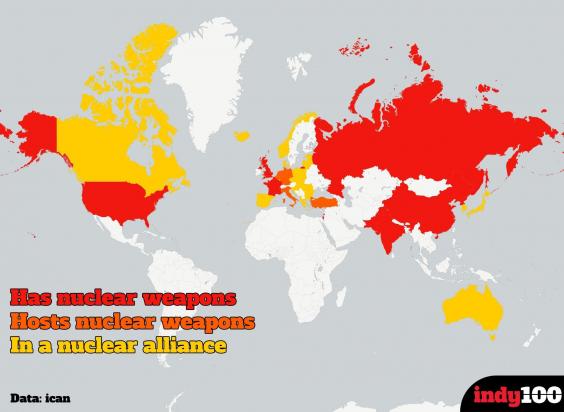 In an interview given to Anadolu news agency, Numan Kurtulmus, the Deputy Prime Minister of Turkey said that America and Russia's actions in Syria could be the start of a nuclear war. Kurtulmus said, "If this proxy war continues, after this, let me be clear, America and Russia will come to a point of war."
Although assumptions like these are made every day, what if really a war of nuclear arsenal breaks out tomorrow? Stuck in a conflict between nuclear superpowers, do you know where you will have to be to survive the nukes?
If a map developed by Statista has got it right, then you will have better chances of survival in Greenland (Denmark) and the Southern hemisphere of the earth rather than anywhere else in the world.
The map also considers that if the conflict occurs, the missiles will land in nuclear-connected countries as well. Hence, it shows the areas in red, orange, and yellow, to mark countries that have nuclear weapons, countries that host nuclear weapons, and that who are in an alliance with nuclear superpowers respectively.
But to survive a nuclear attack, one would have to consider other factors also. For example, if the bomb goes off, the global temperature would drop a couple of degrees while the ozone would be reduced over the course of the next decade after initial strikes.
Fewer crops would grow and drought would be more prevalent, while skin cancer and burns would be more likely due to the ozone layer depletion.
So somewhere not too sunny in Africa or South America with abundant food resources would (probably) be ideal for your nuclear winter getaway. This makes Denmark a good refuge to survive a nuclear war anyday.