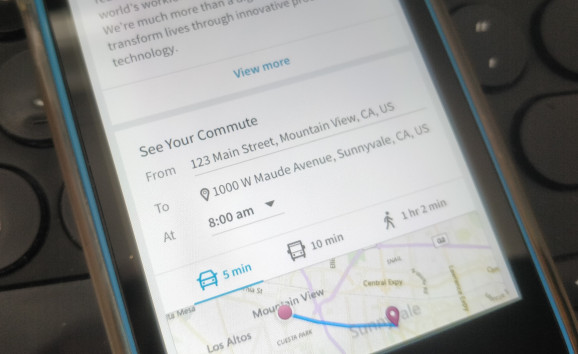 How about a job which is just 10-15 mins away from your home; at least you are saved from the agony of travelling hours together to your workplace and getting stuck in traffic jams. This is the idea on which LinkedIn location-based feature Your Commute is based on, which calculates the estimated travel time to a job's location before the users can apply.
With an aim to provide instant location data to job seekers, the members of LinkedIn visiting a posting can select the employer's location to identify likely commute.
There is more to the kitty! The users will soon be able to set their location and commute-time preferences in LinkedIn's settings, allowing the professional networking site to automatically pop-up more appropriate job opportunities.
Power of Location
Location intelligence provides the powerful "where" perspective to businesses, and propelled by the innate ability to make the best of the technologies available, the service industry is effectively grooming a new kid in the block.
With more and more innovations happening in its realm, location technology is becoming the key differentiator to businesses to improve customer experience, drive revenue and increase operational efficiency.
LinkedIn, the professional network owned by Microsoft which has around 500 million users in 200 countries, is not different than other companies in the segment when it comes to taking advantage of location data to provide more value to its customers.
To avail the advantage of Your Commute, the companies on LinkedIn will have to list their locations so that members can identify their geographical areas of interest. Hence, the network has brought together both location and navigation technology to tap this huge data mine, making it more useful, transparent and efficient to LinkedIn members.
According to a TechCrunch report, this unique feature of LinkedIn will not only improve the user experience, will also give more value addition to job seekers on LinkedIn, differentiating it from competitors.
Also Read: Google Maps location sharing feature now shares phone battery status too
Where is it heading?
Location technologies are at the very core of a digital revolution. It will primarily be a combination of machine learning (AI more broadly) and Cloud and edge computing, which will be powering greater automation. Location-based services and technology will move from the rudimentary 'static' state to a dynamic 'location aware' state.
Harping on the trend Dan Li, Senior Product Manager, Linkedln told TechCrunch that the network is seeking more ways for users to leverage location data in their job searches.
The way technologies are being used in every strata of life, the future may see more applications using artificial intelligence (AI) and location intelligence in their day-to-day operations. For instance LinkedIn already suggests messages for users that can be sent to their colleagues.
Also Read: How location data helps in site planning and revenue prediction