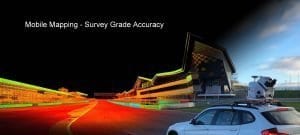 3D mobile mapping is revolutionizing the measurement, visualization and analysis of the physical world. In the recent past, it has become one of the most important technologies available. Through the combination of advanced imagery, measurement capture tools and a variety of mobile transportation platforms, 3D Mobile Mapping assists to map inaccessible areas quickly and effectively where other methods take weeks to do so.
It is a versatile system that offers significant operational flexibility, outstanding performance, and value with low cost of ownership, optimizes staff utilization, reduces project timescale through fast deployment data capture and analysis, and enhances operational capabilities and expands market opportunity. With so much of benefits the technology is already being used to survey major road and rail projects and for mapping urban environments, understanding underground and underwater structures, and to improve safety in power infrastructure and plants around the world. So let's have a look at the latest mobile mapping software and hardware in the market.
POSPac Mobile Mapping Suite with Trimble CenterPoint RTX, is Applanix' next generation, industry-leading software for Direct Georeferencing of mobile mapping sensors using GNSS and inertial technology. Optimized for all environments and platforms (air, land, and marine) and compatible with a variety of mapping sensors, this smart software solution achieves both maximum accuracy and maximum efficiency for Direct Georeferencing. It can be used for surveying underwater, in the air and on land as well. It provides Global Coverage with a horizontal accuracy of 4 cm and 6cm vertical accuracy.
POSPac MMS 8 can be used for Corridor Mapping, Photogrammetric Mapping over large areas, Nadir Orthophotography, LiDAR Augmentation, Oblique Imagery, emergency response, tactical and security mapping, remote sensing, commercial ortho production.
Trimble MX9 is a Mobile Mapping Solution for Large-Scale Scanning and Mapping Missions.  The MX9 is a complete field-to-finish mobile mapping solution combining state-of-the-art, advanced hardware with intuitive field software and a reliable, efficient office software workflow. Total weight of it is 37 kg. It can withstand the minimum temperature of 0 degree Celsius and maximum to 40 degree Celsius. It comes with 2 antennas. The MX9 mounts on top of a vehicle and rapidly captures dense point clouds and images—both panoramic and multi-angle. Rich corridor data can be collected at highway speeds, significantly improving data collection on busy highways and avoiding costly lane closures.
Imajing imajbox 3 S/T is Compact, standalone mobile mapping tool controlled by Wi-Fi. It is easy-to-use and can be installed on any vehicle – cars, trucks, train, bikes or boats and can survey from few to thousands kilometers.  Imajbox technology merges data from a set of sensors to ensure accurate and continuous 3D positioning –IMU, GPS/GLONASS receiver, barometric sensor- and operates a patented self-calibration algorithm using the image flow. The Main applications areas of it are asset management for GIS, transportation network control and monitoring and corridor mapping.
It could be used in response to many issues like GIS and mapping, Infrastructures assessment, Engineering studies, Linear Referencing System, Management of maintenance,  Work control,  Planning and budgeting,  Monitoring, etc.
Geo-Photomap is a new technology and capability offered by Geodetics' Geo-MMS LiDAR Mobile Mapping System. Geo-Photomap tightly integrates GPS/IMU with RGB imagery/multispectral resulting in direct-georeferencing of the captured images, allowing the capability of corridor mapping and vertical mapping. It offers facilities like Image Time-tagging Image, Geo-tagging, Ground Control Point, allows vertical mapping and corridor mapping in low sidelap. It also has camera rotation capability and facilitates Photogrammetry. It reduces flight duration less overlaps. Geo-Photomap is supported by Agisoft, Pix4D, etc.
Orbit Mobile Mapping Content Manager manages and optimizes mobile mapping data after capture using the powerful 3DM Content Manager. It can automatically produce and update assets faster and richer than ever before based on the 3 DM Feature Extraction portfolios. You can Install the 3DM Publisher on-premises or activate your profile on 3dmapping.cloud to share mobile mapping projects over the internet, embed incorporate software, or to make them available via mobile devices. It supports all system from Optech, Trimble, Leica, Riegl, Topcon, 3D Laser Mapping, Lidar USA and Velodyne, it can be used for both indoor and outdoor mobile mapping.