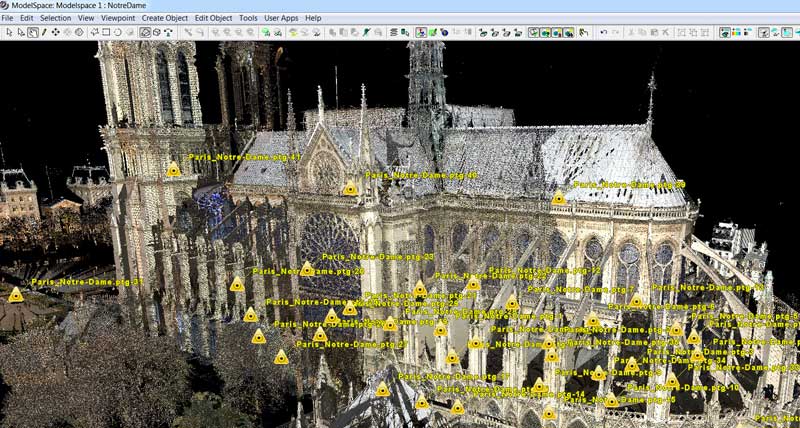 In the aftermath of the Notre Dame fire in Paris, we have seen remarkable pictures of the remaining structure of the church. Its rose windows and firemen rescuing statues, relics and other treasures… Over the ages, many protocols and precautions have been made to be able to restore our historical monuments. Be it after a war, a fire or an earthquake.
Modern digital techniques
A restoration like the one we are going to see in the upcoming years, will also be supported by modern digital techniques. Some people immediately thought of the immaculate details of the Notre Dame building in the popular game 'Assassin's Creed: Unity'. These scenes are set in 19th century Paris. There's a but, though. While the artist did a phenomenal job in recreating this monument for entertainment purposes, its underlying dataset is not suitable for engineers and restoration specialists. Any CAD/ BIM designer who has ever tried to put visualisation data back into the construction and design phase, will remember the discrepancies and constructional weirdness that turned up.
In 2015, National Geographic reported the scan project undertaken by the late Andrew Tallon in and around Notre Dame. At Notre Dame, he took scans from more than fifty locations in and around the cathedral. There, he collected more than one billion points of data.
In a National Geographic documentary, Tallon can be seen setting up his trusty Leica tri-pod mounting a scanner that looks like a Leica C10. He then positions the first of many 'targets' for georeferencing the data during post-processing. "If you've done your job properly," said Tallon in a National Geographic news publication, the scan will be "accurate to within five millimeters [.5 centimeter]."
2015 specs
Many discoveries and hitherto unknown details were revealed thanks to these 2015 scans. Whether or not to rebuild the cathedral to its exact '2015' specifications, will be another debate altogether. It can and will be rebuilt, that's for sure. But how and to which standards is an open question right now. Let's look at the spire, which collapsed during the blaze. Whereas the beginnings of the Notre Dame history go back a stunning 800 years, the spire dates from 1860. Luckily, modern restoration trends shy away from neglecting more recent building phases like these. This 'new' addition of a tower has settled in our collective minds, so it's logical to include it in upcoming restoration plans. That will, however, not automatically mean that the 19th-century tower will be rebuilt without thinking twice.
Another round of scans
New digital scans will be necessary around the remains. With the loss of the tower, a new archeological site was born. It is entirely possible that exciting new finds there will completely turn over our current view of Notre Dame. We have never been able to look under the construction, so this is a once in a lifetime opportunity. There's no doubt that someone will be following the late Andrew Tallon in his footsteps by making completely new 3D models of the restoration site.
Addendum: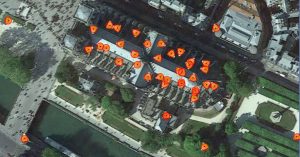 On April 19, 2019, Hexagon Geosystems made the original laser scanning data available of Notre Dame as captured by the late Dr. Tallon. It is now open to the public, so everyone gets the opportunity to view the data directly within a viewing platform.