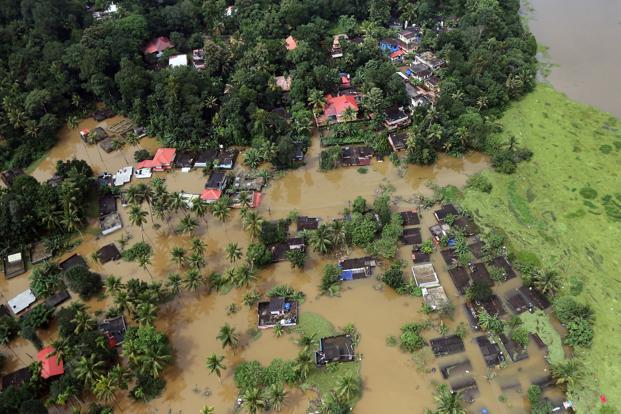 Massive deluge in the southern Indian state of Kerala has caused widespread devastation, left over 300 people dead and thousands homeless overnight. Relief agencies, charitable organizations, philanthropic endeavors, the Indian Armed Forces and the Kerala state and central government of India are all engaged in disaster relief and rescue operations in the state. Oman and UAE too have contributed in the relief programs.
While this calamity again raises some hard questions about the state of disaster preparedness, mitigating risk and marshaling all the wings of the state machinery to prevent the loss of life and property in a timely and proactive manner, what's noticeable is the active deployment of technology that saved many lives and yet again demonstrated the utility of GIS and geospatial technologies in disaster management.
Throughout the world, remote sensing, GIS, and satellite imagery are increasingly being used to assess post-disaster scenario, find the level of damage and provide exact info about people.
In the case of Kerala floods too these technologies are playing a crucial role in disaster management. Let's have a deeper look at the technologies and the role played by them.
Remote sensing and satellite imagery
A set of remote sensing satellites and radar satellites have been clicking high-resolution images of the areas worst affected by the flood. The images have been captured from a distance of 400-800 kilometers from the earth's surface. Once the data is analyzed and processed, it becomes easy to predict the level of rainfalls in the next few hours and whether the situation would remain as alarming.
ISRO's ResourceSat-2 satellite has proven to be beneficial in clicking pictures of vegetation, water bodies and other terrains. Another satellite, Insat 3D, conveys the information about cloud positioning and enables us to reach to a conclusion about wind velocity. Insat is geostationary satellites relaying information to the ground station every 30 minutes.
Remote sensing using Microwave satellites is also beneficial in these unforeseen situations. The electromagnetic waves can penetrate the cloud and get info on surface hydrology.
ScatSat-1 data is mostly used for detecting and tracking oceanic tides, floods, and cyclones.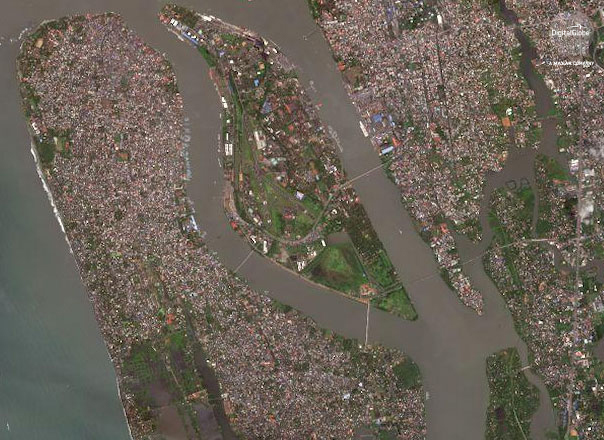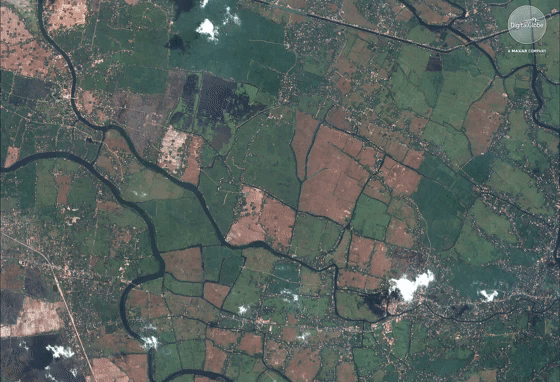 DigitalGlobe has also released pre-and-post Kerala disaster. It will also continue to update its database.
Location Technology
There is no better way than location technology and GPS to know about the whereabouts of a person in a region hit by floods or any other natural disaster. Often using GPS, one gets to know whether the person is trapped somewhere or is safe. But one major problem is the loss of internet and mobile signals during a disaster. Google has found a way around this by introducing Plus Codes that can be accessed when one is offline too.
Google announced last week that Kerala flood victims can now use their Android smartphones or tablets to generate and share the plus code of their exact location with their friends, relatives or rescuers. This will point to the exact location and help save time of those conducting rescue operations. Plus codes can also be shared over an emergency voice call or SMS.
Plus code is an alphanumeric code that can be accessed from Google Maps by clicking on a location, pinning it and then scrolling down to find the Plus Code.
For searching the location of a Plus Code, one just needs to type the given Plus Code in the search box of Google Maps.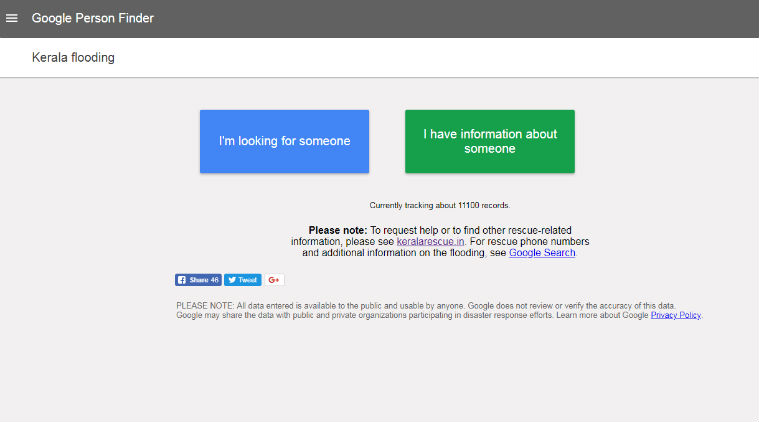 Another feature called Google Person Finder would also be helpful. Google has its own database to look for the last location of the person you are searching. If there is no record of a particular person, a manual entry can be made and information submitted that the person is being looked. This would be public domain and visible to anyone who visits Person Finder. Photographs of the concerned person can also be added for ease of identification.
For opening Person Finder, one needs to go to google.org/personfinder and then select Kerala Floods there.
With the help of location and tracking services of Google, rescue workers and volunteers are able to locate people in remote and inaccessible locations
Interactive Maps and citizen initiatives
Be it wildfires or floods, interactive maps helps everyone to learn about the extent of damage, areas least affected and the areas where maximum damage has occurred. From government authorities to individuals, all can gather relevant information from interactive maps and this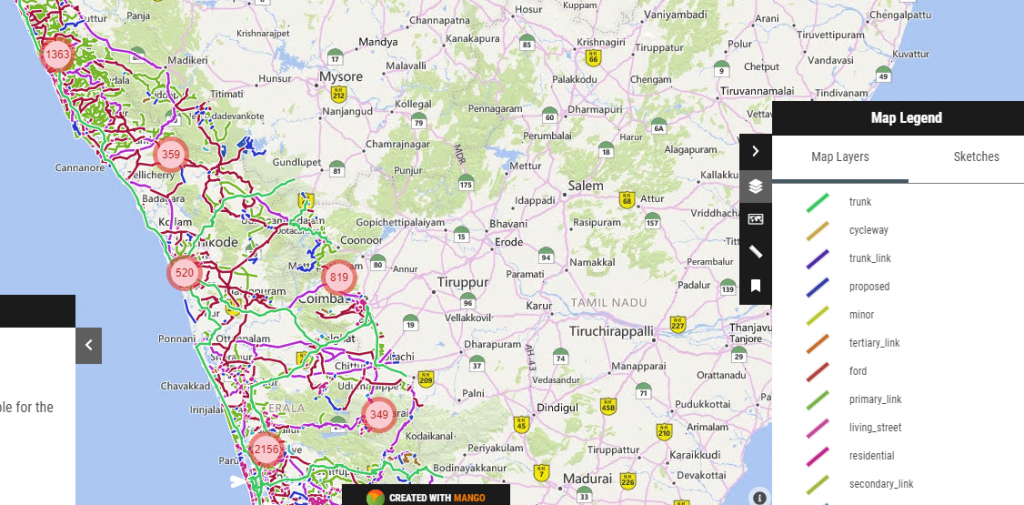 On Kerala Rescue and Mango Map, one can locate the areas damaged and also the location of relief shelters.
Keralarescue.in is an initiative by the state government which allows people to both seek and offer relief. After visiting the website, one can request for help, make a donation, find a relief center, get important contact information, and/or volunteer for their services.
Microid by OpenStreetMap is a crowdsourced initiative to map inundated streets and roads in Kerala. All the data available in Microid is open source and a flooded street can be reported by zooming into the map and clicking on it. Similarly, a road can be marked as safe once it's safe.
There is also a map on Kererarains that provides the location of people who are stranded and are eagerly looking for help.
On updated Google maps also, information on shelter, drinking water, helplines, medicines, transportation etc could be found.
Social media platforms like Twitter are also proving to be helpful in attracting donations and conveying messages.
An on-ground journalist has reported that social media platforms are being widely used to coordinate with people and begin rescue operations. It is estimated that around 1.5 lakh people have been rescued through the help of social media and location.
The Kerala State Disaster Management Authority has released mobile numbers asking people to send their locations on WhatsApp,  and the state government used Google Maps to create the option of allowing citizens to upload their locations for make rescue operations prompt.