A Japanese company's answer to SpaceX managed to launch its first rocket on Sunday but failed to reach its target altitude of 100 km and splashed into the Pacific Ocean.
The 10-meter rocket called Momo, was designed and manufactured by Interstellar Technologies, a space startup founded by former Japanese Internet maverick Takafumi Horie. Horie is the founder of popular Internet service provider Livedoor and spent nearly two years in jail for accounting fraud before his release in 2013.
The company is working to develop the world's first compact commercial rocket for small satellites.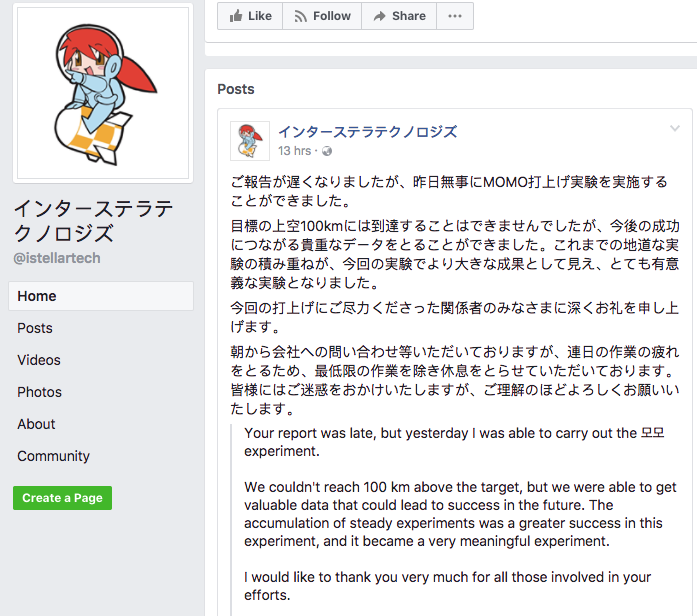 "We were able to successfully launch the MOMO launch experiment successfully yesterday," Interstellar said in a Facebook post. "We could not reach 100 km over the target, but we were able to take valuable data that will lead to future success. The accumulation of steady experiments so far seemed to be a big achievement in this experiment and it was a very meaningful experiment."
The rocket, launched from the town of Taiki, on south coast of Hokkaido, reached about 20 km after liftoff, when the ground team lost contact leading to an abort. The rocket weighed about 1 ton, with a diameter of around 50 cm, and was designed to reach an altitude of 100 km — beyond the boundary between the Earth's atmosphere and space — and descend by parachute into the ocean, The Japan Times reported.
Low cost launches by Japan
This was Japan's first privately developed rocket and involves no government funding. Momo is also partly crowdfunded and Interstellar used widely available off-the-shelf parts like semiconductor and screws, while it manufactured some on its own, to keep the cost low at around 50 million yen ($452,750).
Though Momo's capabilities aren't as still as sophisticated as the current successful launch vehicles available in the market, the company is betting that with technological innovation it can make a winner out of its USP — simplicity – to make a useful low-cost platform for commercial microsatellite launching service. "… something simple and affordable, just like the Super Cub (Honda Motor's popular small motorbike)," Takahiro Inagawa, CEO of Interstellar Technologies, had said in an interview.
In comparison, JAXA's solid fuel rocket Epsilon costs $38 million per launch, which is half the cost of its predecessor M-V. A SpaceX launch currently costs around $60 million and once the company perfects this technology, the cost for launching its Falcon 9 rocket is expected to come down to $612,000, or lower. 
Last year, JAXA had announced that it was building a low-cost space rocket with the help of including Canon Electronics and IHI subsidiary IHI Aerospace. The three-stage rocket, 52 cm in diameter and just under 10 metres (32.8 ft) long, was to be an improvement upon the two-stage SS-520 JAXA model, but its first flight in January this year however failed due to a communications failure. JAXA wants to give it a second try as early as this year again.