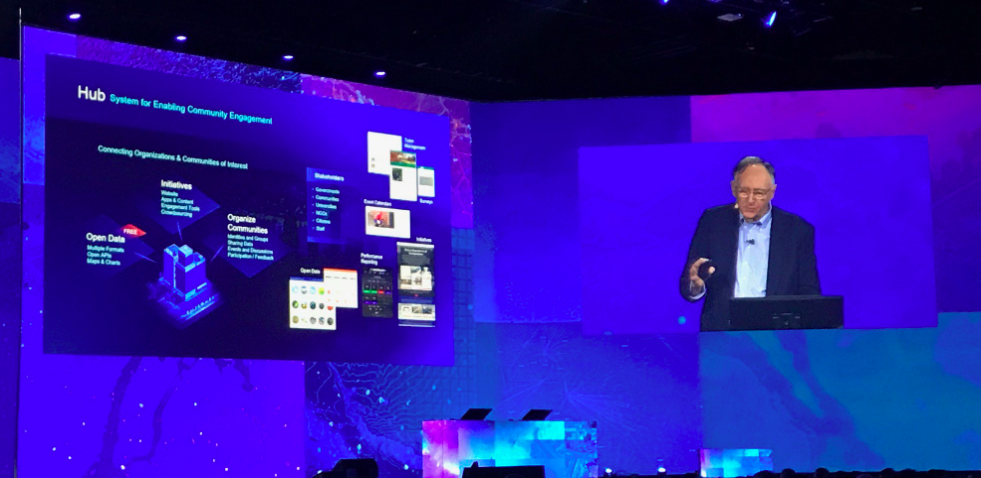 "Digital technology is transforming our world. It is reshaping the human civilization, to the point where it is even changing how we think. The new world needs a new nervous system — an intelligent and responsive platform to create more understanding, collaboration and action. And geography is the only way forward," declared Jack Dangermond, while introducing the Esri User Conference 2019 theme 'GIS – The Intelligent Nervous System', in San Diego on Monday.
For the next few hours, he held the audience spellbound with his usual eloquence and wit, thought-provoking slides and live examples – often with representatives of user organizations on stage — to demonstrate some of the most critical problems the world is facing and his vision for GIS and geospatial infrastructure that can create deeper understanding for organizations to make positive change across the globe.
ALSO READ: Maps are becoming a common language across organizations – Jack Dangermond, Esri 
The conference, which opened with an attractive tagline — 'See What Others Can't' — seeks to explore the interconnection of people and technology across organizations and communities to transform how they see, think, and act. Spatial analytics brings together the power of location data and advanced analytics, creating a common language by integrating all types of data — be it ready-to-use authoritative data such as demographics, elevation data, weather information and geologic database maps, be it satellite imagery, 3D, real-time sensor data, or Big Data – into customized, interactive maps and apps.
New information streams, and new and real-time sensors are rapidly changing how we see and view maps, GIS is becoming more and more vital to understanding developments in a number of crucial areas such as global warming and Climate Change, natural disasters and changing weather patterns, population growth, migration, social changes and increasing political polarization.
In this background, what is important is we move beyond simply measuring and analyzing data  to understand and solve some of the biggest problems facing the world. "Geography is the science of our world which provides both content and context as well as a common reference system to help us see some of these complexities, relationships, patterns and associations. It ties all of these together, and helps us understand and intelligently respond to tackle these problems," Dangermond underlined.
By bringing together data from across diverse spheres like governments, businesses and individuals, geography can create an interconnected system of systems to drive informed decision-making in areas such as governance, food security, infrastructure, public health, urban development, natural resource management, biodiversity protection, disaster resilience, and sustainable development.
In a rapidly changing world, governments and businesses need new tools and new ways of thinking. Calling on all communities to contribute to this transformation and see what others can't, Dangermond said, "Building an intelligent nervous system will take more than technology. It will take vision and willingness on part of individuals to envision what's possible by learning, sharing and collaborating, with a passion to create understanding and create a better world."
The Geospatial Revolution is just beginning. The geospatial nervous system that emerges will profoundly transform our world."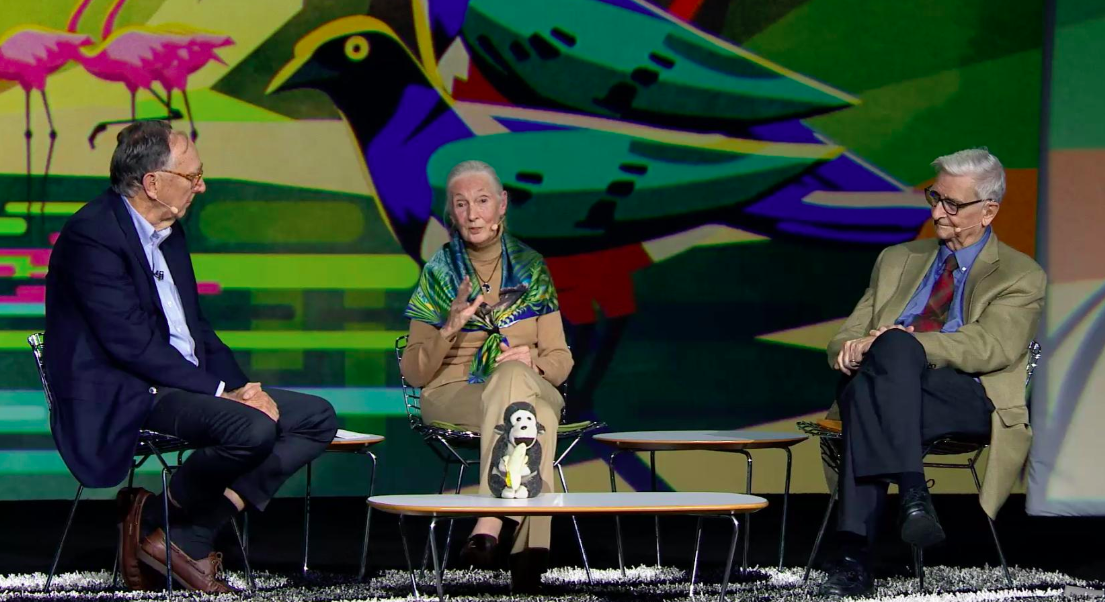 Among others who joined Dangermond for the plenary day were two of the greatest minds in conservation and biodiversity – Jane Goodall and E.O. Wilson – to share what they had learned over their legendary careers to help future generations protect our Earth. Together, the visionaries discussed how we all play a part to achieve global biodiversity conservation through community engagement, scientific research, and geospatial solutions.
ALSO WATCH