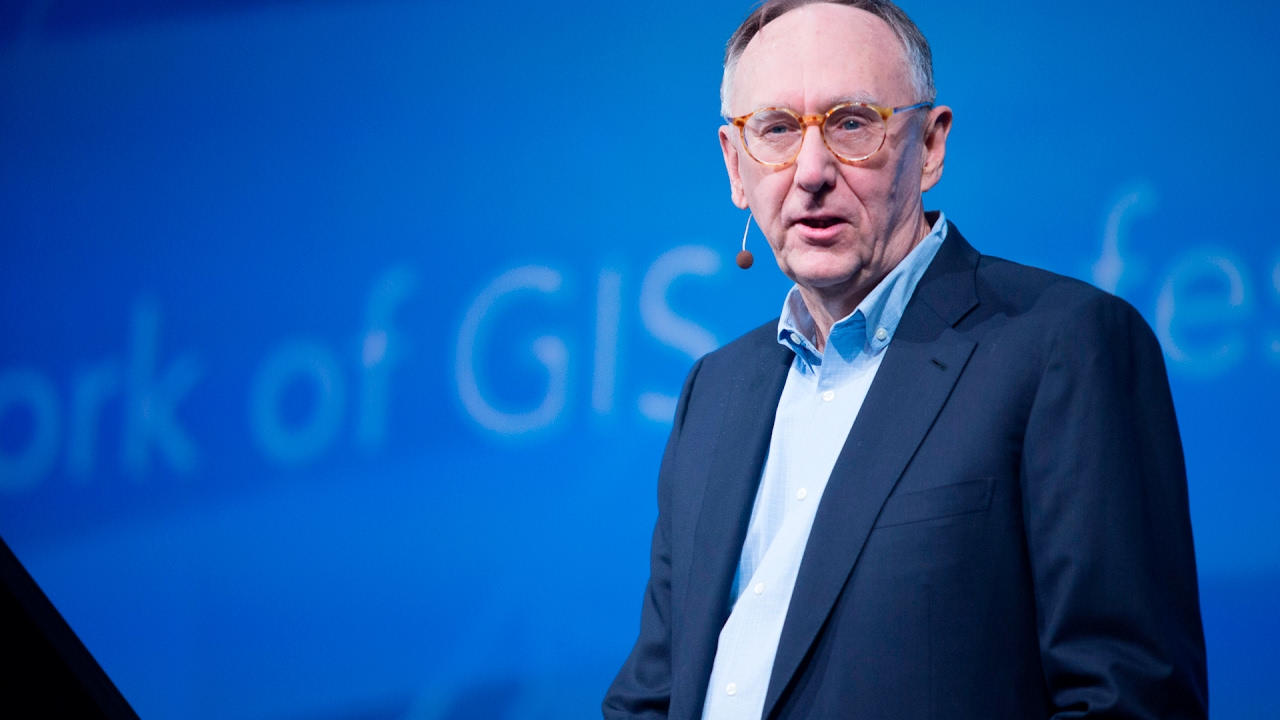 From October 23 through October 27 in Washington, DC, the Group on Earth Observations (GEO) held GEO Week, a gathering intended to highlight and promote the role of, applications for, and opportunities to use earth observations (EO) in delivering what the group refers to as "insight for a changing world." A partnership of more than 100 national governments and over 100 participating organizations, GEO envisions a future where decisions and actions for the benefit of humankind are informed by coordinated, comprehensive, and sustained earth observations. One of the conference highlights was a plenary session on October 25 featuring Jack Dangermond, founder and president of Esri, the world leader in spatial analytics. Speaking in detail about how earth observations are being used to improve decision-making across all sectors of society, Dangermond emphasized how GEO can best engage with business communities to deliver EO-powered insight into a changing world.
Right now, Dangermond said, our world is facing many challenges. Overpopulation, climate change, and the growing scarcity of vital resources like water and food are changing the face of the planet. GEO is organizing the world's earth science and earth observation communities and providing a platform for geographic data measurement. Esri's spatial analytics technology provides a framework and a process for transforming how we think and act by using location intelligence to create a more sustainable future. Spatial analytics offers a fundamental platform for integrating earth observations with people and processes by managing and analyzing geographic information. It is a system of record and engagement that makes the power of location data and advanced analytics open and accessible to anyone online. Online spatial analytics creates a common language by integrating all types of data—imagery, 3D, real-time Internet of Things (IoT) data, and big data—into interactive maps and apps. Even ready-to-use authoritative data, such as demographics, elevation data, weather information, and geologic data, can be layered and customized.
Dangermond went on to explain how Esri's relationship with GEO allows the privately held company to leverage collaborative geographic information for real action. And moving beyond simply measuring and analyzing data is what is needed today to understand and solve some of the biggest problems facing the world. Online spatial analytics platforms enable collaboration on a whole new scale. Interconnecting systems among individuals, businesses, governments, and other organizations is creating a "system of systems" that drives informed decision-making in areas like infrastructure and transportation management, public health surveillance, sustainable urban development, water resource management, biodiversity and ecosystem sustainability, disaster resilience, energy and mineral resources management, and food security and sustainable agriculture.
But there are some areas of the planet, Dangermond went on to explain, where more attention has been paid. These locations have been surveyed time and again for one reason or another. Other areas of the planet, much of it in the ocean, are still completely unknown. How are we going to protect the earth for all people if we don't understand huge parts of it and don't even have it charted? GEO is asking for standardized classifications and maps of the entire earth's ecological land and marine units, and eventually, there will be ecological freshwater units as well. The idea behind these classification units is to understand and map ecology and ecosystems. The hope is that these maps will be able to help us understand where these ecosystems provide the greatest services—food, transportation quarters, and recreation—which we as humans need from the planet.
And ultimately, said Dangermond, people can't just stare at a map to understand something as complex as the vastly diverse ecosystems of earth—they need digital helpers. Esri has prepared web services, online maps, and apps that can be run on a mobile phone or tablet device. These are available not only to scientists who are part of GEO but also to educators and students. The idea is to democratize this very complex and important scientific information so anyone can have access to it, not just the experts. Since the new patterns of spatial analytics are available online, this is not simply one system, one individual, or one team but interconnected groups and networks. In this sense, the philosophy and concept of GEO—a worldwide platform for geographic data measurement—is being replicated in locally distributed spatial analytics platforms around the planet. Worldwide online location intelligence forms a dynamic "digital twin" of the structures and processes that we depend on, giving governments, businesses, and other organizations a higher level of understanding with which to measure and monitor critical areas and take action.
With this kind of widespread understanding, decision-makers around the world can be empowered to meet the challenges of climate change and natural resource shortages and make cities more livable, prosperous, and sustainable for centuries to come.