A.S.Kiran Kumar is eight Chairman of the Indian Space Research Organisation who took this role on 14 January 2015. Since his take over as the Chairman ISRO, Secretary DOS ISRO has been in limelight for various successful missions and projects. Let's look into how ISRO under Kiran Kumar is transforming Space Technology.
1
1

Kiran Kumar puts ISRO NAVIC/ IRNSS on fast track
Two months after his joining as chairman ISRO, PSLV-C27 Successfully Launches India's Fourth Navigation Satellite IRNSS-1D, the fourth of the seven satellites.
The 1425 kg IRNSS-1E, the fifth satellite in the Indian Regional Navigation Satellite System (IRNSS) got launched on 20 January 2016 by PSLV-C31.
Within next 3 months, the remaining tow satellites of IRNSS mission gets launched. On March 11, 2016, PSLV-C32 Successfully Launches India's Sixth Navigation Satellite IRNSS-1F and PSLV-C33 Successfully Launches India's Seventh Navigation Satellite IRNSS-1G on April 28, 2016. The successful launch of IRNSS-1G, the seventh and final member of IRNSS constellation, signifies the completion of the IRNSS constellation.
In one of the interviews with Geospatial World, Kiran Kumar said that Indian positioning system IRNSS – NAVIC would to be more accurate than GPS for use in India.
After the successful launch, the program was renamed as NAVIC by Narendra Modi, Hon'ble Prime Minister of India.
Know More Infographic – ISRO NavIC – India's Own GPS
2
2

Multi-satellite launches of satellites in a single mission go strong
As Kiran Kumar joined, the multi-pay load satellite launches missions get to go strong, especially launching Earth Observation Satellites for foreign missions.
10  July 2015 – PSLV-C28 successfully launched three identical DMC3 commercial Earth Observation Satellites. This flight was unique since, for the first time, the 'XL' version of PSLV was used to launch foreign payloads exclusively.
22 June 2016 – Cartosat-2 Series Satellite of 727.5 kg along with 19 co-passenger satellites are launched by PSLV C-34. This mission is particularly interesting with a combination of satellites from multiple countries – India (3), Canada (2), Germany (1), Indonesia (1) and United States (13).
3
3

Reusable launch vehicles get a successful beginning
With the world watching for companies like SapceX for its reusable launch missions prone with successive failure, ISRO needed to prove its capabilities for reusable launch vehicles. Under Kiran Kumar's chairmanship, India's Reusable Launch Vehicle-Technology Demonstrator (RLV-TD) was successfully flight tested on May 23, 2016.
In this flight, critical technologies such as autonomous navigation, guidance & control, reusable thermal protection system and re-entry mission management have been successfully validated.
4
4

High Thrust Cryogenic Rocket Engine gets indigenous
India's first indigenously designed and developed High Thrust cryogenic rocket engine generating a nominal thrust of 19 tonnes was successfully endurance hot tested for a duration of 800 seconds on July 16, 2015, at ISRO Propulsion Complex, Mahendragiri. This duration is approximately 25% more than the engine burn duration in flight. The engine will be used for powering the Cryogenic stage (C25), the upper stage of the next generation GSLV Mk-III launch vehicle of ISRO, capable of launching four-tonne class satellites.
5
5

India's first 

dedicated multi-wavelength space observatory goes live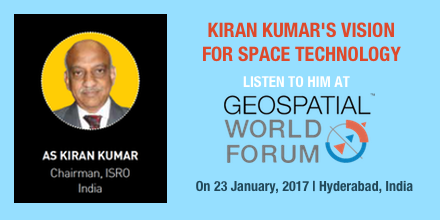 What is Kiran Kumar's Vision for Space Technology? Join him at Geospatial World Forum 2017 to know more!
ASTROSAT India's first dedicated multi-wavelength space observatory gets launched on Jul 10, 2015. For the first time, India joins the astronomy club aiming for a more detailed understanding of our universe. One of the unique features of ASTROSAT mission is that enables the simultaneous multi-wavelength observations of various astronomical objects with a single satellite.
---
---
6
6

Launches of Eight Satellites into Two Different Orbits in a Single Flight
The launch of PSLV-C35 saw a new stint by ISRO with multiple satellite launches in two different orbits from a single mission.
After a flight of 17 minutes of the primary satellite, SCATSAT-1 was launched at a polar Sun Synchronous Orbit of 724 km inclined at an angle of 98.1 degree to the equator.
Earth observation satellites from Algeria (three – ALSAT-1B, ALSAT-2B and ALSAT-1N), Canada (one- NLS-19) and the United States (one – Pathfinder-1) were part of this successful mission.
7
7

NASA-ISRO SAR Mission (NISAR) strengthens partnership
A dedicated U.S. and Indian InSAR mission NISAR, in partnership with ISRO, optimised for studying hazards and global environmental change is planned.
As part of the mission, ISRO has identified a range of applications of particular relevance to India that the mission will address, including monitoring of agricultural biomass over India, snow and glacier studies in the Himalayas, Indian coastal and near-shore ocean studies, and disaster monitoring and assessment.
Here is an exclusive interview with Kiran Kumar on NISAR Mission.
8
8

Government Departments start collaboration with ISRO on 170 projects
As part of the government's mandate to bring the benefit of geospatial technologies to various ministries and departments in India, ISRO held a high-level ministerial meeting during June 2016. As part of the discussions emerged, Kiran Kumar said "Almost all government departments and ministries have evinced keen interest in applying space technology for carrying out their mandates"
For the first time such a mandate came from the government, and Kiran Kumar lead ISRO took this opportunity of bringing out the benefits of space technology to national development.
9
9

NRSC starts collaborating with various government departments
National Remote Sensing Centre (NRSC) the EO data distribution wing of ISRO, starts collaborating with various government departments. Taking further the mandate of PM Modi, on making use of ISRO technologies, data and platforms for national development projects, NRSC starts signing MOUs with various central and state departments. The Bhuvan platform of NRSC is also strengthened by enabling various government projects on the platform and making the API available for developers to consume ISRO's Earth Observation Data. NRSC also unveils the open data archive as part of the open access to data from various satellites.
NRSC USER MEET 2017: 24-25 January 2017 at Hyderabad, India. To be held as part of Geospatial World Forum 2017
10
10

ISRO starts the journey towards Small Satellites
As on October 2016, ISRO has firmed up a strategy to a make increasingly smaller satellites for earth observation and scientific, experimental and other missions.
The plan for small satellites is two-pronged and can range from 10 kg 'micros' to 300 kg-500 kg 'minis'. A series of 350-kg 'mini' satellites, probably with high-resolution cameras and innovative features, will be built in the near future for the ISRO's own remote-sensing uses.
They will be built on the decade-old IMS-2 platform on which the ISRO Satellite Centre (ISAC) has earlier brought out half a dozen EO (earth observation) satellites.