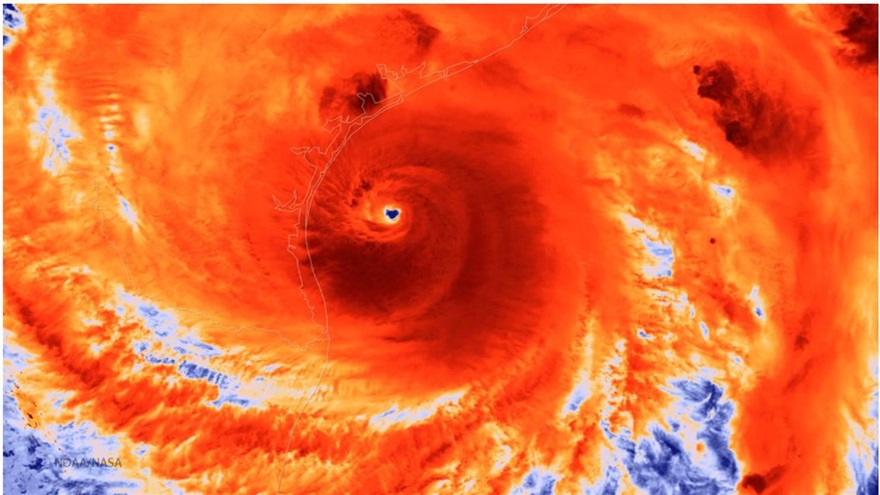 Even as Hurricane Hurvey is devastating North America, with many US cities reported to be severely affected and under water, a heavy sudden downpour caught the Indian financial capital of Mumbai unawares, completely submerging it at places. All of South Asia continues to reel under flood fury, leading to 1,200 deaths and displacement of over 40 million. Meanwhile, heavy floods in China have affected 10 provinces and around 15 million people since the beginning early June 2017.
Amid all this, several European cities have reported unprecedented heat waves while there have been reports of widespread wildfires in of all places… hold your breath… Greenland!
Extreme localized weather events seem to have become a way of life. And it is likely to increase, scientists have warned. A new field of climate science research which emerged in the 2000s believes that Climate Change is leading to extreme localized weather events such as floods, heat waves, droughts and storms. The field, also known as "extreme event attribution", has off late gained momentum in the media and public imagination since it links the seemingly abstract concept of Climate Change with our own tangible experiences of the weather.
Now, Carbon Brief, a UK-based website covering the latest developments in climate science, climate policy and energy policy, has come up with an interactive map based on the data published in every extreme event attribution study published in a peer-reviewed journal.
According to Carbon Brief, over 140 studies have been published looking at weather events around the world which increasingly point to the fact that human activity is raising the risk of some types of extreme weather.
Carbon Brief aims to update the map periodically, as new studies are published, so that it serves as a real-time tracker for the evolving field of "extreme event attribution".
How to use the map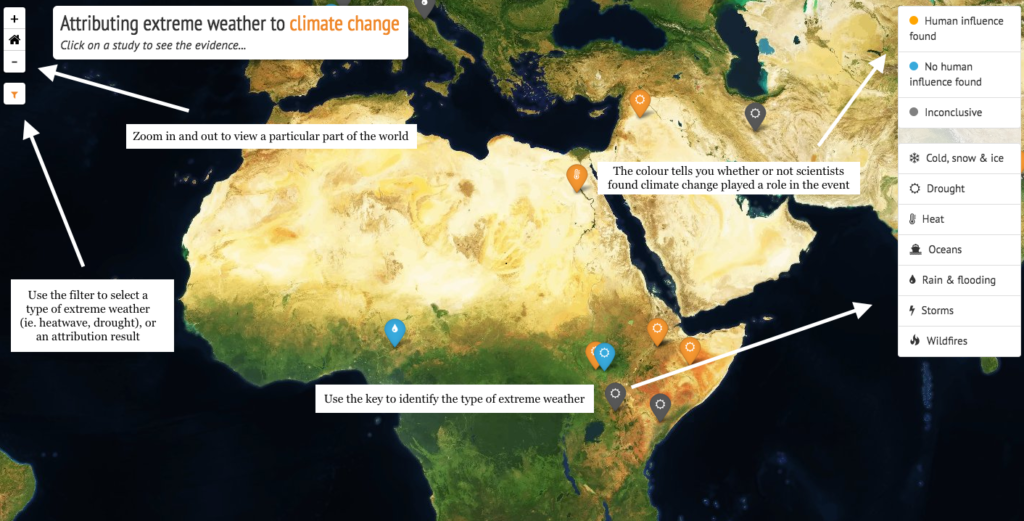 Using the left panel, one can zoom in and out to view a particular part of the world, or use the filter below to select different symbols that represent different types of extreme weather events — heatwave, flood or drought. Colors on the right side panel tells you if scientists found Climate Change playing a role in the event, while the keys below can be used to select different kind of weather events.
A click on any weather event reveals more information, including a link to the online version as well as a concise summary of the findings. The "house" symbol is for reset.
The map has been made using Mapbox software and currently only works with a Mercator projection.
Analysis of the data
An analysis of all extreme weather events-related data suggests 63% of such events were made more likely or more severe by human-caused climate change. Heatwaves account for nearly half of such events (46%), droughts make up 21% and heavy rainfall or floods account for 14%.
The 144 weather events in the map have been culled out from 138 individual scientific papers. Data crunching shows that these extreme weather events are dominated by extreme heat (34%), drought (23%) and rainfall (20%), together making up for more than three quarters of all published studies (77%). The full list can be viewed in a Google Sheet here.
The map has only a few extreme event attribution studies for the year 2017 but more are expected to added as the sixth annual Bulletin of the American Meteorological Society is released later this year.