As we near at the end of 2016, the recently released edition of the Freedom of Thought Report released by the International Humanist and Ethical Union (IHEU) comes across as deeply distressing. Seventy years after the proclamation of the Universal Declaration of Human Rights, which protects the right to freedom of religion and freedom from religion for all, at least 59 countries have blasphemy legally outlawed and a total of 36 countries continue to enforce these. In 43 countries blasphemy gets you a prison term. In six countries — Afghanistan, Iran, Nigeria, Pakistan, Saudi Arabia and Somalia — it is punishable by death.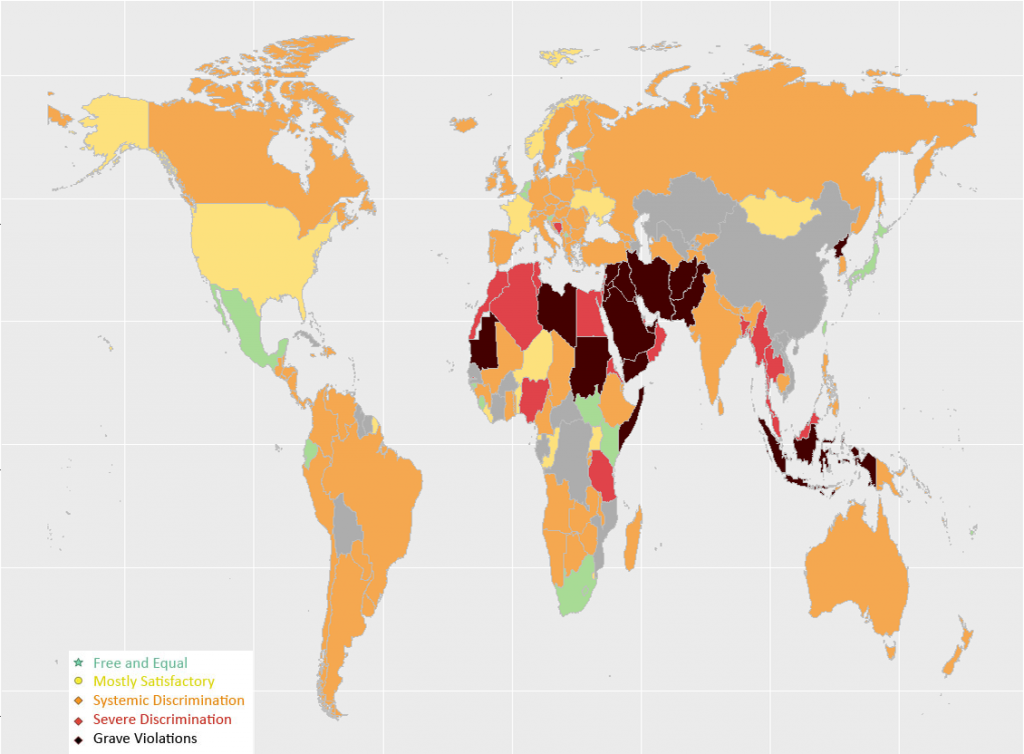 Many countries, while not outlawing religion, forbid leaving the state religion and have death as punishment for "apostasy". As many as 22 countries having legally criminalized apostasy while in 12 countries — Afghanistan, Iran, Malaysia, Maldives, Mauritania, Nigeria, Qatar, Saudi Arabia, Somalia, Sudan, UAE, Yemen — apostasy is punishable by death. Pakistan doesn't have a death sentence for apostasy, but it does for "blasphemy" and the threshold for blasphemy is very low. Thus, in effect atheism is punishable by death in 13 countries.
The 2016 edition focuses on discrimination by state authorities — systemic, legal or official forms of discrimination and restrictions on freedom of thought, belief and expression.
The interactive map on top shows countries from the Freedom of Thought Report by the worst-rated boundary condition that was applied to that country in any of the four thematic strands — Constitution and Government; Education and Children's Rights; Society and Community; and Freedom of Expression, advocacy. By clicking on the country marker you can also see if the state has restrictions on 'blasphemy' or 'apostasy'. The darker the shade, the worst is the religious freedom index. A user can click on the icon in the top right to go fullscreen.
The findings show that the overwhelming majority of countries fail to respect the rights of rationalists, atheists and the others who simply identify themselves as non-religious.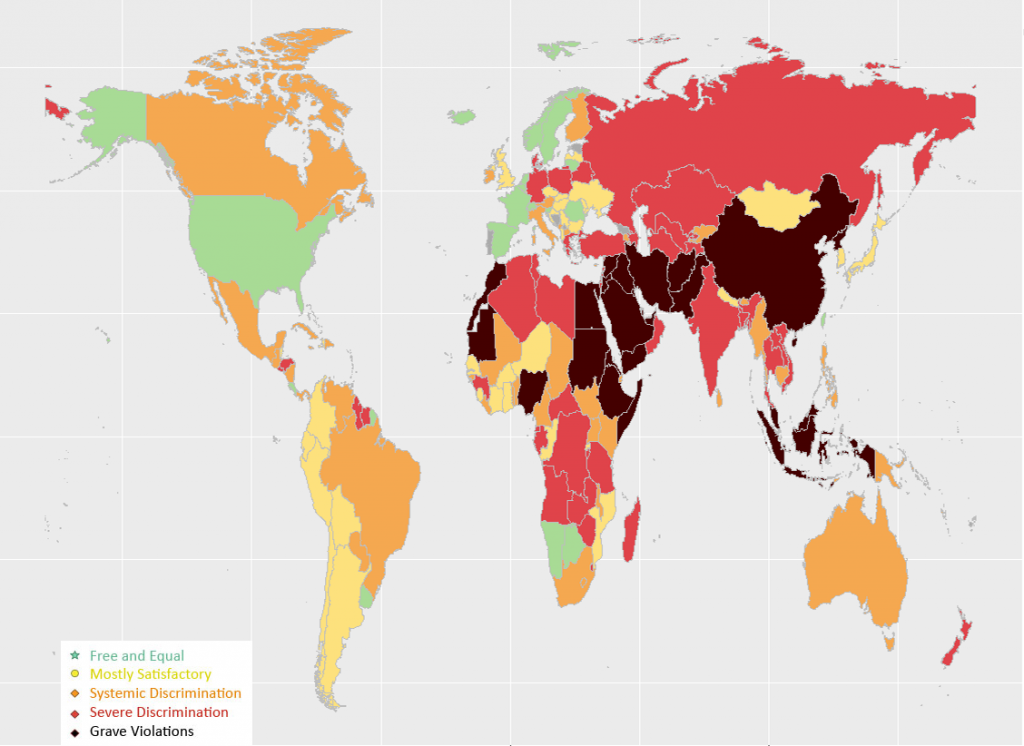 The report finds while religion is used as tool by the state for not only a form of discrimination, but is also used a special discrimination against atheists. In fact, discrimination against the non-religious is often caused, not by a desire to hurt atheists, but by the desire to put religion on top of everything. For instance, there are laws that deny atheists' right to identify, right to citizenship, right to marry, right to public education or prohibit them from holding public office etc.
"These laws potentially automatically criminalize dissent and free-thinking, and victimize 'non-believers', humanists and atheists. What is even more shocking is the cruelty with which those who are accused of violating these laws are often punished — by state agents or by non-state actors, including neighbours and relatives," notes Dr Ahmed Shaheed, the newly appointed UN Special Rapporteur on Freedom of Religion or Belief, in the foreword to the 2016 edition.
Interestingly, other than the Islamic countries which are highly religious in nature, China and North Korea also take the dark spots here largely because of their low tolerance levels for freedom of expression and dissent. The Chinese Communist Party, to which almost all holders of public office belong, requires its members to be atheists. People can and have been expelled from the party if they practised any form of religion.
Other forms of discrimination
While any kind of human rights violations and discriminations are important, atrocities on non-believers very often don't get the centerstage. This is mostly probably they don't belong to any populist political movement. Further, the report notes that while 'apostasy' and 'blasphemy' laws still get attention because they are often fairly quantifiable, there are other laws that severely affect the non-religious.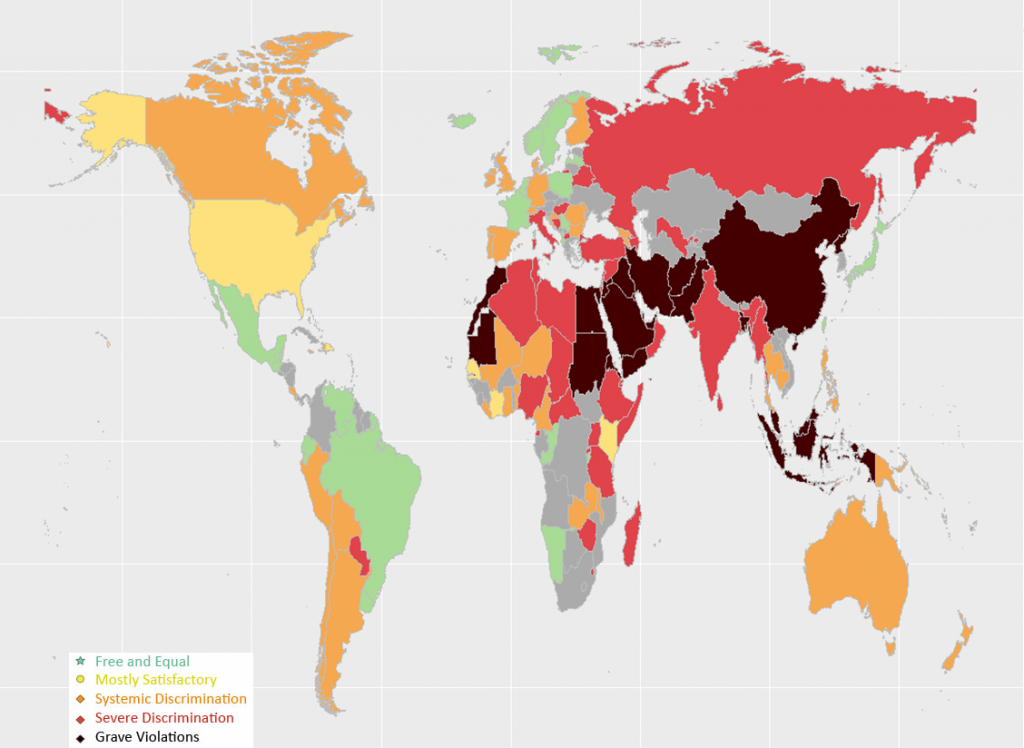 Some countries have family laws that deny the right to get married or will remove parental rights from parents known to be atheists. There are countries that ban atheists from holding public offices, some governments require citizens to identify their religion (for example on state ID cards or passports) but make it illegal, or do not allow, for them to identify as an atheist or as non-religious. For example, in Lebanon the entire system of government is based on sectarian quotas, with different rights and roles available to Sunnis, Shias and Christians etc. Same with Pakistan, where Ahmadiya Muslims are not recognized as Muslims.
In many Muslim countries, the Sharia courts control of family laws. Other countries, usually those with historically large religious minorities such as India, have voluntary religious family courts for the different religious communities. While they deny equal rights to women, for freethinkers who want to leave religion, these religious family courts can become a pain as they more often than not issue "fatwas" or threats of social exclusion or abandonment by one's family.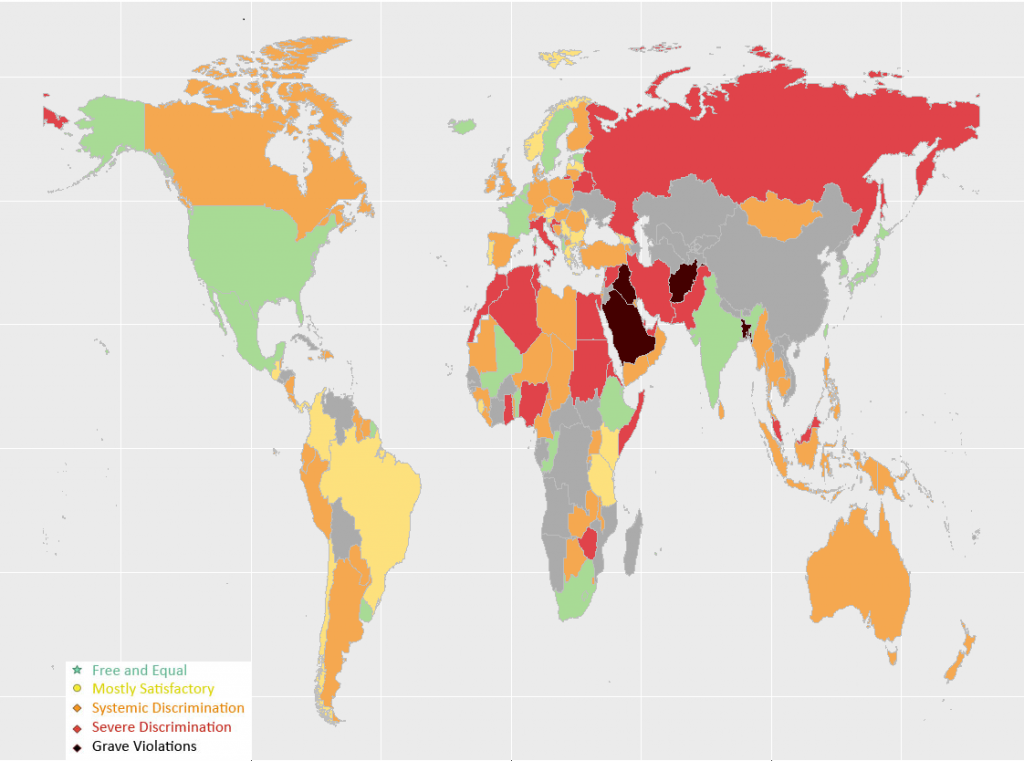 Religious supremacy also intervenes in child rights and education. For instance, in countries like Afghanistan or Qatar religious education is pervasive in schools while in place like UAE, the government does not permit instruction in any religion other than Islam in public schools. In Saudi Arabia, religious instruction in a significant number of schools is of a coercive fundamentalist or extremist variety.
Letting the non-religious down
The IHEU Freedom of Thought 2016 Report is a unique annual report and online resource, looking at the rights and treatment of the non-religious in every country in the world.
As rightly, Dr Shaheed said, "narrowly defined views on religious freedom" were letting the non-religious down. He describes several of the cases covered in the report and says: "The IHEU report is an important reminder that the right to freedom from religion or belief is as fundamental as the right to freedom of religion, and that the same human right protects freedom of non-religious thought and non-religious belief as well; and that for some humanists, atheists, free-thinkers and the unconcerned the protection of this right can mean the difference between life and death."
You can click here to access the country-wise index.