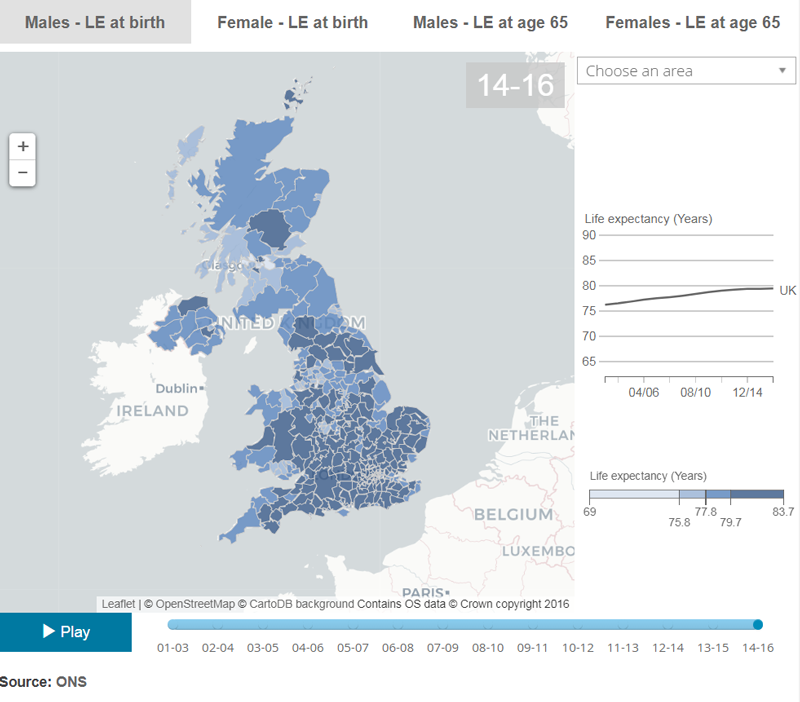 We humans, as being thinking individuals often wonder about life expectancy at some point in our lives.  The same might be the case with the UK Office for National Statistics (ONS), who recently released an interactive map that reveals life expectancy of all regions in the UK. The map covers all of parts of UK, which include England, Scotland, Wales and Northern Ireland. Released as a part of the ONS report 2017, the map shows the gender life expectancy gap and the best/worst areas to live in the UK.
The map also shows how life expectancy has changed for each region over the years compared to that of the UK, which is continually improving. Interestingly enough, the first time life expectancy map was made to check the health of girls born between 2009 and 2011. However, now it shows a variety of things about the English people including their bus passes, social inequality and local geography. The map is developed from a data classification of people lived in average, or good health conditions, depending on how these individuals view their health.
The map shows the gender life expectancy gap in all of UK from 2001 to 2016. It also shows that across UK local areas, life expectancy at birth differs by 18 years. The map shows that across all areas, the female life expectancy is 85.8 years, whereas for males, the same is 82.3 years. Though life expectancy rate of females may be better than in males, the statistics, however, show that their total months of good health has decreased by 1.7 months in recent years, while it has jumped by 4.3 months for men.
In contrast to this, the report also shows that between 2001 and 2003, the same set of statistics revealed newborn boys had a life expectancy of 75.9 and girls 80.5. At the time, experts called for an urgent examination into life expectancy amid fears it had 'ground to a halt' because of the UK's 'miserly' spending.
According to the report, the lowest life expectancy area in UK for men is Glasgow city with 69 being average, whereas, in women North Lanarkshire stands lowest with 77.3. East Dorset stands on top for men with 80 with highest life expectancy, and Kensington & Chelsea with 84.3 years for women.
"This analysis supports the view that mortality improvements in the UK have slowed somewhat in the second decade of the 21st century", said Chris White in a statement given in the report. "This is evidenced by the rate of improvement in life expectancy at birth in the UK falling by 75.3% for males and 82.7% for females when comparing the first half of the second decade with the first half of the first decade."
Click here to access the map.