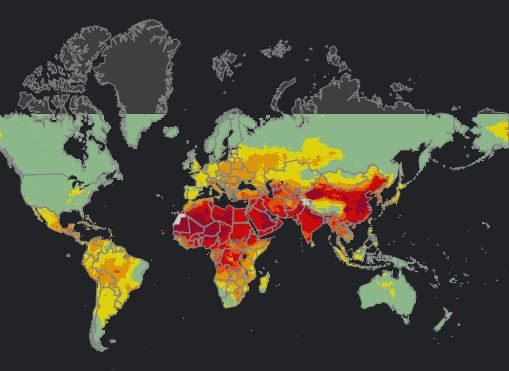 Based on a report on worldwide pollution, World Health Organization (WHO) has developed a map, which charted large parts of Africa, Saudi Arabia, Pakistan, the north eastern states of India, and the eastern and western parts of China with dark red, which plots areas with more than 70 particulate matters (PM) that are smaller than 2.5 micrometers in the air.
The dark red areas of map show the higher concentration of particulate matters in the air. The PM2.5 pollutants, which come from dust, soot and smoke, can penetrate deep into the lungs and increase the risk of heart and lung diseases including asthma and lung cancer.
The matter is of grave concern because more than 80% of the people living in urban areas are exposed to air quality levels that exceed WHO limits, a WHO report said.
In a separate report, the UN agency has confirmed that 92% of the world's population lives in places where air quality levels exceed WHO limits.
"Fast action to tackle air pollution can't come soon enough," said Dr Maria Neira, WHO Director, Department of Public Health, Environmental and Social Determinants of Health. "Solutions exist with sustainable transport in cities, solid waste management, access to clean household fuels and cook-stoves, as well as renewable energies and industrial emissions reductions."
The map has been prepared in conjunction with the U.K.'s University of Bath, which shows the average levels of dangerous particulate matter in the air that can lodge in lungs and can cause diseases.
The World Health Organization said that worldwide, around 3 million people a year die of causes linked to exposure to outdoor air pollution and that nearly 90% of those deaths occur in low- and middle-income countries.
Air pollution is a major cause of disease and deaths across the world. And it is a positive step that countries today are stepping up to monitor air quality, so that they can take actions to improve it.