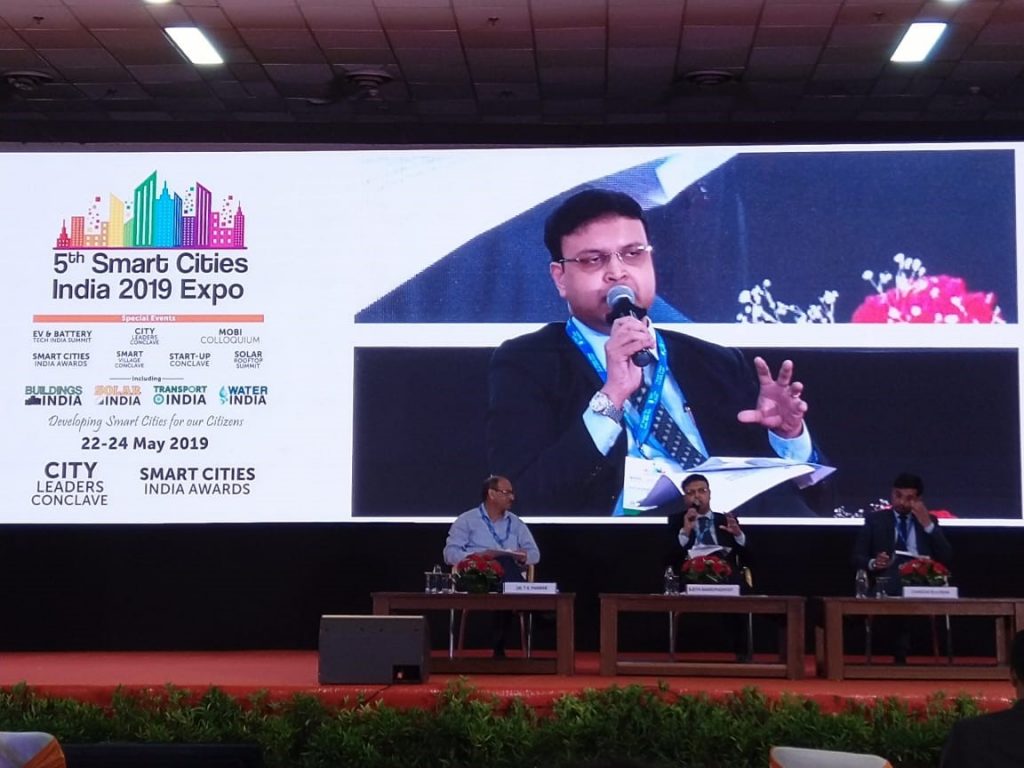 The overall concept of Smart City differs from city to city and also country to country. According to the government of India, some of the key aspects that define a Smart City are smart governance, smart health facilities, smart energy, smart infrastructure and smart mobility. The implication of a smart city would be different in India than in USA.
At the 5th Smart Cities India Expo 2019 held in New Delhi, the key agenda for discussion was climate action in Indian cities and cities as nodes for climate action.
The first part of the session focused on climate action in Indian cities- success stories, challenges and the way forward. While the second part concentrated on linking of smart cities initiatives with the national climate agenda, integrated approach to air pollution.
Dr. Swapnil Kamble, Project Manager, Nagpur Smart and Sustainable City through his presentation emphasized on some of the successful interventions like treated sewage being supplied to Thermal Power Plants thus generating a revenue of INR 150 million. Furthermore, 200 million liters per day (MLD) will supply treated sewage to two more Thermal Power Plants assuring a revenue of INR 300 to 350 million.
Also Read: Merging digital integration, citizen-centric approach for holistic smart city paradigm
According to Kamble, Nagpur is the first model solar city in India with 7,400 solar water heaters already installed in the city through subsidies. Also, 65% of overall energy requirements of Nagpur Metro will be met from Solar PV Systems.
The Indian city of Nagpur, Maharashtra faces major challenges of lack of awareness about climate change or global warming among the people and institutional challenges like administrative process from approvals too clearances and funding.
In another presentation by Mangesh Dighe, Environment Officer, Pune Muncipal orporation said, "In order to promote smart mobility and clean transport, the city of Pune, Maharashtra has given subsidies to 6,534 3-wheel auto-rickshaws till 2019 and have already started 25 electric buses. The public transport department has also purchased new CNG buses."
Dighe also emphasized on energy initiatives that 32,915 households had solar water heaters and 76,587 LED street lights were fitted saving 2,000 tons of coal. Through GIS Mapping data showed that Pune city has 40, 09,262 trees and 191 gardens. This meant that there was approximately 1.23 trees for every person.
Pune city is no exception and too faces multiple challenges. Some of the challenges Dighe focused were keeping the green belt unaffected from rapid urbanization, Control in the rise in number of vehicles – new initiatives to keep CO2 emissions low. One of the most important challenge is the promotion of the segregation of dry and wet waste in all the households. The main objective is to reach 100% treatment of sewage generated.
Mahavir Jain, Associate Prof, Indian Institute of Public Health threw light on how NGO's and media played a vital role during sudden rise in temperature in Ahmedabad that led to severe heat related illness. Jain also focused on the partnership between Ahmedabad Municipal Corporation and NGO's regarding Heat Action Plan (HAP).
The Heat Action Plan was created in May 2010, after the city of Ahmedabad, Gujarat suffered a major heat wave as temperature rose to 47°C leading to a death toll of 1,344. This led to more preparedness, community outreach, creation of an early warning system, more measures of reducing heat exposure and promoting adaptive measures.