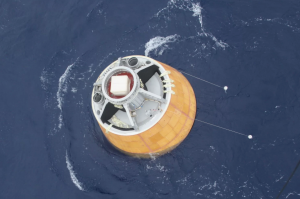 India is now stepping in the manned mission with Gaganyaan expected to be launched in the year 2022. Giving details of the mission in a press conference organized in the national capital, New Delhi, Kailasavadivoo Sivan, Chairman ISRO elucidated, that a module has been designed for the purpose which has a dimension of 3 meters and has a height of 7 meters. With the use of GSLV MK III launch vehicle, the mission will be launched from Sriharikota and would take 16 minutes to reach its planned orbit designated 400 km from earth. Yet to be chosen three astronauts will be positioned in the orbit for 5-7 days where they will carry out microgravity experiments along with others.
While returning back to earth the flight would take 36 minutes to avoid heating up and will detach module at the height of 120 km from earth.
The plan is to land it into the Arabian Sea. Sivan said that the team is planning to land it in the Bay of Bengal or even on land adding that prior to the final mission that 2 test missions will be carried for successful completion.
As per Sivan, the research and development for the manned vehicle were going on for past few time, the team of scientists are now putting it in an integrated way to take it to the next level.
The total cost of the mission is 10 thousand crore where all indigenous technologies will be used.  Many national scientific institutions and private industrial houses would help ISRO in undertaking this ambitious mission which in return is expected to create 15,000 new employment opportunities among which 13,000 of them will be in the private sector.
19 space mission in the next five months.  
In the coming five months' time, the Indian Space organization has planned for these missions are NOVASAR, S1-4, HySIS, GSAT 29, GSAT -7A, GSLV F11, GSAT-11, EMISAT, PSLV C44, CHANRAYAAN-2, GSLV-MK-III-M1, RISAT-2B, PSLV C45, CARTOSAT-3, NEMO AM, PSLV C46, RISAT – 2BRI and then PSLV C47.
On the delay of CHANRAYAAN-2, Sivan said that "the mission is the very complex one and to ensure its success we are taking reviews from experts they have suggested some changes and we are working on it." The planned orbit of the mission was 100 KM which is now being decreased to 30 KM. The configuration of the mission is also being changed to maintain its stability. The launch vehicle has also been upgraded to GSLV MK III.
By the mid of next year, ISRO is also planning to launch SSLV. It is very innovative which will be assembled in 3 days by just 3 people in an autonomous way.
India has involved space technology in the working of every ministry, in past few years series of MoUs have been signed between ISRO and several ministries to take the development of the countries to the next level, said Jitendra Singh, Minister of Department of Space and Atomic Energy, Government of India.
"From weather forecast to the unmanned railway crossing, agriculture to the ambitious smart cities project India is applying space technology in every context. It is now no longer just limited to launching rockets, it is now at the doorstep of every Indian" added Singh.
Read More: