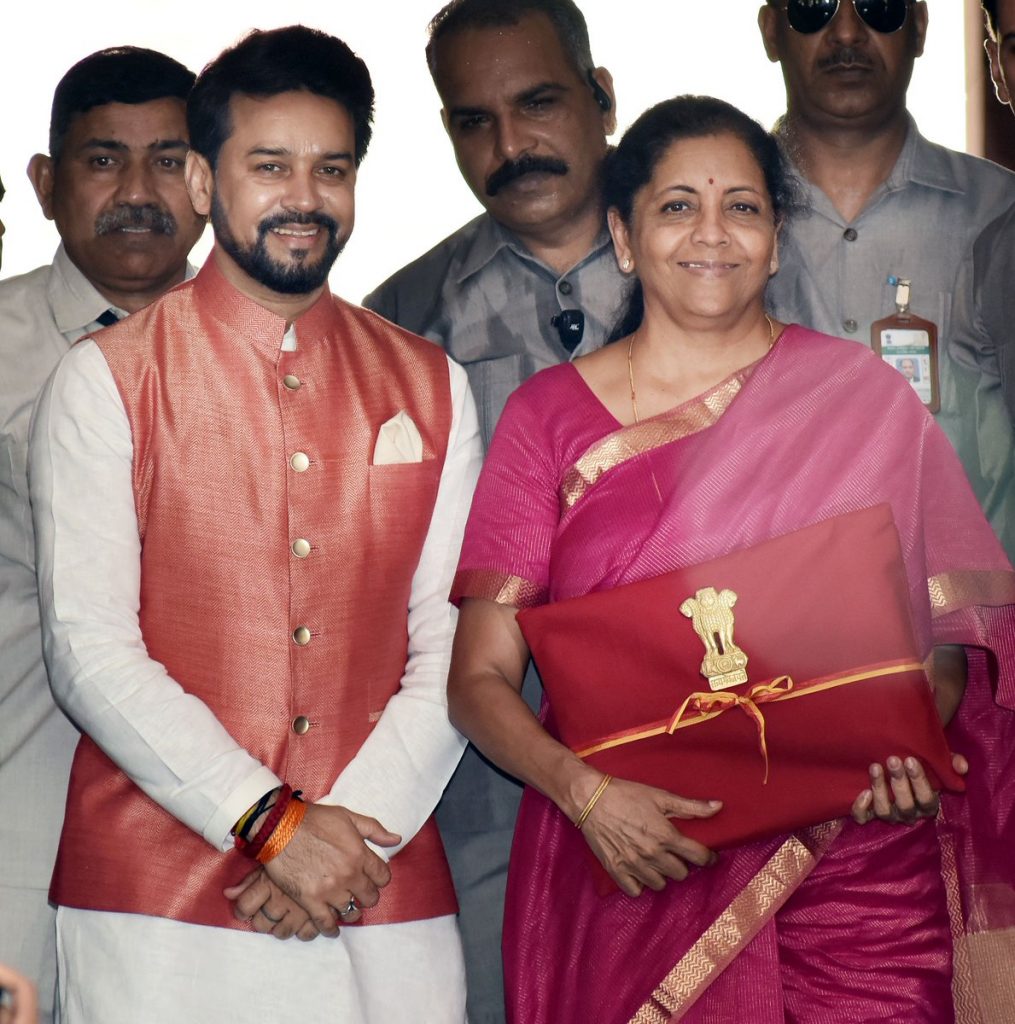 Indian Finance Minister Nirmala Sitharaman tabled the Union Budget 2019 in the parliament today. Among the major highlights, the budget prioritizes development, maintenance and upgrading of modern infrastructure for the realization of vision 'New India'.
"The current budget clearly reiterates, re-emphasizes, and extends some of the important initiatives. The greater attention on infrastructure, road and sea connectivity, railway modernization, and aviation sectors will give a leg up to the economic growth and create new employment", says B.V.R. Mohan Reddy, Chairman, Cyient.
New Space for 'New India'
A lot of initiatives have been taken to make India a 5 trillion dollar economy in a few years. She also announced the setting up of a public sector undertaking, NSIL( New Space India Limited) to harness and capitalize ISRO's R&D.
NSIL will look after both the mass production and marketing of space-based products and services of ISRO. It will also launch an application developed by the organizations' centers and other units of the Department of Space.
Jitendra Singh, Minister of State in the Prime Minister's Office, says, "NSIL would enable Indian Industries to scale up high-technology manufacturing and production base for meeting the growing needs of the Indian space program and would further spur the growth of Indian industries in the space sector."
"The aim of the company is to energize and grow the nascent NewSpace India community of entrepreneurs to a point where much of the routine commercial work, now implemented by ISRO centers can be executed by them", says Prof. Arup Dasgupta, Managing Editor, Geospatial World and former Deputy Director, Space Applications Centre, ISRO.
While being optimistic about the infusion of new thinking, creativity, and talent in the Indian space ecosystem, Prof. Dasgupta wonders whether NSIL be spun off as an independent PSU or will it remain attached by a financial and staff umbilical to DOS like Antrix. Since NSIL is a limited liability company it is assumed that the only shareholder will be the government through DOS( Department of Space).
Geospatial underpinning development
For the booming Indian geospatial industry, the budget unveils new opportunities for further diversification and consolidation in myriad sectors.
"Geospatial Technology has a pervasive role to play in all infrastructure projects", says Pramod Kaushik, President, Hexagon India.
Railways and Transportation
INR 50 lakh crore((10 lakh = 1 million; 100 crore = 1 billion) have been earmarked for the upgrading railway infrastructure and modernization of stations till 2030. Location and spatial technologies are increasingly playing a big role in transportation upgrade and maintenance and Indian geospatial sector would further increase its participation.
In order to combat pollution and provide safe, reliable, clean and efficient transportation for rapidly expanding cities, the gradual switch to electric vehicles is the need of the hour. Taking cognizance of this, the government has launched FAME II scheme to encourage faster adoption of electric vehicles ( EVs) by developing infrastructure. It is said that geospatial technology will play a major role in infrastructure set up of EVs, from selecting charging stations to location-based real-time mapping.
"Subsidy to electric vehicles will create a positive impact on the way Geospatial applications will be consumed. It will also help in creating a new data layer and help in optimizing the whole layer around it. It will enhance the telematics/ connected vehicle applications and integrations", says Nikhil Kumar, Country Head- India SAARC business, Here Technologies.
Water Scarcity
The finance minister has also proposed potable drinking water for all citizens. In the backdrop of a major water crisis looming over India, wherein NITI Aayog says 21 mega India cities will run out of water by 2020 and over 50% of the country will suffer from drought, geospatial is poised to play a big role in averting the crisis.
Emerging Technologies
AI, IoT, and Big Data will power future innovation and drive transformation. The government envisages establishing a National Artificial Intelligence ( AI) center that will boost the economy and put India at the forefront of the upcoming Fourth Industrial Revolution.
"The government's strong focus on the Indigenous Research and Development with the establishment of National Research Foundation will promote indigenous technological development, particularly around globally scalable technologies such as Artificial Intelligence, Big Data, and Robotics, says Atul Rai, CEO and co-founder, Staqu.
"We believe that this will pave the way for cutting-edge indigenous solutions and bring India at the epicenter of global technology", he further adds.
Overall, there is a lot in store for the geospatial industry and its allied and ancillary sectors, but it could have been more regularized and institutionalized.
"There should have been a Geospatial framework and national policy being adopted to ensure the efficiency and timely execution in these projects", adds Pramod Kaushik.